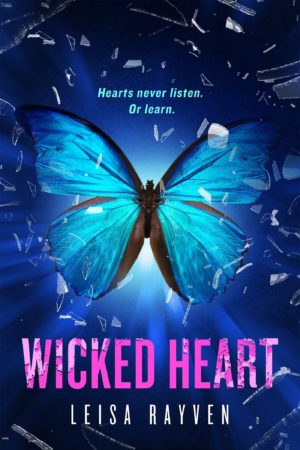 Wicked Heart
by
Leisa Rayven
Series:
Starcrossed #3
Published by
St. Martin's Griffin
Publication date:
May 17, 2016
Genres:
New Adult
,
Romance
321 pagesFormat:
eARC
Source:
Publisher
The one guy she can't have is the one she can't forget.

Liam Quinn is one of the biggest movie stars in the world…and the only man Elissa Holt has ever truly loved.

After being out of her life for six years, he and his gorgeous fiancé are set to star in the new Broadway show Elissa is stage managing. The only trouble is, when late night rehearsals bring Elissa and Liam together, the line between what is and what could have been gets blurred. Now one moment of weakness is about to create a scandal that will echo around the world.

Elissa knows that falling for Liam again would be a tragedy in the making, but as any good romantic knows, love doesn't always follow the script.
Affiliate Disclosure: This post contains affiliate links. In plain English, this means that I may receive a small commission (at no cost to you) if you purchase something through the links provided. This small income goes back into my blog, so I can continue to create fun content for you. I appreciate my readers and make it my goal to be upfront and honest. Thank you for supporting my blog!
Leisa Rayven knows how to write romantic chemistry between her heroes and heroines, for sure. I was buying what she was selling on that front. However, the reason given as to why Liam broke it off—and why they weren't together in the present—with Liss seemed really flimsy and unbelievable.
Liss and Liam had "a thing" that left a permanent mark on both of them. But it was more than a thing, they fell in love with each other. Then, Liam left for Hollywood and ended up breaking Liss's heart in the process. Six years later, fate has a way of bringing them back together. Liam and his actress-fiancee, Angel, are leads in the very stage production that Liss is working on. Small world, right? Liss feels the walls closing in around her as she tries to brush off the feelings that have festered beneath the surface for far too long. The sexual tension between them reaches a fever-pitch and Liss discovers the reason why he ended things so long ago.
When I read Bad Romeo last year, the one thing I kept saying over and over was how this author can write chemistry. Cassie and Holt just had it and that was because the author knew how to create it and make the reader believe it. The same is true with Liam and Elissa. If I were to rate this book on chemistry alone, I would have given it a higher rating.
The reason given for Liam breaking it off with Lissa was contrived. I'm not sure if this actually happens in Hollywood today and if it does, to this extent. But I had a hard time believing that one would do this to a person one claims to love so much. View Spoiler »Liam breaks it off with Lissa because he signs a contract to do a movie series. His contract required him to fake a relationship with his leading lady. He and Angel maintain this fake relationship for six years, despite both of them being really unhappy. Now, he's engaged and miserable. We're supposed to believe that he decided to sign such a contract so that he could help out his parents who suffered financially when their construction company was sued by several decedents' families.

It was nearly impossible for me to believe that Liam would be willing to sign away his love life to a movie studio and do it for six years. It's clear that his feelings towards Liss did not fade at all, yet he was willing to marry someone else to keep up the guise. Really? I also have a hard time believing that any actor, even a completely new one, would sign a contract like that, especially one that required him to fake a relationship for that length of time.   « Hide Spoiler Like I said earlier, this whole reason seemed really flimsy, considering that no one would really be hurt if the truth would have been revealed earlier.
Overall, the writing was okay. The characters themselves were generic. The only things memorable about them was that Lissa really likes cheese—that was mentioned multiple times and the punchline to many jokes—and Liam was basically the hottest thing ever.
I'm not generally sold on books where the conflict relies heavily on melodrama or (with contemporaries) isn't rooted in a slice of reality (I am willing to suspend disbelief to an extent), so this book didn't totally work for me. But if you are not averse to those things, you will enjoy this book more than I did.
* I received an advance copy from the publisher in exchange for an honest review.