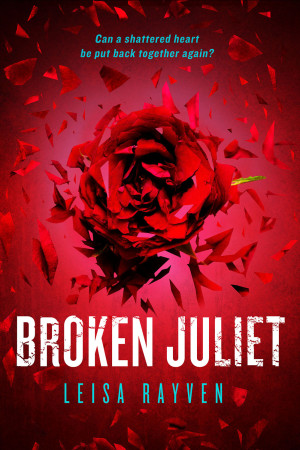 Broken Juliet
by
Leisa Rayven
Series:
Starcrossed #2
Published by
Macmillan
,
St. Martin's Griffin
,
St. Martin's Press
Publication date:
April 28, 2015
336 pagesFormat:
ARC
Source:
ARC via publisher
Some loves never let you go…

Cassie swore she'd never forgive Ethan for breaking her heart when they were in acting school years ago. He was her one great love, and when he refused to love her back, a part of her died forever…or so she thought. Now she and Ethan are sharing a Broadway stage, and he's determined to win her back. Finally he's able to say all the things she needed to hear years ago…but can she believe him? Has he really changed, and what makes this time different from all his other broken promises?

The answer lies somewhere in the past, and now the truth will come to light. Will Cassie rediscover what it's like to be trusting and open again--the way she was before Ethan? Or is it too late for these star-crossed lovers?
Affiliate Disclosure: This post contains affiliate links. In plain English, this means that I may receive a small commission (at no cost to you) if you purchase something through the links provided. This small income goes back into my blog, so I can continue to create fun content for you. I appreciate my readers and make it my goal to be upfront and honest. Thank you for supporting my blog!
Book Review:
Bad Romeo was so addictive to read and I had so much fun reading it. With the way it ended, I was dying to get my hands on the sequel, so I could find out what happens. Broken Juliet was another fun book to read but I got bored with all of the back and forth between the hero and heroine.
In Bad Romeo, Ethan's self-loathing was sad to watch. His self-destructive tendencies only get worse in the past chapters of this book. Meanwhile, in the present storyline, the tables have turned completely. Now Cassie is the one who is unsure of Ethan. Six years later, he's fighting for Cassie and prepared to show her how much he's changed and how much he loves her.
Just like Bad Romeo, Broken Juliet hooked me and I had to keep reading. One of the things left unanswered in Bad Romeo was the reason Ethan left Cassie six years ago that later led to her downward spiral. We get that answer in Broken Juliet, but I had to say that it was slightly underwhelming. The impact of his departure at that time was diminished by the other numerous times he left her.
I mentioned recently in another review that sometimes contemporary series featuring the same couple are sometimes better being condensed into one book or one book and a novella. I would have been a-okay with this being one book. I felt like Broken Juliet was more of the same as Bad Romeo with Ethan's self-destructive behavior and the constant break-ups. While I understood Ethan's plight, it got old seeing him constantly flip-flop between staying with Cassie and leaving her.
Cassie and Ethan's story wraps up nicely in this book. I will definitely be reading Wicked Heart when it comes out.
2 stars
* I received a copy from the publisher in exchange for an honest review.