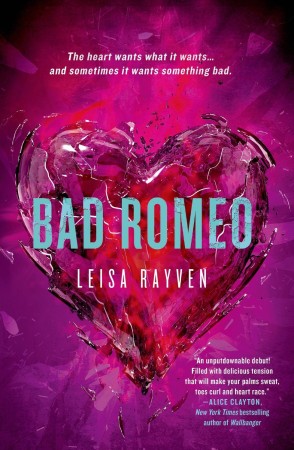 Bad Romeo
by
Leisa Rayven
Series:
Starcrossed #1
Published by
Macmillan
,
St. Martin's Griffin
,
St. Martin's Press
Publication date:
December 23, 2014
Genres:
New Adult
,
Romance
417 pagesFormat:
eARC
Source:
ARC via publisher
When Cassie Taylor met Ethan Holt at acting school, sparks flew. She was the good girl actress. He was the bad boy about campus. But one fated casting choice for Romeo and Juliet changed it all. Like the characters they were playing, Cassie and Ethan's romance seemed destined. Until he broke her heart and betrayed her trust. Now the A-list heartthrob is back in her life and turning her world around. One touch at a time.

Cast as romantic leads once again, they're forced to confront raw memories of the heartbreaking lows and pulse-pounding highs of their secret college affair. But they'll also discover that people who rub each other the wrong way often make the best sparks
Affiliate Disclosure: This post contains affiliate links. In plain English, this means that I may receive a small commission (at no cost to you) if you purchase something through the links provided. This small income goes back into my blog, so I can continue to create fun content for you. I appreciate my readers and make it my goal to be upfront and honest. Thank you for supporting my blog!
Book Review:
Bad Romeo is literary book crack. When I found time to read, I couldn't put this book down. I had to see what happened to our starcrossed lovers, Ethan and Cassie. While this book had a few things that I didn't like, I still enjoyed this book and the insane chemistry Leisa Rayven created between these two characters.
The story in Bad Romeo alternates between the past and the present. In the past, you learn all about Ethan and Cassie tumultuous friendship(?) and romantic relationship. The present sections take place six years later when the two are cast in a heavily-publicized play. Both have made names for themselves as respectable actors, but Cassie wants nothing to do with him outside of rehearsals after he ripped out her heart and put it on a silver platter. The reader has no idea what happened between them, just that it was BAD!
Ethan Holt has auditioned for the Grove's acting school multiple times and hasn't gotten in. The Grove has formed and shaped some of Hollywood and Broadway's elite actors and often propels its students into stardom. The third time is a charm when he additions with Cassie Taylor. The moment these two audition together the director notices a special connection these two, something that no director can manufacture — chemistry. Both get in and are subsequently cast as the two leads in the school's semester play, Romeo and Juliet.
Cassie and Ethan put on a fine show of pretending they didn't like one another out in public. Onstage and behind closed doors, they can't keep their hands off one another. Ethan being the jerk her is doesn't want anyone to know that they're secretly dating, nor does he want to give Cassie the one thing she wants — sexy times.
"Why? Is the world going to end if we hang out?"
He fixes me with an intense expression. "Yes The seas will boil, the skies will darken, and every volcano in the world will erupt, thus bringing an end to civilization as we know it. So for the sake of humanity…in fact, for the sake of everything you hold dear…stay away from me." He's so serious, it makes me think he isn't joking.
What I really liked about this book was the theater setting and the insane angst factor. Cassie and Ethan's undeniable chemistry was so palpable and it made me want to keep reading. Ethan kept pushing Cassie away even though his feelings for her were quite obvious. I also loved the witty, effortless dialogue. It was easy to read.
I also love romances where the couple have significant history and that is definitely the case in Bad Romeo. I was completely lost in their love story, enveloped in both the present and past storylines.
We're not actually dancing, just rocking side to side. Not moving forward or backward. Just moving.
Like most of our time together, we're treading water.
Trying not to drown.
I was dying to find out what caused Cassie to write away love forever and sleep with tons of guys.  Most importantly, I wanted more insight into Ethan's metamorphosis. I mean, holy cow, he went from being a complete douchenozzle to a really sweet guy. I loved sweet pining Ethan so much!
"Cassie, I felt like a ghost while I was away from you. I was. Now I just want to feel real again."
There were a few things that I didn't really like. The horny virgin storyline is so overdone in books these days. If I find out a heroine is a virgin, I don't automatically hate it. I usually wait to see if it really adds something to their character or is necessary. Here, I could see how the author was using this as a way to create vulnerability and a sort of innocence in Cassie and angst between her and Holt.  That I didn't mind. What I didn't like was how Cassie's need for sex was so exaggerated to the point of annoyance. I mean, I get it, Holt is hot and Cassie is insanely attracted to him. When you're in love and so…um…turned on, it's totally believable that you would be throwing yourself at the other person, especially when that other person keepings giving you mixed signals. But after awhile, it became old news and I started to get annoyed at how over-the-top the whole "I want to have sex" thing became. It was repetitive and boring.
Also, Holt was a complete jerk to Cassie. He knew he was being a jerk and that he was hurting her. And Cassie let him. Again, I can understand that Cassie was likely blinded by love, but I wanted her to give him a piece of her mind. Stand up and fight for yourself. We got a little bit of that, but I wanted Holt to suffer more than he did. Is that mean?
Lastly, the entire book was leading up to THE BIG BREAK UP, so with all the build up pointing to that, I was expecting to find out what happened in this book. I knew there was going to be a sequel, but still wanted more of a big fight or something at the end.
This book was the right book for me at the moment and  hit my "I want to read an angsty New Adult book" spot. I am super curious to what will unfold in Broken Juliet. Initially, I was going to give this book 3.5 stars, but after writing my review and letting my thoughts marinate, I went with 3. There was simply too many things that bothered me. Don't let my rating scare you away, I think this was a really fun new adult and the setting makes it really unique.
3 stars
* I received an advanced copy from the publisher in exchange for an honest review.
Amazon: US • UK • CAN | iBooks | GR