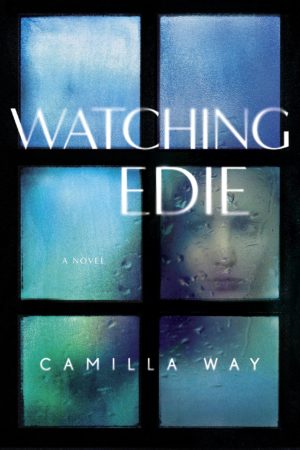 Watching Edie
by
Camilla Way
Published by
NAL
Publication date:
August 2, 2016
Genres:
Suspense
,
Thriller
Narrator:
Fiona Hardingham
,
Heather Wilds
Length:
9 hours and 6 minutes
304 pagesFormat:
Audiobook
,
eARC
Source:
Publisher
Beautiful, creative, a little wild… Edie was the kind of girl who immediately caused a stir when she walked into your life. And she had dreams back then—but it didn't take long for her to learn that things don't always turn out the way you want them to.

Now, at thirty-three, Edie is working as a waitress, pregnant and alone. And when she becomes overwhelmed by the needs of her new baby and sinks into a bleak despair, she thinks that there's no one to turn to…

But someone's been watching Edie, waiting for the chance to prove once again what a perfect friend she can be. It's no coincidence that Heather shows up on Edie's doorstep, just when Edie needs her the most. So much has passed between them—so much envy, longing, and betrayal. And Edie's about to learn a new lesson: those who have hurt us deeply—or who we have hurt—never let us go, not entirely…
Affiliate Disclosure: This post contains affiliate links. In plain English, this means that I may receive a small commission (at no cost to you) if you purchase something through the links provided. This small income goes back into my blog, so I can continue to create fun content for you. I appreciate my readers and make it my goal to be upfront and honest. Thank you for supporting my blog!
Camilla Way's haunting thriller about two former best friends who meet up years later is full of twists and turns. You think you know what happened until you realize you really don't. I enjoyed reading (listening to) this book and would recommend it for those who love gripping thrillers.
"Heather, what do you want?"
But instead of answering she reaches over and taking me by surprise, gently pulls a strand of my hair between her fingers. "Still so pretty, Edie," she says dreamily. "You haven't changed a bit." And I can't help it: I inch so obviously that I have to get to my feet, cluttering the tea things together in the sink, her eyes boring into my back.
Edie and Heather, were best friends growing up in Fremton until one night when everything changed. They haven't spoken since that night. Now many years later, Heather shows up at Edie's doorstep at the exact moment when Edie needs someone. Heather has just given birth and has no one to help her. Heather's reappearance after so long is jarring and frightening, chilling Heather to the bone. Edie doesn't want her there anymore, forcing her to leave. But she can still feel Heather's eyes on her.
"I try to imagine what somebody who'd never met her before would think of her, what sort of person they'd see. A plain, heavyset woman, entirely ordinary; the kind you'd see anywhere, on any day. And yet there is something—has always been something—off-kilter about Heather, something you only really notice after you've known her for a while. An indefinable thing missing somehow. It's there, in the too-eager smile that never falters, in that fixed hazel stare. The way she is so large and clumsy yet can creep up behind you so silently that you don't realize she's there until you turn and find her right behind you, just inches away."
The story is told in alternating prospectives, with Heather narrating the "before" and Edie narrating the "after"—the dividing line being an incident that you won't learn until in the latter part of the book that forever changes everyone involved. The author skillfully leads readers down a winding road that left me changing my theories and shifting my thoughts on every character throughout the novel.
"You were my friend. Tell them what you did."
Way sets a chilling and haunting tone from the very beginning, with an ever-present feeling that something isn't quite right. With Heather coming back into Edie's life, Way conveyed Edie's panic and unease wonderfully to the reader.
"But what am I going to do? Oh, Heather, what am I going to do? How could he do this to me?" She bursts into tears again and says, "I can't go home. I don't want to be on my own. I don't know what I'm going to do." She looks up at me so helplessly that my heart fills with love and happiness.
"You can come home with me," I say. "I'll look after you. Don't worry. I'll always look after you."
What I enjoyed the most—and what left me so unsettled—was the dichotomy between the past and the present versions of both women. On one hand, Heather can be seen as a bit disturbed and unwell. But, we learn that she's been emotionally neglected by her parents and plagued by guilt. There is an emotional vulnerability to her that was there throughout the past and present storylines. The same can be said of Edie. In the past, we see a side of Edie that isn't always pretty, with her own set of problems at home. Meanwhile, in the present, Edie is in a better place after distancing herself from her past, and trying to build a life for herself. She comes across as a resilient woman who has risen from the ashes.
Audiobook comments:
Fiona and Heather's narration of Edie and Heather, respectively, was really fantastic! Both narrators brought these characters to live, bringing out the intricacies and vulnerabilities of each character. Heather Wild's accent was a little bit of an adjustment, mostly due to the cadence of her accent. (This is not at all a criticism.) The emphases she put on syllables on certain words is different from what my American English ears are used to.
I'm going to look for both of these narrators for future audiobooks because I really enjoyed their performances! Fiona and Heather's narration pulled me into an already-gripping story and their take on the characters intensified the suspense.
Edie: Fiona Hardingham
Heather: Heather Wilds
* I received an audiobook from the publisher in exchange for an honest review.