Unravel
by
Calia Read
Published by
Self-Published
Publication date:
February 17, 2014
Genres:
Contemporary Romance
,
Psychological Thriller
362 pagesFormat:
eARC
Source:
ARC e-book
Six months ago, I was happy. I was simply Naomi Carradine.

One month ago, I was admitted into a psych ward.

Yesterday, Lachlan visited me. Kissed me. And told me that I'm starting to lose my mind.

Hours later, Max haunted my thoughts, reminding me I'm not crazy and that he needs my help.

A few minutes ago, I drifted further from reality, trying to unravel the past.

And now...everyone thinks I'm insane. But, I know he's real, and I know he needs me.

Do you believe me?
Affiliate Disclosure: This post contains affiliate links. In plain English, this means that I may receive a small commission (at no cost to you) if you purchase something through the links provided. This small income goes back into my blog, so I can continue to create fun content for you. I appreciate my readers and make it my goal to be upfront and honest. Thank you for supporting my blog!
**SPOILER-FREE REVIEW**
I have been counting down the months, weeks, days, minutes until I could read this book.  Just seconds ago, I finished this book that have not-so-patiently waiting for.  A book that whispered to me throughout the day and whose characters invaded my mind.  A book that I am sure is going to be galloping around in my brain for a long time.  Unravel by Calia Read is a new favorite book of mine and one that I will be recommending to everyone.
Unravel is a book you must experience.  You have to savor every word on the page.  Let each of them sink into your brain and let it marinate for awhile.  For this reason, I won't be revealing too much about the plot in my review (you'll thank me later).  I want you to have the same reading experience I had without being tainted by spoilers.
"The weak branch sways in the air, but the water drop remains. If the ice drop can hold on, then perhaps I can hang on to my small bit of insanity."
What drew me in initially about this book was its vague yet intriguing synopsis.  Going in, all I knew was what that short summary told me.  I recommend that you go into it completely blind like I did.  Naomi Carradine has been admitted into Fairfax, a psychiatric hospital.  This book is her story, but it's more than that. It's a fight to dispel the lies and reveal the truth.  Woven beneath the layers of her story are two men — Lachlan and Max—and her best friend, Lana.  These men are her lovers.  Each of them beg of her to remember him, to not forget him.  Which one will she chose?
"His eyes lock with mine and then he kisses me hard on the mouth. Instantly, I come alive. And that's what a good kiss should do. It should speak to you the minute your lips connect. You don't think. You react. You feel…All I can remember from this kiss is, "Remember me, I'm real."
Unravel, is told in Naomi's point of view through a series of present and flashback scenes.  Through these flashback scenes the reader learns about Naomi's childhood, how she met Lachlan, Max, and Lana, and what eventually brought her to Fairfax.
I haven't read a story quite like this where the narrator is potentially untrustworthy.  Naomi is in a psychiatric ward involuntarily and at first the reader does not know why.  For this reason, I had difficulty believing what she was sharing with me and her psychiatrist.  This made me feel a tad bit guilty because all Naomi wanted was for someone to believe her.  I couldn't at first. The story she telling was built on a shaky foundation. I had to get to know her before I could entertain the idea of trust.
"Pay attention, I say with my eyes. Listen closely. Hang onto every word. But most of all, please believe me."
As I read, I felt like a voyeur peeping into her very personal story.  There were scenes that repulsed me.  There were quiet  and intimate moments the characters shared that were so full of love and tension that I had to just stop and process.  Then there were moments where I was absolutely confused thinking, "What in the world is going on?"
If I could describe this story, I would say it is quietly intense.  With each chapter, Read builds this tension so effortlessly that you don't even realize it's happening.  It kept building and building until the metaphorical lid couldn't hold in the pressure anymore and it burst.  When I got to a certain part, there was no turning back.  At that point, my emotions were on overload.  It snuck up on me and I was a complete insane mess.
Read's vivid descriptions of the world around Naomi were exquisitely crafted.  I felt like I was Naomi. That I was Lana.  I felt like I was right there in the moment experiencing what the characters were going through.  There were scenes where I felt the wind blowing through my hair, just as it blew through Naomi's hair.  I felt carefree like Naomi did, but I felt uneasy.  I felt love and heartache.  I felt frightened when the characters felt the world caving in around them.
"And then he leaned in close. Closer than he'd ever been. His breath tickled my skin. I seized this moment. I looked at him. I mean, really looked, like I'd never done before."
As I neared closer to the end of the story, I was worried that the ending we were going to get was an open-ended conclusion.  But fear not, the ending of this story is fully resolved and I was completely happy with where Read chose to end the story. My only minor complaint is that I would have liked more time to breathe in the end, to experience the resolution.
4 stars
** I received a copy from the author in exchange for an honest review.
Buy on Amazon | Paperback | Add on Goodreads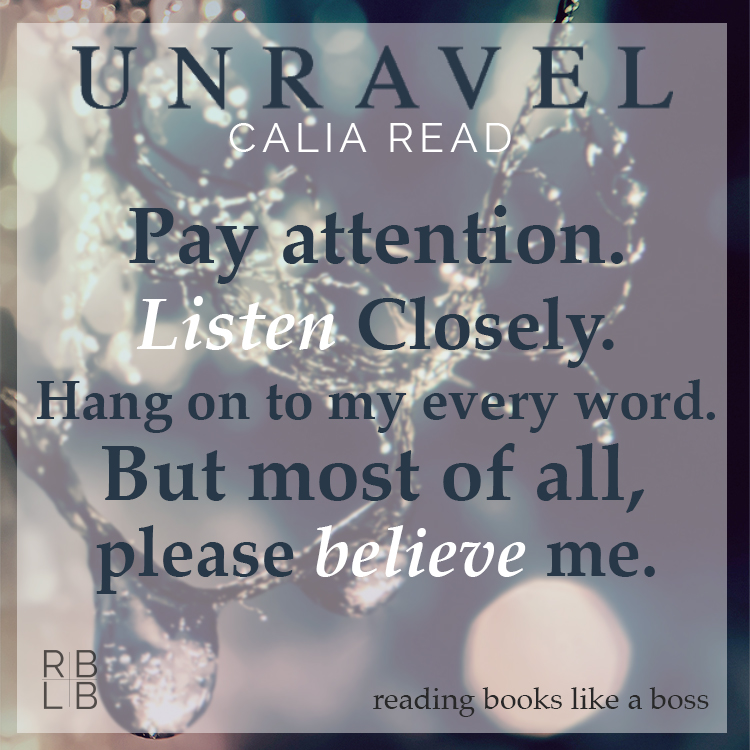 PLAYLIST FOR UNRAVEL:
 Check out Calia Read's playlist for Unravel!
About the Author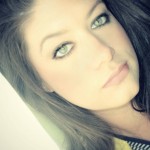 Calia Read lives in Germany with her husband and their four kids. She's currently working on the third book in the Sloan Brothers Series, Ruin You Completely.
Follow Calia:
Twitter | Facebook  | Goodreads | Website
Blog Tour organized by:
Shh Mom's Reading
Check out the other Blog Tour Stops by clicking on the banner: