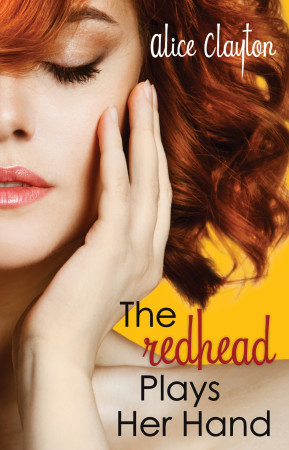 The Redhead Plays Her Hand
by
Alice Clayton
Series:
Redhead #3
Published by
Gallery Books
,
Simon & Schuster
Publication date:
December 17, 2013
Genres:
Contemporary Romance
,
Humor
Narrator:
Keili Lefkovitz
Length:
6 hrs and 26 mins
320 pagesFormat:
eARC
Source:
ARC via publisher
Grace has landed the lead in a new TV series—but when the director asks her to lose fifteen pounds, she goes public with her weight struggles and suddenly develops a huge fan club who support her right to have curves. But between that and the public's continuing fascination with her "are they or aren't they" relationship with Jack, Grace begins to wonder if anyone's really interested in her because of her upcoming TV series, or if it's all speculation about the size of her ass and her bedroom partner.

Meanwhile, Jack is voted the Sexiest Man Alive and becomes a little too enamored with the party-hard lifestyle. Grace vows to give him the space he needs to find himself, but then he begins to spiral down from lovable Brit to Hollywood brat. People are talking, but are Jack and Grace? Her career is on the rise, and his continues into the stratosphere, but will she be able to catch him if he falls? Will they ever be able to just be a couple who can hold hands when they walk down the street?
Affiliate Disclosure: This post contains affiliate links. In plain English, this means that I may receive a small commission (at no cost to you) if you purchase something through the links provided. This small income goes back into my blog, so I can continue to create fun content for you. I appreciate my readers and make it my goal to be upfront and honest. Thank you for supporting my blog!
"I'm so in love with you, Grace, and I'm dying to kiss you."
"I'm kind of dying for you to kiss me."
I didn't realize how much I missed Jack and Grace until all the "Mr. Hamiltons," "Crazy," "sweet Nuts," and boob holding.  Jack and Grace are one the most vivacious and positively shining book couples. They're charming, hilarious and just make you want to be their friend.
Jack Hamilton is Hollywood's "it" man.  After his debut film, Time, went wild at the box office, he is now a household name.  This time it's Grace's turn at a chance for stardom. In Redhead Revealed, Grace traveled to New York to star in a play written by her good friend, Michael.  In this installment, that play is being adapted for television, "Mabel's Unstable."  That's right, Grace is getting her very own TV show!  Not everything is coming up roses for Grace and Jack.  Swarms of paparazzi and flashing lights follow Jack and Grace's every move.  And Grace is feeling the pressure to be perfect for her new role after her best friend and agent, Holly, tells her the director wants more cheekbone.  That's Hollywood code for lose some weight.
"You nap. I'll sort out the sandwiches. You want the chicken salad?" He asked.
"Yeah, sounds good, and get me a bag of Chex Mix and – Wait! No, get me a cucumber, and some air. I can have as much air as I want."
Jack begins to film a new war-themed motion picture that isn't a high-budget blockbuster and more ensemble cast focused.  One of his new co-stars is a man by the name of Adam Kasen.  Adam used to be the Hollywood "it" boy before some bad career moves and Hollywood scandals tainted his image and transported him on the Hollywood's "D" list.  But now this Adam fellow starts hanging around Gracie's Hamilton and I didn't like it one bit! I wanted him out before he was even fully in the picture.  It didn't take long for Adam's naughty influence to have an effect my Jack and really start to piss me off.
Jack made me really angry in this book. As his star grew brighter and his name was everywhere, he begins to have some problems dealing with his fame.  He makes some dumb choices – choices that push Grace away.  Jack's downward spiral into the dark celebrity abyss was really sad and disappointing to me as a Hamilton lover.  What was most frustrating for me was the Jack had people around him that cared and who were reaching out to him, but he actively refused to talk about his feelings to anyone, including Grace.  It pains me to say it but Jack Hamilton isn't perfect. As much as I want to believe he is, he's not.
Due to Jack's decisions, Grace is forced to be the parent in their relationship. She calls him out on his bad behavior and decision-making.  Many times, Jack even completely deflects talking about it.  That was a recipe for absolute disaster and reader frustration.  Grace has her own battles in this book.  The press makes a big deal about her weight and the fact that she's plus-size in the Hollywood world.  Not to mention, she has to deal with her strained relationship with Jack.
"No, this behavior was only partly Adam. The rest was Jack. And Jack had hurt me tonight. Coming late, clearly under the influence and bringing Adam? I was pissed."
I wanted to love this book because I absolutely adore Grace and Jack, but there were several things that did not work for me.  The paparazzi played a big role in this book.  Overall, I felt like the whole paparazzi storyline was really flat. The mention of the paparazzi was really repetitive to the point where I got sick of hearing about them.  I was aware they were there and didn't need to be reminded of their presence over and over again.  Additionally, the main conflicts in the book (the paparazzi, fame, and Adam's presence) just kind of stayed stagnant for the majority of the book.  Not much happened between 35% and the 80% mark.  From 80% until the end, it picked up and I couldn't put it down.  I did love the ending of the book.
Even though, I didn't love this book as much as the other two in the series, I would still highly recommend the series.  Jack and Grace are funny and memorable.  I love the unique way Alice Clayton weaves humor and romance together and cannot wait for her upcoming novels.
Audiobook Comments:
I wasn't completely sold on the narrator.  I did appreciate her comedic delivery but felt there were times where she delivered lines that were meant to be read straight.  When I read the book, the newspaper clips and headlines inserted into the narrative was distracting.  But in the audiobook it worked better for me.  Lastly, Jack is British, but the narrator didn't do an accent.  Obviously, it can't be helped if the narrator doesn't have a British accent in her arsenal, but I would liked it if the narrator for this book did one.
*I received an audiobook from the publisher in exchange for an honest review.