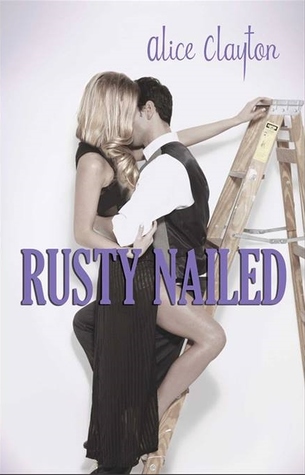 Rusty Nailed
by
Alice Clayton
Series:
Cocktail #2
Published by
Gallery Books
,
Simon & Schuster
Publication date:
June 24, 2014
Genres:
New Adult
,
Romance
320 pagesFormat:
eARC
In this sequel to Wallbanger, the second book in the Cocktail series, fan favorites Caroline and Simon negotiate the rollercoaster of their new relationship while house-sitting in San Francisco.

Playing house was never so much fun—or so confusing. With her boss on her honeymoon, Caroline's working crazy long hours to keep the interior design company running—especially since she's also the lead designer for the renovation of a gorgeous old hotel on Sausalito. So with her hotshot photographer boyfriend gallivanting all over the world for his job, she and Simon are heavy-duty into "absence makes the heart grow fonder" mode. Neither has any complaints about the great reunion sex, though! Then Simon decides he's tired of so much travelling, and he's suddenly home more. A lot more. And wanting Caroline home more, too. Though their friends' romantic lives provide plenty of welcome distraction, eventually Caroline and Simon have to sort their relationship out. Neither wants "out of sight, out of mind," but can they create their own happy mid-ground cliché?

USA TODAY bestselling author Alice Clayton delivers another delicious, frothy cocktail of a book, shaking up her characters, stirring in laugh-out-loud humor, and serving sizzling romance straight up!
Affiliate Disclosure: This post contains affiliate links. In plain English, this means that I may receive a small commission (at no cost to you) if you purchase something through the links provided. This small income goes back into my blog, so I can continue to create fun content for you. I appreciate my readers and make it my goal to be upfront and honest. Thank you for supporting my blog!
"Caroline, I love the shit out of you. So calm down and just tell me what you need."
One of my favorite book couples is BACK and they're banging walls (among other things) in this one.  Alice Clayton's books are so refreshing and hilarious and Rusty Nailed was no exception.  I laughed and swooned my way through this one and fell even more deeply in love with Simon "Wallbanger" Parker.
This book begins with an prologue of sorts. Clayton sweetly reintroduces you to Simon and Caroline, giving you little snippets of their life since they first became a "we."  They we-ed all around the world, making it clear that two of them are still very much in love.  Both still have their separate apartments and are solidly integrated into each others' lives.  Simon's freelance photography work takes him all over the world, but Caroline is a-okay with that since that was part of the Simon package deal when they began we-ing.
Caroline moves up the career ladder with her interior design career.  Her boss and owner of the design company she works for, Jillian, gets married and decides to take an open-ended honeymoon.  While she's away, Jillian entrusts Caroline with the day-to-day business, leaving Caroline running around like a chicken with her head cut off.  The busier she is the more concerned Simon becomes.  So, he cancels a few of his photography jobs in order to spend more time with her.  Isn't that sweet?  I thought so.  Caroline has other thoughts.
I really enjoyed the scenes with Caroline and Simon's friends.  In Rusty Nailed, Mimi and Ryan are the next "we" to take the big plunge into wedded bliss.  And Sophia and Neil?  Let's just say there was trouble in paradise.  I actually found their little conflict to incredibly entertaining.  The lengths their friends go to to help those two get through their issues is a testament to how close-knit they all are.  I found myself laughing so much at their shenanigans.
Simon is the perfect guy, but not in that "OMG he's too perfect" kind of way.  He's considerate and sweet.  He just wants to make Caroline happy.  In this one, we get to see his vulnerable side as he continues to struggle with the loss of his parents.  In those moments, you see just how much these two love each other.  There is more to their relationship than banging walls.
I looked at him, covered in November rain, his eyes warm.

"I didn't want you to spend Thanksgiving alone," he said, shaking off the rain. "And maybe I don't either."

I burst into tears for the second time in twenty-four hours.

He just picked me up off the couch and settle me into his lap, his North Face getting my PJs soaked. He held, me soothing me, running his hands over my back and making little circles on my shoulders.
I always fear the second book in a series.  Is it going to be as good as the first?  Is there going to be manufactured drama?  Rusty Nailed was a decent second book.  It wasn't without its flaws, but it was still an entertaining, fun and light read.  There were several moments where I had difficulty understanding the issues Caroline was going through, which was my main issue with the book.  Several times, she danced along the line of becoming annoying but she never crossed it.  There wasn't anything in this book that bothered me but there wasn't anything that made it especially stand out.  I still loved getting more Simon and Caroline.
I would recommend this book to you if are a fan of humorous romances.  Clayton writes funny romances with whole lot of heart. I can't wait to see what she has next!  If you're looking for another Alice Clayton fix, you should try her Redhead series.  They are fantastic summer beach reads!
3 stars   
* I received a copy from the publisher in exchange for an honest review.