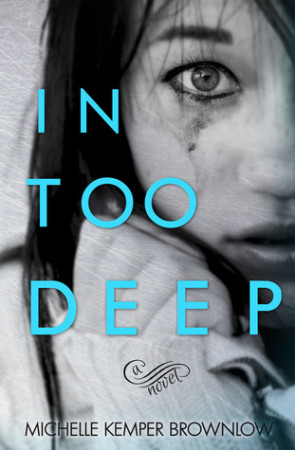 In Too Deep
by
Michelle Kemper Brownlow
Series:
In Too Deep #1
Published by
Sapphire Star Publishing
Publication date:
June 6, 2013
Genres:
New Adult
,
Romance
339 pagesFormat:
eBook
Source:
ARC via author
Gracie has just finished her freshman year of college in Memphis when she takes a job at a local pizza joint in her home town of McKenzie, Tennessee. She is the epitome of innocence when she meets Noah. Noah is unabashedly handsome, intriguingly reckless and just cocky enough to be sexy. Gracie's instincts tell her to stay far away from him and based on the stories she hears from her co-workers he leaves broken hearts in his wake. But still, she can't explain her fascination with him.

Noah puts aside his bad boy ways when what he thought was a summer crush has him unexpectedly falling in love. But soon after Gracie transfers to UT Knoxville to be with Noah, their unexpected love becomes riddled with anger, deceit and humiliation.

Jake, Noah's former roommate and Gracie's best friend, can no longer be a bystander. Gracie's world falls out from beneath her and when she breaks she turns to Jake for strength. As Jake talks her through a decision she's not yet strong enough to make, together they uncover a truth so ugly neither of them is prepared for its fallout. Will Jake pull her to the surface or is Gracie Jordan finally In Too Deep?
Affiliate Disclosure: This post contains affiliate links. In plain English, this means that I may receive a small commission (at no cost to you) if you purchase something through the links provided. This small income goes back into my blog, so I can continue to create fun content for you. I appreciate my readers and make it my goal to be upfront and honest. Thank you for supporting my blog!
Book Review:
In Too Deep spotlights an issue that is all too often hidden, emotional abuse.  Brownlow paints a rather vivid and horrifying picture of what many go through today behind closed doors.  Brownlow's beautifully written description of a girl caught up in an emotionally abusive relationship was heartbreaking and honest.
My heart broke for Gracie Jordan so many times during this book.  After her boyfriend, Noah, confessed that he had cheated on her with multiple women, Gracie felt broken.  No, broken isn't a strong enough word.  Gracie felt shattered, emotionally beaten, and lost.  She put all that she had into this relationship, and Noah threw it all back in her face.  Her entire identity was wrapped up in this "special" connection she had with him.  I wanted to badly to comfort her, to tell her that she needed to move on, to be the voice of reason.  Unfortunately, even with Gracie's voice of reason and best friend, Jake, she continued to listen to Noah's lies and manipulative tactics.  Over and over, Gracie took Noah back with the promise that he would change.  But change doesn't stick if you're changing for the wrong reasons.  Noah wasn't changing because HE wanted to change, he was changing for her.  And that's not good enough.
Before Gracie Jordan met Noah, she saw herself as this wholesome "good girl" with this pure innocence.  Now after the shipwreck that was her and Noah's relationship, she feels unworthy to be loved and used up.  What I loved most about "In Too Deep" was seeing the evolution of Gracie from page one until the end.  In the beginning after Noah dropped the first bomb, she was so incredibly weak and dependent on this relationship.  But Jake helped her see that what she and Noah had was not love, it was a disaster.  Love doesn't tear down, it builds up.  The friendship between Jake and Gracie warmed my heart.  Having Jake there as Gracie's confidant and shoulder to cry on was a big sigh of relief for me as a reader.
While the portrayal of an emotional abused girl was painfully realistic and true-to-life, it didn't work for me as a reader.  It was really hard to see Gracie go back to Noah not once, not twice, but more than three times.  This was especially painful when Noah was so transparent and insincere.  I saw right through his attempted apologies and seemingly romantic gestures.  In the end, I was glad that Gracie had a Jake to be objective and show her what love is supposed to be like.
Favorite Quotes:
"The carefree spirit I was once known for had been painfully scraped away.  Jake deserved more than the shell of a girl I was.  I didn't recognize that girl. I was embarrassed by her."
"Images of him smiling and us walking on campus laughing and holding hands flooded my brain.  I was Alice falling down the rabbit hole of beautiful, happy memories of what we once were…I was only a partial person without him. I knew I couldn't live like that."
About the Author:
Michelle Kemper Brownlow has been a storyteller her entire life. Her debut was on the high school cheerleading bus granting requests to re-tell her most embarrassing moments for a gaggle of hysterical squadmates.
Earning her Bachelor's degree from Penn State University in Art Education and then marrying her very own "Jake," she moved to Binghamton, NY where she taught high school. After having two children she quit work and finished her Master's degree in Elementary Education at Binghamton University.
The Brownlow family of four moved to Michelle's hometown of Morgantown, PA while the children were still quite young. A few years after moving, her family grew by one when they welcomed a baby into their home through the gift of adoption. The family still resides in PA, just miles from where that high school cheer bus was parked.
Michelle has been an artist for as long as she can remember, always choosing pencils and crayons over toys and puzzles. As a freelance illustrator, her simple characters play the starring roles in numerous emergent reader books published by Reading Reading Books.
"Writing is my way of making sense of the world. When I give my characters life on the pages I write, it frees up space in my mind to welcome in new stories that are begging to be told," says Brownlow
Follow Melissa:
Twitter | Facebook | Goodreads | Website