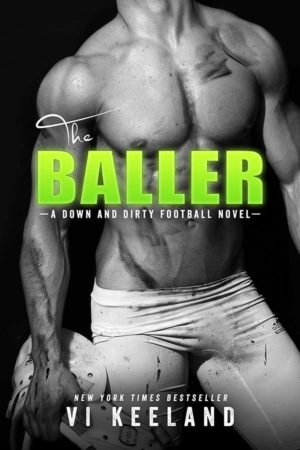 The Baller
by
Vi Keeland
Publication date:
January 18, 2016
285 pages
The first time I met Brody Easton was in the men's locker room.
It was my first interview as a professional sportscaster.
The famed quarterback decided to bare all.
And by all, I don't mean he told me any of his secrets.
No. The arrogant ass decided to drop his towel, just as I asked the first question. On camera.
The Super Bowl MVP quickly adopted a new hobby--screwing with me.
When I pushed back, he shifted from wanting to screw with me, to wanting to screw me.
But I don't date players.
And it's not because I'm one of the few women working in the world of professional football.
I'd date an athlete.
It's the other kind of player I don't date.
You know the type. Good looking, strong, cocky, always looking to get laid.

Brody Easton was the ultimate player.
Every woman wanted to be the one to change him.
But the truth was, all he needed was a girl worth changing for.
Turned out, I was that girl.
Simple right?
Let's face it. It never is.
There's a story between once upon a time and happily ever after...
And this one is ours.

Author's note - The Baller is a full-length standalone novel. Due to strong language and sexual content, this book is not intended for readers under the age of 18.
Affiliate Disclosure: This post contains affiliate links. In plain English, this means that I may receive a small commission (at no cost to you) if you purchase something through the links provided. This small income goes back into my blog, so I can continue to create fun content for you. I appreciate my readers and make it my goal to be upfront and honest. Thank you for supporting my blog!
I'm a Vi Keeland virgin no longer. THE BALLER is one of many audiobooks I listened to while working on my new house. It met the requirements of what I was looking for: mindless, contemporary romance, sexy, and fun. THE BALLER was certainly steamy and humorous in some parts but the second half brought the addition of an unnecessary point of view that kind of ruined the book for me.
Star quarterback, Brody Easton, is used to being pursued by women, wanted and claimed. But the roles reverse when he meets Delilah, a hot sports reporter. Despite coming on quite strong—we're talking dropping the towel mid-interview kind of strong—Delilah isn't fazed or impressed by Brody moves, except maybe his hotness. The mutual attraction is definitely there but she refuses to let things to farther without getting to know him, which I have to say is something that I liked.
I don't really have a ton to say about this one, so I'll keep it short. I liked how the player had bring his A-game to get the girl. He starts trying to create ways to get Delilah in bed, but turns out getting into her heart instead. I liked seeing him work for it. Brody was the star in the field and the star of this book to me. He defied the playboy stereotype and was a really sweet guy outside the public eye. I liked his relationship with his friend's caretaker. And I loved how he paid for his teenage girlfriend's grandmother all these years. It was really sweet how much he cared for her.
The reason I'm not rating this one higher is that once the cat and mouse game was over, the story really fell on its face. Someone from Brody's past comes in an effort to create conflict between what was a pretty healthy romance. The person who reappears was a really flimsy attempt to create conflict that didn't really hold together in the end. That, plus some classic assumptions and miscommunications, made for a rather boring and frustrating second half.
Audiobook comments:
I am a girl of few words on this audiobook review. For those of you spying this one for your morning commute, I give you the green light. The narrators were pleasant to listen to. There wasn't anything about their delivery that bothered me at all. Mackenzie Cartwright and Sean Crisden gave good audiobook.
* I borrowed the audiobook from my local library.