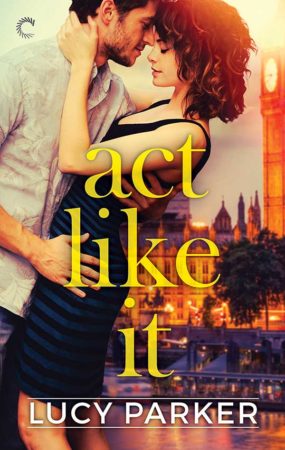 Act Like It
by
Lucy Parker
Series:
London Celebrities #1
Published by
Carina Press
Publication date:
November 30, 2015
Genres:
Contemporary Romance
Narrator:
Billie Fulford-Brown
Length:
8 hours and 30 minutes
199 pagesFormat:
eBook
Source:
Purchased
A sharp-witted heroine and an infuriating-but-swoon-worthy leading man bring down the house in this utterly charming contemporary romance debut from Lucy Parker

This just in: romance takes center stage as West End theatre's Richard Troy steps out with none other than castmate Elaine Graham

Richard Troy used to be the hottest actor in London, but the only thing firing up lately is his temper. We all love to love a bad boy, but Richard's antics have made him Enemy Number One, breaking the hearts of fans across the city.

Have the tides turned? Has English rose Lainie Graham made him into a new man?

Sources say the mismatched pair has been spotted at multiple events, arm in arm and hip to hip. From fits of jealousy to longing looks and heated whispers, onlookers are stunned by this blooming romance.

Could the rumors be right? Could this unlikely romance be the real thing? Or are these gifted stage actors playing us all?
Affiliate Disclosure: This post contains affiliate links. In plain English, this means that I may receive a small commission (at no cost to you) if you purchase something through the links provided. This small income goes back into my blog, so I can continue to create fun content for you. I appreciate my readers and make it my goal to be upfront and honest. Thank you for supporting my blog!
I bought Lucy Parker's ACT LIKE IT a long time ago and decided to give it a go since I've been on a contemporary romance kick the last several months. While not perfect, this hate-to-love fauxmance was entertaining and fun to read.
The story is set on London's stage inside a historic theater. The players? Actors Lainie and Richard. After a Richard's PR nightmare, the publicity team calls in reinforcements to help clean up his image. Lainie's squeaky clean image is their last hope to draw audiences to the theater and raise approval ratings for their top-billed male star. Their solution? Make the public believe that Richard and Lainie are madly in love. I think you know where this is going.
Who doesn't love a annoyed-to-love fake relationship storyline with a brooding hero? The answer is no one. For the most part I think this was done well. I like seeing how Richard's stuffy and grouchy personality shifted and changed the more he and Lainie got to know each other. Lainie's bright outlook and positive disposition softened him. Their one of those couples that complemented each other very well.
I have such a weak spot for brooding, quiet heroes, and Richard was one of those guys. But I also need there to be a good backstory and reason for that broodiness. Here, the reasons given for his Mr. Darcy-ness wasn't anything particularly compelling.
Overall, the love story was sweet and fun. I liked that the author took us to the London stage for this book and I look forward to reading the others in the series, just to experience this magical setting through the lens of the characters. I don't feel like there are enough books that take us to the stage.
There were a few things that I kind of felt "meh" about. The conflict of this story is basically the fake romance premise, which wasn't enough to fully support the whole story. I wanted more character depth and development. Richard was the more compelling and interesting of the two because he had flaws but his character wasn't explored to its full potential. Lainie was more of a stock female character who didn't seem like a real person. Everything is going right in her world (aside from her breakup). When I finished, I realized that neither character had a strong emotional arc. Lastly, the romance, while cute, needed more of an emotional punch to it. It felt like the author was telling us to feel something instead of showing us how and letting the reader feel them fall in love.
Nevertheless, Parker's writing is engaging and charming, and I enjoyed reading it. I recommend it for lovers of unique setting, cute romances, and seekers of lighthearted reads.
* I purchased this book myself.