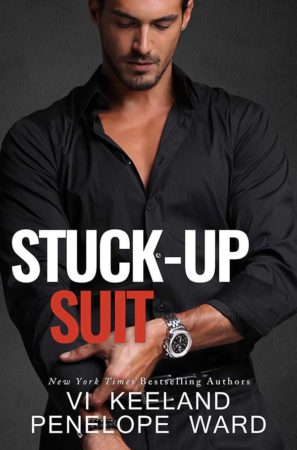 Stuck-Up Suit
by
Penelope Ward
,
Vi Keeland
Published by
Self-Published
Publication date:
April 11, 2016
Genres:
Contemporary Romance
Narrator:
Joe Arden
,
Maxine Mitchell
245 pagesFormat:
Audiobook
,
eBook
Source:
Borrowed
It started out like any other morning on the train.
Until I became mesmerized by the guy sitting across the aisle.
He was barking at someone on his phone like he ruled the world.
Who did the stuck-up suit think he was...God?
Actually, he looked like a God. That was about it.
When his stop came, he got up suddenly and left. So suddenly, he dropped his phone on the way out.
I might have picked it up.
I might have gone through all of his photos and called some of the numbers.
I might have held onto the mystery man's phone for days―until I finally conjured up the courage to return it.
When I traipsed my ass across town to his fancy company, he refused to see me.
So, I left the phone on the empty desk outside the arrogant jerk's office.
I might have also left behind a dirty picture on it first though.
I didn't expect him to text back.
I didn't expect our exchanges to be hot as hell.
I didn't expect to fall for him―all before we even met.
The two of us couldn't have been any more different.
Yet, you know what they say about opposites.
When we finally came face to face, we found out opposites sometimes do more than attract―we consumed each other.
Nothing could have prepared me for the ride he took me on. And I certainly wasn't prepared for where I'd wind up when the ride was over.
All good things must come to an end, right?
Except our ending was one I didn't see coming.
Affiliate Disclosure: This post contains affiliate links. In plain English, this means that I may receive a small commission (at no cost to you) if you purchase something through the links provided. This small income goes back into my blog, so I can continue to create fun content for you. I appreciate my readers and make it my goal to be upfront and honest. Thank you for supporting my blog!
Stuck-Up Suit is the next stop on my home renovation audiobook extravaganza. I like having light romances to listen to while I do mindless house work. STUCK-UP SUIT is the first book I've read from this author duo. I just thought this book was okay but I'd be open to reading more from them.
"You terrify me, Soraya."
"Likewise."
"But that's the very reason that I just know."
"Know what?"
"That this could be the real thing."
I can see why so many readers loved this book. It has a cocky hero and a sassy heroine who can give just as much as she can take it. I enjoyed the sort of courting-role reversal that happened here. Graham is used to everyone around him giving into his demands and submitting to him. But Soraya isn't one to back down from him. She's a spitfire and he liked that about her. This back and forth was fun to read and I liked seeing their romance play out. Though, I did think their connection felt a little insta-lusty. I need more development in that area instead of instant sexual attraction, but others readers may not be bothered by it here.
My number one complaint in many romance coming out now is a weak conflict. What's going on here with the quality control? Are authors and editors less motivated to create a strong conflict because readers don't care about the strength of the conflict? I'm not sure, but personally, I must have a strong conflict to glue the story together. Otherwise, I get frustrated, lose interest, and my enjoyment level goes down. Here, Soraya's decision to end things with Graham without talking to him about it were dumb. I can understand where she was coming from, but the miscommunication here was stupid. I also found Genevieve as a villain to be really heavy-handed. I get that the authors needed some source of tension but this didn't work for me.
I would read more from this author duo when I'm in the mood for mindless, quick reads. Do you have any recommendations for me?
Audiobook Comments:
Joe Arden narrates Graham's chapters and I enjoyed the timbre of his voice and narration style. Maxine Mitchell was also a fun narrator to listen to. I liked her delivery of the feisty and funny Soraya. This is a good audiobook edition of this novel, so audiobook lovers you're safe to pick this one up!
* I borrowed the audiobook from my local library and got the eBook for reading in-between listens from the Amazon Prime Lending Library.