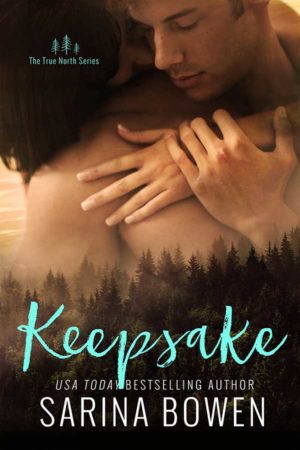 Keepsake
by
Sarina Bowen
Series:
True North #3
Published by
Blackstone Audio
,
Self-Published
Publication date:
October 25, 2016
Genres:
Contemporary Romance
313 pagesFormat:
Audiobook
Source:
Borrowed
There's a first time for everything.

Lark Wainright used to be fearless. Her life was a series of adventures, each one more exhilarating than the last. But her recent overseas adventure was one too many. Now she's home and in one piece. Mostly. But her nights are filled with terror.

When her best friend offers her a stay at the orchard in exchange for help at the farmers' markets, Lark jumps at the chance to spend fall in Vermont. But her nightmares don't stop. Desperate to keep her fragile state a secret, she relies on the most soft-spoken resident of the Shipley Farm to soothe her when her dreams prove too much.

Zachariah is a survivor, too. It's been four years since he was tossed aside by the polygamist cult where he grew up. He's found a peaceful existence on the Shipley's farm, picking apples and fixing machinery. But getting thrown away by your own people at nineteen leaves a mark on a guy. He doesn't always know what to make of a world where movie quotes are the primary means of communication. Before hitchhiking to Vermont, he'd never watched TV or spoken on the phone.

Actually, there are a lot of things he's never done.

Zach and Lark slowly grow to trust one another. One night they become even closer than they'd planned. But Lark may still be too broken to trust anyone. When she pushes Zach away, he will have to prove to himself that he's good for much more than farm labor.
Affiliate Disclosure: This post contains affiliate links. In plain English, this means that I may receive a small commission (at no cost to you) if you purchase something through the links provided. This small income goes back into my blog, so I can continue to create fun content for you. I appreciate my readers and make it my goal to be upfront and honest. Thank you for supporting my blog!
My library had KEEPSAKE as an available now on audio. And since I read the previous two books in the True North series, I picked up this one. Keepsake doesn't break any new grounds but it wasn't a bad read, but it wasn't a captivating one either. Like the all books in this series, Keepsake can be read as a standalone, since he books focuses on a different couple. You can read my reviews of the other books in the True North series here: True North series.
Bowen takes readers back to the charming Shipley farm with the warm and inviting Shipley family. Zach is a long-time worker on the farm, who walked on after being forced out of his religious cult. Like Zach, Lark comes to the farm for refuge after living through a horrific experience while in Guatemala for work. Both are bruised and battered emotionally but find comfort and safety in each other.
I really liked Zach and how sensitive he is towards Lark. There is an innocence to him since he hasn't lived a "normal" life growing up, what with not being exposed to pop culture or anything worldly. Everything was very regimented. With Lark having gone through her own trauma, he understood what it was like to be stuck in somewhere you didn't want to be.
Their love story was cute. Zach is a male virgin, so if you enjoy that sort of sexual role reversal, this one my pique your interest. I don't have anything overly negative or positive to say about this book or the series up to this point. The next book in the series is Zara's book but I didn't really care enough about her character to read on. I don't know if I'll read any more of this author's books, given how underwhelmed I've felt with three books in this series.
* I got this book from my local library.