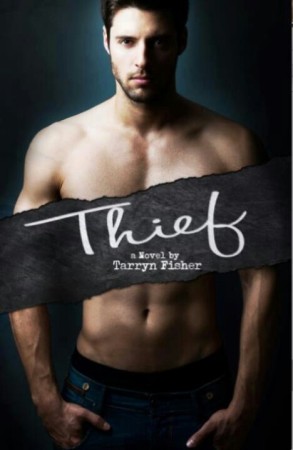 Thief
by
Tarryn Fisher
Series:
Love Me With Lies #3
Published by
Self-Published
Publication date:
July 21, 2013
Genres:
Adult Contemporary Romance
,
Romance
295 pagesFormat:
eBook
Source:
Purchased
Note to Self

Love is patient; love is kind.
Love doesn't boast or brag.
There's no arrogance in love;
it's never rude, crude, or indecent-it's not self absorbed.
Love isn't easily upset.
Love doesn't tally wrongs.
Love trusts, hopes, and endures no matter what.
Love will never become obsolete.
I'll fight for her.

Thief

Caleb Drake never got over his first love. Not when he got married. Not when she got married. When life suddenly comes full circle Caleb must decide how how far he is willing to go to get the aloof and alluring Olivia Kaspen back. But for every action in life there is a consequence, and soon Caleb finds out that sometimes love comes at an unbearably high price.
Affiliate Disclosure: This post contains affiliate links. In plain English, this means that I may receive a small commission (at no cost to you) if you purchase something through the links provided. This small income goes back into my blog, so I can continue to create fun content for you. I appreciate my readers and make it my goal to be upfront and honest. Thank you for supporting my blog!
Book Review:
"Life does not accommodate you, it shatters you. Love is mean, but it's good. It keeps us alive." 
I have agonized and stressed over how in the world I was going to review this book – this wonderful beautiful book.  Thief is the final book of the Love Me With Lies series, an achingly poignant series that touched me so deeply.  These characters have embedded their way into my heart.  Caleb and Olivia are in me so deep that I there is no way I will ever forget them.
Thief was everything I was hoping for, but nothing what I expected.  I had all these crazy theories floating around in my head, few of which actually came true (thank God).  Leave it to Tarryn Fisher to make to take all of my expectations and throw them out the proverbial window.  This series is a testament to Fisher's writing talent and staying power in the book world.  Fisher is able to make her readers truly feel connected to these fictional characters.  I know I am not alone when I wonder where they are now.  I wonder what they're doing at this very moment.  Not many books make me feel so rooted in their fictional lives.  It makes me feel a little crazy.
Like Dirty Red, Thief started out with a bang.  Caleb is sitting in his condo (yes, the same condo he had during he and Olivia's relationship) watching Olivia win Dobson's murder trial.  He and Leah have been divorced for a period of time at this point.  Even watching Olivia on the television he is transfixed and finds everything she does beautiful and enrapturing.  His love for her is so deep and so raw even after all these years.
"Olivia is a piece of art. You have to know how to interpret her, how to see the beauty under the harsh lines of her personality…She has the kind of love that can stain your soul, make you beg not to have one, just to escape the spell she's put you under.  I've tried to break myself of her over and over, but it's pointless. I've got more of her in my veins than blood."
Thief continues Caleb and Olivia's story, chronicling Caleb's unrelenting fight for Olivia.  But this time Caleb speaks.  He fights LIKE A BOSS and fights dirty.  In fact, his methods reminded me of how dirty Olivia was in The Opportunist when she tried to win Caleb back.  I thought this was interesting and showed just how similar these two actually are.  Neither of them are perfect – not even our Caleb.  The stunt Caleb pulled at dinner toward the beginning of the book had my jaw dropping on the floor in absolute shock.  But that the same time, I was fist pumping him and cheering him on.
Underneath all their ugly lies is this beautiful burning love and intense connection – a connection that neither of them have had with anyone else, including their spouses.  You could feel the electricity and the sparks between Olivia and Caleb.  They didn't even need to be talking to each other.  Their silence was enough to ignite the page and make it come alive.  I loved every minute of it.
"When I'm with you, every emotion I can possibly feel comes spilling out. I drown in them. I want to run to you, and I want to run away."
Despite all their jackedupness, I loved seeing them together.  I loved all their "isms".  I loved that they used the code word "Peter Pan" when one of them wanted to know what the other was thinking.  I loved that they held onto their penny after all these years.  Olivia uses to word "hook me" Caleb when she wanted one of his special hugs.  I loved that llamas reminded Caleb of Olivia from when they first met under a tree.  Most of all I loved how deeply Caleb GOT Olivia and Olivia GOT Caleb.  After the truth came out and the lies were erased, they were finally bared to each other.
"I'll do whatever I have to do to protect you. I'll lie, cheat, and steal to make you okay. I'll share your suffering, and I'll carry you when you're weighed down. I'll never leave you, not even when you ask me to. Do you believe me?"
In true Tarryn Fisher fashion, Thief is not all sugary syrupy sweetness.  There are no hearts, rainbows or unicorns.  This was real life. Real life is messy.  Love is messy.  I appreciate how relatable this story was.  Thief is an ode to first love, broken hearts and the hope for second chances.
5 stars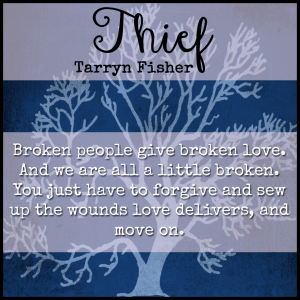 Series Reading Order:
The Opportunist:
Goodreads | Read my Review
Kindle | Paperback
Dirty Red:
Goodreads |  Read my Revew
Kindle | Paperback
Thief:
Goodreads
Kindle | Paperback
About the Author: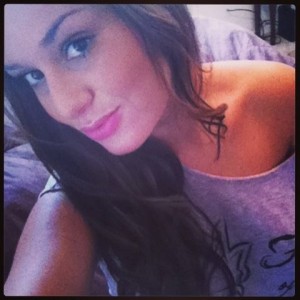 I am a real life villain, truly. I drink sick amounts of Starbucks. Most of the time my hair smells like coffee. I was born in South Africa, and lived there for most of my childhood. I moved to Seattle just for the rain. Rome is my favorite place in the world so far, Paris comes in at a close second. I read and write more than I sleep. When I was eleven, I wrote an entire novel about runaway orphans, using only purple ink. I am addicted to Florence and the Machine and will travel to see concerts. I love scary movies and giraffes. I spend way too much time on Facebook. Meet you there?…
 Follow Tarryn: