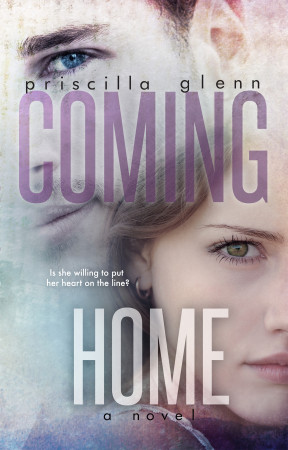 Coming Home
by
Priscilla Glenn
Published by
Self-Published
Publication date:
January 17, 2014
Genres:
Contemporary Romance
,
New Adult
350 pagesFormat:
eARC
Source:
ARC e-book
Leah Marino hasn't been on a date in two years. After discovering the man she loved had manipulated and deceived her, she refuses to even entertain the idea of a relationship. Instead, she focuses her attention on taking care of her family, a role she's assumed since the death of her mother and the one place she knows her kindness won't be taken advantage of again.

When a nostalgic trip back to her childhood home results in a chance encounter with Danny DeLuca, a smart-mouthed mechanic who's as attractive as he is mysterious, Leah's carefully cultivated walls begin to crumble. She finds herself unexpectedly drawn to Danny, despite his unreliable behavior and mixed signals.

But Danny has a secret...

One that could shake Leah's already precarious foundation and bring her world crashing down around her. Suddenly, she's faced with an incredibly difficult decision--is she willing to risk everything for the chance at finding the love she's always wanted? Or are some obstacles just too big for the heart to overcome?
Affiliate Disclosure: This post contains affiliate links. In plain English, this means that I may receive a small commission (at no cost to you) if you purchase something through the links provided. This small income goes back into my blog, so I can continue to create fun content for you. I appreciate my readers and make it my goal to be upfront and honest. Thank you for supporting my blog!
"Being in Danny's arms felt like coming home."
Priscilla Glenn has me wrapped around her literary finger with her newest novel, Coming Home. Beautiful, enthralling and impassioned, Coming Home drills into you the message of love can conquer all, no matter what obstacles stand in your way.
Glenn has this unique ability to pull on my heartstrings and toy with my emotions in a way that keeps me coming back to her novels over and over again after reading them. The tone Glenn sets with her descriptions and word choices truly make me feel the characters' every moment of joy, grief, and jubilation. I will read anything she writes.  Coming Home is already a favorite of 2014 for me. Hands down.
Every year, Leah ventures back to her childhood home—the home she shared with her family before her mother passed away. And every year she parks in front of the small nondescript house, reminiscences about how things used to be before, and then quietly drives away. This year, she lingers too long and is visited by the owner of the house, Catherine, a small elderly lady. Catherine invites her in for tea and minutes later Catherine has yet another visitor, Daniel Deluca.
Pure serendipity bring Danny and Leah together, and the more time they spend with one another, the more both realize that they don't want to be apart from each other. Through little clues here and there, you realize that Danny is hiding a secret—a secret that could change everything.
Catherine is Danny's "Gram" and he is always at her house fixing it up or doing things for her. From the moment Danny walked into the picture, I was smitten. I mean come on, he's visiting his grandmother and bringing her Christmas trees. He's so sweet and truly the kind of guy that would be effortless to fall for. He is described as "the perfect combination of cute, but sexy…pretty, but rugged…exuding a gentleness, but at the same time radiating raw sex appeal."  I could completely see how Leah could fall for him. I fell for him.
"He had the kind of face she wanted to stare at, just to appreciate the way all the places complemented each other."
After initially going out with Danny, Leah knew that there was something different with Danny.  She could see his absolute sincerity and kindness. Though due to a bad break-up in the past, Leah is reluctant to start a new relationship.
"There was something about him that spoke to a long-forgotten part of her—that awakened something dormant in her soul and made her want things again."
Her feelings are even more muddled when she notes that he is holding something back from her.  There is something in his past that he's not telling her.  On the other hand, she is falling, falling, falling slowly and hard for this man who has taken her heart in his hands.  He doesn't let go.
"Compared to the explosiveness of their last kiss, this was a slow burn; Danny kissed her reverently, the gentle brushing of his lips igniting every nerve ending in her body before he pulled away slightly, turning his head faintly side to side as he ghosted his lips over hers."
What I liked most about Coming Home was the story's quiet intensity and emotional build up.  The romance between Danny and Leah was a slow, wonderfully sizzling burn.  I LOVE those! Danny and Leah have the kind of love that everyone wants, but few people actually get to experience.  The two of them share this bond and strong connection that I could feel.
"He smiled then. Not just because of how she looked staring up at him the way, but because of her comment. Like they were long-lost friends who had just been reunited."
While the heart of this story is a story of acceptance and love, there is also a mystery element to it.  Scene by scene Glenn pieces together the pieces of the puzzle that Danny's narrative reveals to the reader.   She does so in a perfect, deliberate way that had me turning the pages, wondering right along with Leah what he is keeping from Leah and the reader.
Told in third person point-of-view, the reader gets insight into both Leah and Danny's thoughts, which I loved. All of Priscilla Glenn's novel have been third person narrative, and it really works.  As I read this book, I couldn't help but appreciate the title. As you get further into the title takes on a more significant meaning that only added to the story's emotional impact on me.
I fell in love with this book word by word, page by page.  If you haven't read any of Priscilla Glenn's novels start NOW. I am hooked on Glenn.  One of these days, Priscilla Glenn, I am going to show up outside your bedroom window and "Say Anything" the crap out of you just to show you how much I love you.
4 stars
* I received an advance copy from the author in exchange for an honest review.
Buy for Kindle | Add on Goodreads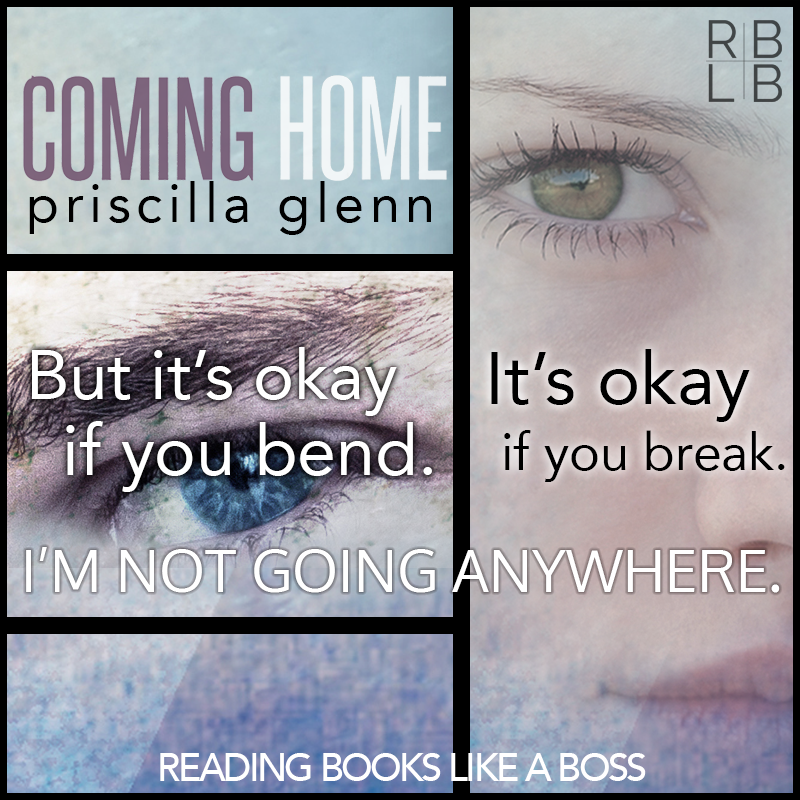 GIVEAWAY
About the Author
Priscilla Glenn lives in New York with her husband and three children. She has been teaching English at the middle and high school levels for the past twelve years while moonlighting as a writer, mom, coach, student, and professional laundry-doer.
If you catch her when she's feeling sophisticated, she'll tell you her favorite things are great books and good wine. In the moments in between, she'll admit her love for anything Ben and Jerry's, UFC fights, and Robert Pattinson.
Glenn is the author of the contemporary romance novels Back to You, Emancipating Andie, and Coming Home. You can contact her at priscilla.glenn3@gmail.com.
Follow Priscilla
Follow the tour here: