Happy Tuesday, everyone! I have a NEW section on the sidebar called the Reading Books Like a Boss–Book of the Week (I just let all my creative juices fly on that one 😉 ). This week I'm featuring VAMPIRE ACADEMY by Richelle Mead. The 10th Anniversary Edition comes out today (November 29th)! It has a TON of new never-before-seen content. If you want to know a little bit more about Vampire Academy, check out the video and description below!
Be sure to enter the giveaway below for a chance to win a copy of the brand new edition out today! 
About the 10th Anniversary Edition:

Richelle Mead celebrates 10 years of Vampire Academy with an exclusive, never-before-seen collection of stories that sheds new light on the world and its players: 

The Turn and the Flame takes a deeper look into the dark stain on the Ozera dynasty…
Hello My Name is Rose Hathaway tracks the shenanigans that ensue when Rose and Dimitri become unlikely teammates in a high-stakes scavenger hunt…
The Meeting gives us a glimpse of Rose Hathaway through Dimitri's eyes…
From the Journal of Vasilisa Dragomir unearths the princess's private thoughts from a transformative period of her life…

St. Vladimir's Academy isn't just any boarding school–it's a hidden place where vampires are educated in the ways of magic and half-human teens train to protect them. Rose Hathaway is a Dhampir, a bodyguard for her best friend Lissa, a Moroi Vampire Princess. They've been on the run, but now they're being dragged back to St. Vladimir's–the very place where they're most in danger. . . .

Rose and Lissa become enmeshed in forbidden romance, the Academy's ruthless social scene, and unspeakable nighttime rituals. But they must be careful lest the Strigoi–the world's fiercest and most dangerous vampires–make Lissa one of them forever.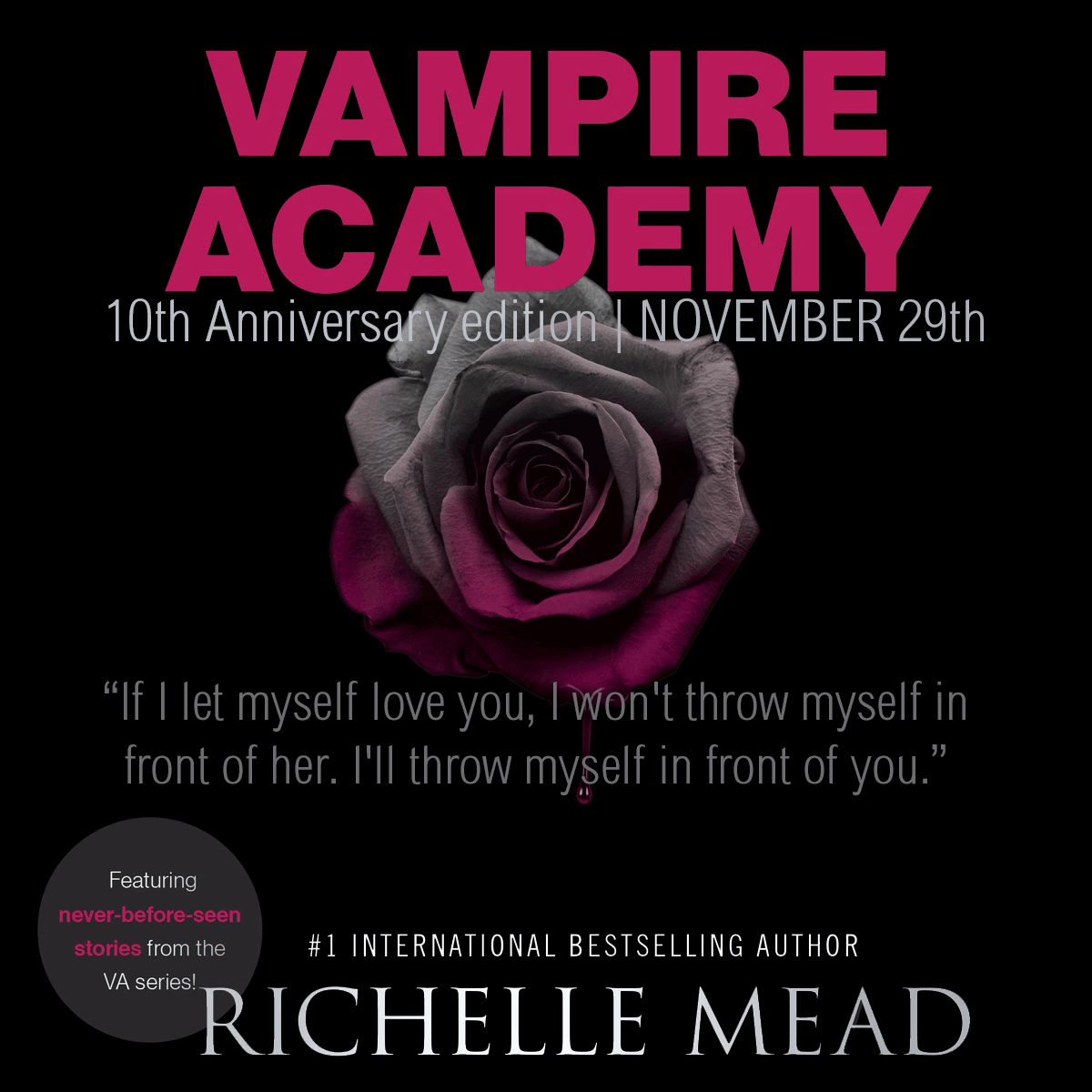 ---
Giveaway!!
Enter for a chance to win one of five (5) paperback copies of Vampire Academy 10th Anniversary Edition by Richelle Mead (ARV = $11.99 each). Giveaway offered by Penguin Teen.
NO PURCHASE NECESSARY. Enter between 9:00 AM Eastern Time on November 29, 2016 and 11:59 PM Eastern Time on December 5, 2016. Open to residents of the fifty United States and the District of Columbia who are 13 and older. Winners will be selected at random on or about December 12, 2016. Odds of winning depend on number of eligible entries received. Void where prohibited or restricted by law.