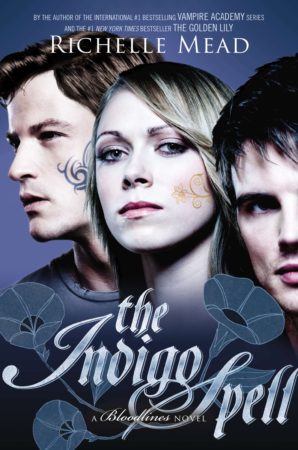 The Indigo Spell
by
Richelle Mead
Series:
Bloodlines #3
Published by
Razorbill
Publication date:
February 12, 2013
Genres:
Paranormal Romance
,
Young Adult
Narrator:
Emily Shaffer
Length:
11 hours and 53 minutes
416 pagesFormat:
Audiobook
,
eBook
Source:
Borrowed
,
Purchased
Sydney Sage is an Alchemist, one of a group of humans who dabble in magic and serve to bridge the worlds of humans and vampires. They protect vampire secrets—and human lives.

In the aftermath of a forbidden moment that rocked Sydney to her core, she finds herself struggling to draw the line between her Alchemist teachings and what her heart is urging her to do. Then she meets alluring, rebellious Marcus Finch--a former Alchemist who escaped against all odds, and is now on the run. Marcus wants to teach Sydney the secrets he claims the Alchemists are hiding from her. But as he pushes her to rebel against the people who raised her, Sydney finds that breaking free is harder than she thought. There is an old and mysterious magic rooted deeply within her. And as she searches for an evil magic user targeting powerful young witches, she realizes that her only hope is to embrace her magical blood--or else she might be next.
Affiliate Disclosure: This post contains affiliate links. In plain English, this means that I may receive a small commission (at no cost to you) if you purchase something through the links provided. This small income goes back into my blog, so I can continue to create fun content for you. I appreciate my readers and make it my goal to be upfront and honest. Thank you for supporting my blog!
This is where things get very, very, VERY interesting! If you read my review for The Golden Lily, (and several others' reviews) then you know that I was sort of dying over that ending. And thus, Richelle Mead blesses us with The Indigo Spell, a book filled with seriously swoonworthy moments!
When I first read this book a few years ago, I remember that I couldn't stop smiling and sighing over Adrian Ivashkov. Yes, you guys, Adrian, the funny guy, has some of the most romantic lines I've ever read in young adult. I mean, I cannot deal with "I'll just keep loving you whether you want me to or not." Can you?
Part of what makes it so romantic is that I believed him—what he said, and how he felt towards Sydney. I felt it. It makes a love story eons more enjoyable when you completely connect with the characters, their journey, and what they're saying—it doesn't always happen that way.
As you can imagine, Sydney is still (I know, you guys *eyeroll*) struggling with her feelings towards Adrian. While his feelings are 100% solidified and he is so gone in love (it's so great!). Adrian and Sydney are secretly working for Sydney's teacher, looking for her sister who has gotten mixed up in a very dangerous type of magic. They go undercover as a couple looking for clues to her sister's whereabouts, which as you can imagine brings hilarity and some awkwardly steamy situations.
With this book, you can really see Sydney's character progress from someone who questions nothing to questioning everything. You see her growing and changing into this strong force of a woman, which I love as a reader. But's also clearly what Adrian loves about Sydney, her fierce loyalty and protectiveness towards those she cares about, even to the Moroi and dhampirs that she is supposed to despise but doesn't.
Like Sydney's character, the progression of her friendship with Adrian is every-changing. These two are such an unlikely pair. I couldn't imagine them together back when I was reading the Vampire Academy series, but now in book three of Bloodlines, I can't get enough of them. They're like yin and yang. They complement each other so well because they're so different from each other. He's the reformed playboy jokester who doesn't take life too seriously. She's the straight-laced, rule-follower who takes everything way too seriously. But they work and I sort of love it.
* I purchased the ebook myself but borrowed the audiobook from my library.