"The truest love is always the hardest to let in."
✥ ✥ ✥ ✥
Step right up and check out the circus-y cover of L.H. Cosway's upcoming novel, Hearts of Fire! This is a standalone romance about Jay's (from Six of Hearts) brother, Jack! I can't wait to read this! Cosway never lets me down! Enter to win an advance copy of Hearts of Fire below!
✥ ✥ ✥ ✥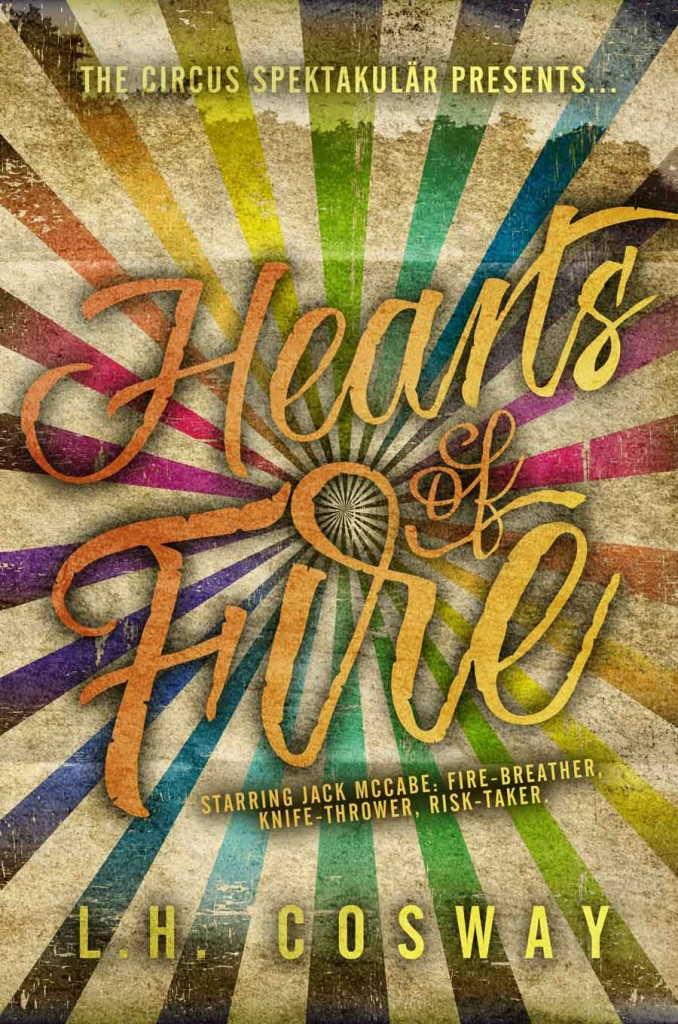 ✥ ✥ ✥ ✥
HEARTS OF FIRE
The Circus Spektakulär is proud to present Jack McCabe: Fire-breather, knife-thrower, risk-taker.
My uncle lied. I never died.
I breathe fire, eat the poison that almost killed me.
Crowds come to see me night after night. Men for the spectacle, women for the thrill. I'm an oddity to be stared at and desired. With each flame I spit, I risk my life.
I wear scars on my body that will never go away, but the scars inside my head are far more difficult to overlook.
My brother doesn't know the truth, and if I have it my way, he never will.
Life was going exactly the way I'd planned until Lille came along. She wanted to run away with the circus, have an adventure, but this world was never meant for her.
I try to keep her safe, because she doesn't know the dangers that are out here on the road. She doesn't know the monsters that lurk behind the bright lights of the ring. In truth, I could be considered one of them.
We were fashioned from different cloths, never intended to mix. So I watch her. I try not to touch, even when her eyes invite me.
Join us in the Spiegeltent and let us give you a show. Allow my Lille to draw a picture for you in paint and sweat and skin.
The truest love is always the hardest to let in.
*This is a standalone romance that tells the story of Jack McCabe, Jay Fields' long lost, presumed dead brother. It is not necessary to have read Six of Hearts in order to enjoy Hearts of Fire.*
Amazon: US • UK • CAN | iBooks | GR
Cover Designed by: Letitia from Romantic Book Affairs
✥ ✥ ✥ ✥
EXCERPT
Before I knew it I was standing and a spotlight had landed on me, alongside Jack's dark, indecipherable gaze. I stood frozen for a moment, uncertain of what to do. Then Marina was calling me to the stage and my feet were moving, one after the other, the traitorous bastards.
Jack held his hand out to me when I reached him and I placed my palm in his. Without realising it, I'd given him my right hand, my dominant hand, and also the hand that had been burned. When he gripped it, I hissed in a tiny breath at the sting.
"Sorry," he murmured, but he didn't sound sorry.
"It's okay," I replied as he led me to an upright wooden panel. Taking my shoulders in his big, warm hands, he gently situated me against it, my back flush with the wood.
"I hope you're good at holding still," he said and his breath hit the side of my neck.
"Why?" I practically whispered. He was incredibly handsome, even more so now that I was seeing him up close, and I felt a little drunk on it.
The edge of his mouth twitched, like he was holding back a smile. With one hand braced above my shoulder, he leaned in as he replied, "Because, blondie, I'm gonna be throwing knives at you, and I'd really hate to make you bleed."
Again, he didn't sound like he meant what he said at all. And I didn't think there was a single pore on my body that wasn't tingling. I remembered items number three and four on my list:  Have sex with a stranger and do something dangerous. Perhaps if I could get Jack McCabe to do me, then I could kill two birds with one stone.
I hadn't noticed before, because I was too busy staring at him, but there was a belt attached to the wood. I stood there as Jack took it and buckled it extra tight around my waist. He gave it a firm tug once he was done and smirked. I'm not sure why, but the action caused me to tremble. I think he noticed, too, because his eyes grew darker, if that was even possible.
Surprising me, he placed his flattened out palm to my belly. I had to try my hardest to concentrate on his words rather than the fact that my libido (the little slut) was willing his hand to move lower.
"This is your core. Visualise it. Focus on it. Keep your body in this exact position and everything will be fine." There was the tiniest edge of a smile tugging at his lips and it made me wonder if he was enjoying this, if maybe he was trying to make me nervous.
Sucking in a breath, he continued randomly, "You smell like turpentine." Then he drew up to his full and impressive height and walked to the other side of the stage. I knew I smelled like turpentine, because I often used it to clean my paintbrushes and sometimes the smell got into my clothes. That wasn't the part that preoccupied me, that part would be the fact that he'd taken the time to smell me, and I didn't know if I should be weirded out or turned on.
Okay, so I knew which option my libido was going for.
Add on Goodreads
To be released in 2015
Read my Review of Six of Hearts

✥ ✥ ✥ ✥

✥ ✥ ✥ ✥
About the Author: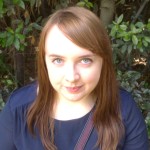 L.H. Cosway has a BA in English Literature and Greek and Roman Civilisation, and an MA in Postcolonial Literature. She lives in Dublin city. Her inspiration to write comes from music. Her favourite things in life include writing stories, vintage clothing, dark cabaret music, food, musical comedy, and of course, books.
Facebook | Twitter | Website | Goodreads
✥ ✥ ✥ ✥
GIVEAWAY
Win an ARC of Hearts of Fire
Open Internationally
✥ ✥ ✥ ✥