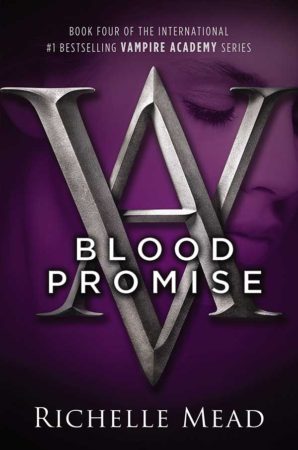 Blood Promise
by
Richelle Mead
Series:
Vampire Academy #4
Published by
Razorbill
Publication date:
Aug 25, 2009
Genres:
Paranormal Romance
,
Young Adult
Narrator:
Emily Shaffer
Length:
13 hrs and 7 mins
524 pagesFormat:
Audiobook
,
eBook
Source:
Borrowed
,
Purchased
The recent Strigoi attack at St. Vladimir's Academy was the deadliest ever in the school's history, claiming the lives of Moroi students, teachers, and guardians alike. Even worse, the Strigoi took some of their victims with them . . . including Dimitri.

He'd rather die than be one of them, and now Rose must abandon her best friend, Lissa—the one she has sworn to protect no matter what—and keep the promise Dimitri begged her to make long ago. But with everything at stake, how can she possibly destroy the person she loves most?
Affiliate Disclosure: This post contains affiliate links. In plain English, this means that I may receive a small commission (at no cost to you) if you purchase something through the links provided. This small income goes back into my blog, so I can continue to create fun content for you. I appreciate my readers and make it my goal to be upfront and honest. Thank you for supporting my blog!
OMGoodness! The ending of this book is so exciting! The knife Richelle Mead plunged into my heart in Shadow Kiss is pushed in even deeper and then twisted in this book. BLOOD PROMISE is equal parts thrilling and emotionally painful as we see Rose travel across the world for the man she loves.
If you've read this series, then you know that the previous book (Shadow Kiss) has an ending that leaves reader stunned. Rose is trying to pick up the pieces of her broken heart, but she's not sitting around moping. In true Rose Hathaway fashion, she is getting down to business, which means she is out to give Dimitri something she knows he would want. In her grief, she travels across the world and serendipitously ends up meeting his family with the help of a mysterious man named Abe and her new Alchemist friend, Sydney. After meeting Dimitri's family, she comes face to face with the person she traveled thousands of miles to find. Suffice it to say that it was painful to read.
Mead ends this book with a HUGE reveal that left me shocked when I first read the series years ago. I didn't know where she was going to go after the events in this book but the last couple of pages is hopeful and terrifying at the same time. Even reading this book for the second time, it's still just as emotional, which is a true sign of a great book.
This book highlights the growth of Rose as a character since the beginning of the series. Historically, Rose is reckless and impulsive, often acting without thinking. But in this book, the strength and resilience she shows to leave the Academy behind and travel across the world, straight into danger and the unknown is
* I borrowed the audiobook and ebook from my local library.