"Waiting On" Wednesday is a weekly event, hosted by Breaking the Spine.
THE ONE THAT GOT AWAY by Bethany Chase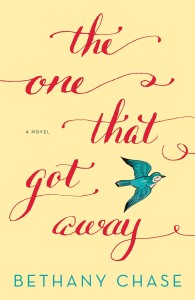 Sarina Mahler thinks she has her life all nailed down: a growing architecture practice in Austin, Texas, and an any-day-now proposal from her loving boyfriend, Noah. She's well on her way to having the family she's hoped for since her mother's death ten years ago. But with Noah on a temporary assignment abroad and retired Olympic swimmer — and former flame — Eamon Roy back in town asking her to renovate his new fixer-upper, Sarina's life takes an unexpected turn.
Eamon proves to be Sarina's dream client, someone who instinctively trusts every one of her choices — and Sarina is reminded of all the reasons she was first drawn to him back in the day. Suddenly her carefully planned future with Noah seems a little less than perfect. And when tragedy strikes, Sarina is left reeling. With her world completely upended, she is forced to question what she truly wants in life — and in love.
Full of both humor and heartbreak, The One That Got Away is the story of one woman's discovery that, sometimes, life is what happens when you leave the blueprints behind.
Release Date: March 31, 2015
Amazon: US • UK • CAN | iBooks | GR
Why I'm excited:  I ran across this book a couple of days ago and got really amped up reading the synopsis. I love second chance romances and this one looks like it will be a great one!
One of my favorite authors, Taylor Jenkins Reid, read an early copy and said, "The One That Got Away is juicy, steamy, witty, and real. Bethany Chase kept me laughing out loud as I quickly turned the pages. With a love story perfectly balanced between sexy and sweet, and settings so vivid and hip they feel like a literary Pinterest board, Chase will have you swooning."
QUESTION:  
What books are you waiting for this week?