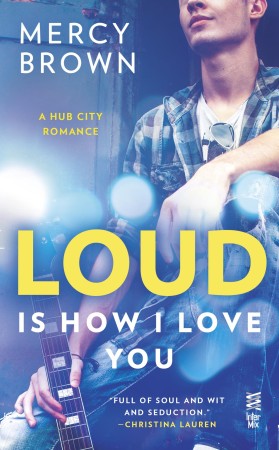 Loud is How I Love You
by
Mercy Brown
Series:
Hub City #1
Published by
Intermix
,
Penguin
Publication date:
January 19, 2016
Genres:
New Adult
,
Romance
227 pagesFormat:
eARC
Source:
ARC via NetGalley
One girl's heart gets rocked to the core in the first novel in this sexy New Adult series.

Twenty-one-year-old front girl Emmylou knows that getting her band noticed in the '90s indie rock scene will be no easy task. She definitely knows better than to break the number one rule of the band: Don't sleep with your bandmates! But after she ends up having the best sex of her life with her guitarist, Travis, she finds following that rule is a lot harder than it sounds.

When the band gets the gig of their dreams, making it big seems just within reach. But Emmy's inability to keep her hands off Travis threatens everything they've worked for. Can Emmy find a way to break the rules and not blow the chance of a lifetime?
Affiliate Disclosure: This post contains affiliate links. In plain English, this means that I may receive a small commission (at no cost to you) if you purchase something through the links provided. This small income goes back into my blog, so I can continue to create fun content for you. I appreciate my readers and make it my goal to be upfront and honest. Thank you for supporting my blog!
Book Review:
Loud is How I Love You is a new adult novel set in the 90's indie rock world, introducing readers to Emmylou, the lead singer of the Soft, and her best friend and bandmate Travis. I had high hopes for this novel, given the setting, early praise, and promise of romantic tension, but I didn't end up loving it for a few reasons.
At twenty-one, Emmylou's dream is to get a record deal and play music for the rest of her life. On her road to achieving this goal, she's imposed certain rules she must abide by, rule numero uno being DO NOT SLEEP WITH YOUR BANDMATE. Emmy finds herself in a precarious position when she ends into bed with Travis after play a show. And again at his house. And again. They can't seem to get their hands off each other, which has Emmy freaking out because sleeping with her guitarist can't possibly turn out well.
LACK OF CONFLICT. The main conflict in this book is Emmy's choice between following her dreams and following her heart, which leads her to do some irritating things to Travis over and over again. She and him get together, she freaks out over their progressing relationship, and then breaks it off. This happens multiple times throughout the book. The story needed some other conflict other than this in order to hold it together. Instead, what we got felt very manufactured and it got old after awhile.
On a related note, I realize that Emmy's dream was for her band to be successful. Music is ingrained in her and a very integral part of her life. When something is that important to someone, people often do things to further their passion at the expense of others. While I understood this, I had a hard time seeing Emmy hurt Travis repeatedly. She seemed very selfish and uncaring. I'm not usually one to get annoyed by heroines, but Emmy really irritated me.
WRITING STYLE. The author's writing style made it difficult for me to enjoy the book as a whole. The book is told in first-person in Emmy's point-of-view. There was so much internal monologue and not enough dialogue. The sentence structure was really long and convoluted.
READER DOESN'T SEE THE ROMANTIC BUILD-UP. The reader is dropped right in the middle of Travis and Emmy sleeping together in the beginning. We are told that they have been best friends for a long time and that there has been this tension building between them, but the reader doesn't really get any of that. I almost think the story would have felt more organic had we been able to see that relationship develop up to that point.
2 stars
* I received an advanced copy from the publisher in exchange for an honest review.