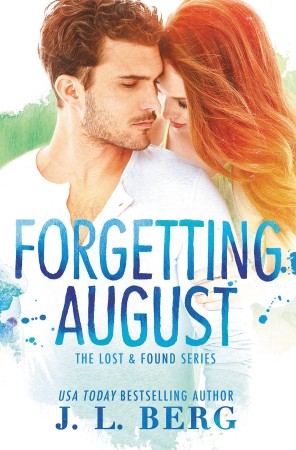 Forgetting August
by
J.L. Berg
Series:
Lost & Found #1
Publication date:
December 1, 2015
384 pages
She can forgive, but can she forget?

Some days, Everly still thinks she sees him. In the food court at the mall, or in a car speeding past as the light changes. It only lasts a second, but when it happens, she slips back to a time when she was ruled-and nearly ruined-by August Kincaid. And it doesn't matter that she's moved on, that she's about to marry another man. In those moments the only thing she can do to regain control is take a deep breath and remind herself that August can't hurt her-because he's in a coma. Except that he's not anymore.

August is awake. With no memories, he sets out to solve the mystery of his lost life. He unearths a photograph of a beautiful redhead named Everly and knows instinctively that she's the key. But when he finds her, the August she describes is more monster than man.

Tortured by the thought of having hurt her, August wants only to become the man Everly deserves. As the new August emerges, Everly glimpses the person she first fell in love with. But can she trust that this August is real? When the final secret of their shared past is revealed, one of them will make a choice that changes their future forever . . .
Affiliate Disclosure: This post contains affiliate links. In plain English, this means that I may receive a small commission (at no cost to you) if you purchase something through the links provided. This small income goes back into my blog, so I can continue to create fun content for you. I appreciate my readers and make it my goal to be upfront and honest. Thank you for supporting my blog!
This is one of those books that I chose to read completely based on the amnesia storyline. I've read a couple of books with a similar element and what I really liked in those books was seeing the couple fall in twice. In Forgetting August, I felt no chemistry or connection between the hero and heroine, which made it impossible for me to root for them.
This book is part mystery and part love story. What I liked was the book's concept. What would you do if the man you fell in love with becomes obsessed with his job, turns cold, mistreats you and then ends up on a coma? What if he wakes up two years later with no memory after you've moved on with someone else? The premise definitely drew me in.
Every and August were engaged prior to the "incident" (we don't really find out what happened until the end). Now Every is engaged to someone else but still feels a magnetic pull towards August, despite the fact that he mistreated her. It's almost like Everly's heart is betraying her brain that's telling her to run. Just a note, the mistreatment is nothing physical or anything like that.
Instead of getting wrapped up in the Everly and August's journey of sorting through their feelings, I felt rather apathetic towards them. I didn't care whether they ended up together because I felt no chemistry between them.
The story is told almost exclusively in the present, so the reader doesn't get to see August and Everly together in the past as a happy, healthy, and functioning couple. Instead, the reader's opinion of August is tainted from the beginning based on what Everly reveals through her internal monologue.  In order to root for them as a couple, we're left to see how they function in the present time, which as I mentioned lacked development. The little flashbacks scenes did nothing to solve this issue for me. Had the author given a more complete backstory, perhaps I would have felt more of a connection towards them and their relationship.
Read the Spoiler Section
 Some of the plot points in the last half of the book just didn't jive with me. Putting aside my issues with the lack of relationship development, the reader is supposed to believe that Everly's fiancé would calmly let her walk out and go back to August. What's more, he says he will wait for her—knowing full well she's already slept with him. Later on, when things with August inevitably go south Ryan takes Everly back no questions asked and says, "I knew you'd be back." I didn't find this believable or logical in the slightest. There was no discussion or hesitation or anything. He took her back and went back to dating each other. Sure, love can make you do illogical things, but it just seemed too convenient.
[collapse]
The last scene between Everly and August felt like it was ripped out of a daytime soap opera. I enjoy good drama but this was way over-the-top and overwritten. The ending of the book will definitely leave you scrambling for the next book. You're in luck because the next book releases very soon.
* I received a copy from the publisher in exchange for an honest review.