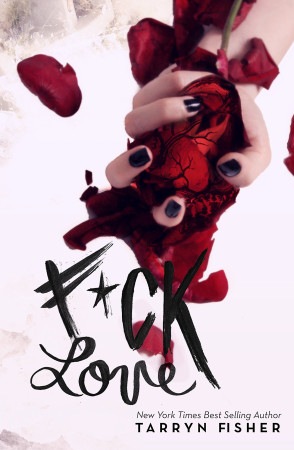 F*ck Love
by
Tarryn Fisher
Published by
Self-Published
Publication date:
December 31, 2015
Genres:
Adult
,
Romance
Format:
eARC
Source:
ARC via author
Helena Conway has fallen in love.
Unwillingly.
Unwittingly.
But not unprovoked. Kit Isley is everything she's not—unstructured, untethered, and not even a little bit careful.
It could all be so beautiful...if he wasn't dating her best friend. Helena must defy her heart, do the right thing, and think of others.
Until she doesn't.
Affiliate Disclosure: This post contains affiliate links. In plain English, this means that I may receive a small commission (at no cost to you) if you purchase something through the links provided. This small income goes back into my blog, so I can continue to create fun content for you. I appreciate my readers and make it my goal to be upfront and honest. Thank you for supporting my blog!
Book Review:
* Spoilery things are in spoiler tags. 🙂
Tarryn Fisher has a distinct writing style that's all her own and she's back with a somewhat-different love story. Sadly, my issues with the characterization and overall plot prevented me from falling in love with Kit and Helena's story. And it breaks my heart to say so.
Helena has a vivid and unsettling dream. In the dream, she and Kit are ridiculously in love. They have two kids—one is his—and live in Port Townsend, Washington and she's a successful illustrator. But in real life, Kit and Helena are not in love. In fact, they barely even know each other. They live in Florida, and Helena doesn't have an artistic bone in her body. Helena's best friend, Della, has been dating Kit for five months and is already madly in love with him. Crap.
Despite having her own boyfriend, Helena can't quite shake the feelings she felt in her dream. Love. Desire. Happiness. Kit should be hers. They should get their happily-ever-after. But what about Della? Hello, moral dilemma. This dream shifts Helena's perspective and what she wants out of life, compelling her to make a change.
Helena is disorganized, a Ravenclaw turned Slytherin, a horrible artist, and in love with her best friend's boyfriend. She's "a lovely mess." Kit is a writer, self-contained and self-aware, but completely oblivious to the fact that Helena dreamt of a life that includes the two of them and unknowingly caught in a web of unrequited forbidden love. Kit and Helena's story is not an easy one—it has several ups and downs. But Helena's evasive tendencies have the reader—and Kit—running to keep up with her.
I found Helena's quirky characteristics to be a overly exaggerated to the point that she became a caricature. After her dream, Helena tries desperately to recreate the dream life she had with Kit. She takes art classes, starts drinking wine even though she's a beer drinker, begins talking with Kit in hopes of making him love her back, sleeps with a wine cork because it reminds her of dream Kit. When all hope seems lost, she escapes Kit-saturated Florida, View Spoiler »moves to his hometown, hunts down his ex-fiancée, « Hide Spoilerand moves in with her—all in the name of self-discovery. While these things may have been added to make Helena seem "strange and quirky", it came off as manic and more than a little bit crazy.
I think Fisher meant for the reader to laugh at her and I did—some of the time. Her internal monologue was quite funny in some moments. But with all of her strange habits and characteristics combined, she didn't feel real to me at all. They felt completely forced, like the author was trying too hard to make her distinct and unique. I was unable to relate to her, which made it difficult for me to understand her actions.
In many ways, the romance in F*ck Love felt like a rehash of Fisher's Love Me With Lies series, but without the magic or chemistry. I felt no anxiety or desperation for Kit and Helena to be together. While there were some sweet moments between Kit and Helena that I liked, I'd hoped that this book would evoke the same emotions I get when reading a gripping love story—that "OMG I think I will die if they don't end up together" feeling. Instead, I was left with the worst feeling of all—indifference.
It was almost like Fisher used the bones of her Love Me With Lies characters to create Helena, Della, and Kit. Kit's character reminded me so much of Caleb (and even Isaac from Mud Vein). View Spoiler »He stayed with a tamed-down version of Leah when he knew he didn't love her because "it was the right thing to do", broke it off with her, but went back to her when he found out she was pregnant. « Hide Spoiler Likewise, Helena is known to run away from love and life when things get tough or too emotional—much like Senna (of Mud Vein) and Olivia. While I loved the Love Me With Lies series, I was hoping for a hero and heroine that were completely new, not ones who so closely resembled past characters.
F*ck Love lacked a cohesive plot and a sense of structure for the reader to grasp on to. Instead, this book fell victim to many other books' pitfall—plot whiplash. There was very little resolution of one problem before another problem was thrown into the pot. There was no gradual building of conflict. Instead, the reader got a "and then this happened and then this happened and then this happened" sort of story.
Fisher is notorious for writing unconventional tales, taking her readers out of what's ordinary and dropping them in the middle of the unexpected. That's what F*ck Love was for me. It was unexpected. While I didn't end up loving the book, I can appreciate the story's message: Fight for what you want in life and don't give up.
"Don't be upset that you can't attain constant happiness. It's the quickest way to feel like a failure in life."
* I received an advanced copy from the author in exchange for an honest review.
2 stars