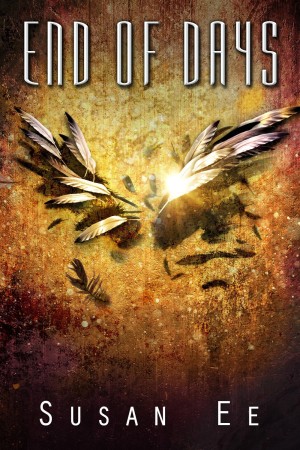 End of Days
by
Susan Ee
Series:
Penryn and the End of Days #3
Published by
Amazon Publishing
,
Skyscape
Publication date:
May 12, 2013
Genres:
Fantasy
,
Post Apocalyptic
,
Young Adult
344 pagesFormat:
ARC
Source:
Publisher
End of Days is the explosive conclusion to Susan Ee's bestselling Penryn & the End of Days trilogy. After a daring escape from the angels, Penryn and Raffe are on the run. They're both desperate to find a doctor who can reverse the twisted changes inflicted by the angels on Raffe and Penryn's sister. As they set off in search of answers, a startling revelation about Raffe's past unleashes dark forces that threaten them all.

When the angels release an apocalyptic nightmare onto humans, both sides are set on a path toward war. As unlikely alliances form and strategies shift, who will emerge victorious? Forced to pick sides in the fight for control of the earthly realm, Raffe and Penryn must choose: Their own kind, or each other?
Affiliate Disclosure: This post contains affiliate links. In plain English, this means that I may receive a small commission (at no cost to you) if you purchase something through the links provided. This small income goes back into my blog, so I can continue to create fun content for you. I appreciate my readers and make it my goal to be upfront and honest. Thank you for supporting my blog!
Book Review:
End of Days is a wild and explosive ride and a great conclusion to Penryn and Raffe's story. So much happened in this book that kept me on the edge of my seat. I really wished Susan Ee would have put some of what happened in this book in World After (Read My Review). Many may think this book suffers from too much happening, but I was thirsty for the action that End of Days delivered.
Penryn and Raffe are reunited at the end of World After. They have a lot of things to deal with in this one. First, they have Penryn's sister, Paige, to contend with. Penryn is all Paige has at the moment with Penryn's mom off in la la land. Second, Raffe and Penryn have A LOT to talk about. Talk about sexual tension! Holy Jeebus! Third, Uriel and Beliel are looking for Raffe and they know just how important Penryn is to Raffe, even if he doesn't want to openly admit it.
Unlike, World After, I couldn't put End of Days down. There was an endless loop of action, almost-kisses, full-on kisses, and funny banter between Raffe and Penryn. Susan Ee brought the series back to what I loved most in Angelfall—Penryn and Raffe. This series is about determination and fighting for what you believe in no matter how improbable or impossible it may seem. The Resistance just wants humankind on an even playing field with the divine creatures that roam the earth. Penryn wants a sense of normalcy and a chance to love freely and to feel love without encumbrances.
I truly thought this book was a nice wrap-up to the series. It was packed with great action sequences and fighting scenes! Susan Ee did a great job with those. Many times when I am reading a book with the action scenes it's easy to skim, but in End of Days I hung on every word. I think readers who read this series for the romance will be happy with how it all ends. I know I was. 😉 I'm not saying that Raffe and Penryn end up together, but I will say that their journey as friends and partners was very satisfying. I'm sad to see their story come to an end, but I can't wait to see what Ms. Ee comes up with next!
4 stars
* I received a copy of this book in exchange for an honest review.
YOU MAY ALSO LIKE THESE POSTS: