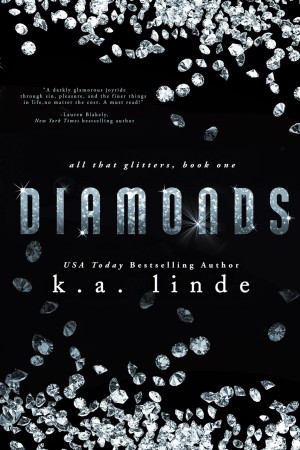 Diamonds
by
K.A. Linde
Series:
All That Glitters #1
Published by
Self-Published
Publication date:
April 21, 2015
Genres:
New Adult
,
Romance
246 pagesFormat:
ARC
Source:
ARC via author
Bryna feels his eyes on her.

Hot, seductive, enticing.

He's at least ten years older than her seventeen years, and he knows exactly what he's doing to her with that look.

Walking away would be the smart thing to do…

But she can't. Not that first night when he takes her home and claims her body. Not when he shows up in her life again with expensive gifts to win her trust. Not even when she's falling for him, and everything else is falling apart…

Find out how Bryna goes from golden girl to gold digger in this tantalizingly scandalous first book in the USA Today bestselling author K.A. Linde's All That Glitters series.
Affiliate Disclosure: This post contains affiliate links. In plain English, this means that I may receive a small commission (at no cost to you) if you purchase something through the links provided. This small income goes back into my blog, so I can continue to create fun content for you. I appreciate my readers and make it my goal to be upfront and honest. Thank you for supporting my blog!
Book Review:
In Diamonds, you meet Bryna, a wealthy seventeen-year old girl in Los Angeles. Her life is anything but typical, far outside anything I have ever been (and probably will ever be) privy to, but nonetheless fascinating. At seventeen, I was still without a driver's license, while Bryna is out clubbing and dating hot movie stars. Work it, girl.
As an outsider, you might think Bryna has everything—money, a nice car, luxurious clothes, popularity, hot guys falling all over themselves for her. But really she's lonely, due to a father who's too busy with his movie career to play an active role in her life, a drug addict mother, and a stepmother who "ruined her life" by breaking up her parents.
Bryna meets Jude at a local night club and both of them are instantly drawn to one another. At a glance, she can tell that he's much older than her seventeen years, so she keeps her age a secret (I smell trouble!). She wants to go home with him. He wants to take off her clothes. After a quick call to break up with her movie star boyfriend, Gates, she spends an erotic and passionate night with him, beginning a string of secret rendezvous dates with Jude. Bryna keeps Jude's identity from everyone, including her annoying stepbrother, Pace.
I enjoyed some parts of Diamonds by K.A. Linde, but the writing in this book wasn't as strong as what I've seen in some of her previous ones. Some lines in the book almost made me want to put the book down for good.
She cried out as he filled her. For once, she didn't feel empty or hollow. She felt completely and totally full. Of his cock.
She gasped at the abrupt change. Fuck, he has a huge dick.
I would like to know how Bryna attracts all of these guys! Can she give me some pointers? Because seriously, dude, she has a diamond-encrusted vagina. Jude is all up in her, Gates clearly isn't over her, and there is something going on with Pace that I can't put my finger on. He acts kind of like a grade school kid who shows his affections by throwing rocks at the girl he likes on the playground. To be honest, I found Bryna to be whiney, and if I were I dude, I would not hit that.
If I had to choose a guy for Bryna, I'd choose Gates. I think Gates was my favorite. He seemed to be the most level-headed one of the lot, even though he made some mistakes. Gates and Bryna's relationship/friendship was probably my favorite element of this book. Bryna knew Gates before he was propelled into movie stardom. Gates knows all the personal things Bryna keeps hidden from everyone else. They understand each other and still care deeply for one another.
Bryan and Jude. I felt nothing for them as a couple due to the lack of relationship development. The author told me that their "chemistry was electric" but I didn't buy it. To me their relationship felt purely sexual, and there was no emotional depth at all. But maybe that was the point. Maybe Linde wanted to create a juxtaposition between Jude and Gates, highlighting history and depth between Gates and Bryna. Maybe? I don't know. But with so much focus of the book being on Jude and Bryna's forbidden romance, I wanted to know what Jude saw in Bryna and why Bryna couldn't stop thinking of Jude (especially after one night).
I will read Gold (All That Glitters #2) (pre-order here) for the same reason I finished Diamonds: I must to know what happens next.
2 stars – but I want to continue the series.
* I received an advanced copy from the publisher in exchange for an honest review. This did not affect my opinion of the book in any way.
Diamonds: Amazon: US • UK • CAN | iBooks | GR