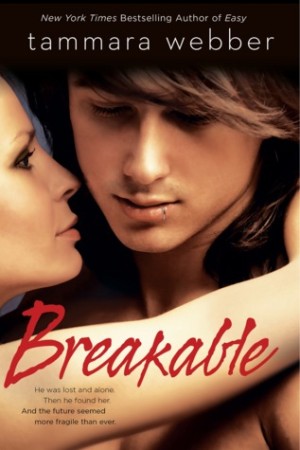 Breakable
by
Tammara Webber
Series:
Contours of the Heart #2
Published by
Berkley
,
Penguin
Publication date:
May 13, 2014
Genres:
New Adult
,
Romance
368 pagesFormat:
Paperback
Source:
ARC via publisher
He was lost and alone. Then he found her.
And the future seemed more fragile than ever.

As a child, Landon Lucas Maxfield believed his life was perfect and looked forward to a future filled with promise — until tragedy tore his family apart and made him doubt everything he ever believed.

All he wanted was to leave the past behind. When he met Jacqueline Wallace, his desire to be everything she needed came so easy…

As easy as it could be for a man who learned that the soul is breakable and that everything you hoped for could be ripped away in a heartbeat.
Affiliate Disclosure: This post contains affiliate links. In plain English, this means that I may receive a small commission (at no cost to you) if you purchase something through the links provided. This small income goes back into my blog, so I can continue to create fun content for you. I appreciate my readers and make it my goal to be upfront and honest. Thank you for supporting my blog!
Review:
Tammara Webber's Easy was one of the first books that fueled my hunger for reading along with a few other indie treasures.  I devoured Jacqueline and Lucas's love story, and when I was done I was left wanting more. I wanted to know more about Lucas and this mysterious guy who gave away his heart.  When I heard that Webber was going to publish Lucas's story, I was elated and overjoyed that Webber is letting us into Lucas's head for one last hurrah.
"But then she looked back at me in class on Wednesday, and the hope I knew I should discourage reignited. It was a dull glow in the pit of my heart—that somehow this girl was meant to be mine. That I was meant to be hers."
Breakable alternates between the past (Landon) and the present (Lucas's).  In the Landon sections, you learn in heartbreaking detail what happened after the horrific death of his mother, through his middle school years to when he leaves for college.  It has been awhile since I read Easy, so it's likely I've forgotten all of what bits of Lucas's past were revealed in Easy, aside from his mother's death.  Lucas's past is a painful journey through loss, hardship, and raw pain.
I'm fine. I'm good.

But I wasn't fine. I was anything but fine. That night had shattered me. I'd walled myself in to keep from breaking further, but no defense will protect you from every possible pain. I was still just as breakable as everyone else—the girl in my arms included. But I could hope. And I could love. And maybe, I could heal."
I was hesitant to read this at first because I was worried that the present chapters were going to be a rehash of Easy. But it wasn't.   Not at all. Reading through the Lucas sections shed a new light on Jacqueline and Lucas's tender and emotional love story.  I was able to put the two sides of the story together in my head as I read and it enhanced my reading experience.
What I loved most about Breakable was seeing how Lucas's past shaped the person he became, the person he was when he met Jacqueline.  In life, there are so many things that make you who you are.  Moments, seconds in time that leave an imprint on your heart or leave visible scars on your heart shape you.  From being bullied and beat up by people in school to losing a parent, there are many things in Lucas's life that made him the protective, driven, and brilliant man Jacqueline met.  But he wasn't always like that. Breakable reveals that harder side of Lucas, the side that the reader didn't get in Easy.
Lucas's past is so filled with so much emotional and physical pain.  The Landon chapters were difficult to read.  One terrible night changed Lucas's life and broke his heart. The more of his backstory I read, the more in love with him.  Like a phoenix rising from the ashes, Lucas turned his trouble life around with the help of Dr. Heller and his own unyielding determination.  After reading Breakable, I fell in love with Lucas even more and my admiration towards him grew exponentially.
I would recommend reading Easy before reading this.  Even though this is a companion novel and occurs mostly simultaneously with the events that happen in Easy, I did feel like Jacqueline's point-of-view suited the story better.  Knowing Jacqueline's thoughts and actions was immensely helpful in this book.
* I received a copy from the publisher in exchange for an honest review.
What others are saying about Breakable:
Mollie from Tough Critic Book Reviews said: "Breakable was amazing, and I truly feel it did nothing but make this series even better. It was a completely new book, a totally new experience. There was so much about Lucas that I didn't know, so many layers. Getting to experience his life, and the life that brought him to Jacqueline, was the best gift the author could have given us." – 4 stars
Andrea from The Bookish Babes said: "Breakable was beautiful. Not that anyone had doubts about Webber's ability to bring her talent to the table and create a great story that would make readers fall in love with Lucas all over again." – 5 stars