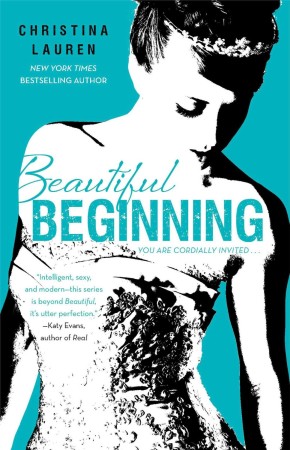 Beautiful Beginning
by
Christina Lauren
Series:
Beautiful Bastard #3.5
Published by
Gallery Books
,
Simon & Schuster
Publication date:
November 19, 2013
Genres:
Erotica
,
New Adult
,
Romance
193 pagesFormat:
Paperback
Source:
Purchased
Back when not being able to stand each other also meant not being able to keep their hands off each other in Beautiful Bastard, neither Bennett nor Chloe could have seen this day coming.

An exasperated bride who just wants to elope. A determined groom whose only focus is getting to the wedding night. And—of course—a whole lot of name calling.
Affiliate Disclosure: This post contains affiliate links. In plain English, this means that I may receive a small commission (at no cost to you) if you purchase something through the links provided. This small income goes back into my blog, so I can continue to create fun content for you. I appreciate my readers and make it my goal to be upfront and honest. Thank you for supporting my blog!
Book Review:
Beautiful Beginning has been my favorite novella so far! Told in Chloe and Bennett's points-of-view, you get to see all of the sexy, pent-up frustration, and funny moments that make Christiana Lauren's books so entertaining. I laughed out loud several times as Bennett and Chloe tried to survive their wedding week alongside their crazy families and friends.
In Beautiful Beginning, Chloe and Bennett are getting married! Woohoo! They travel back to where their relationship began nearly two years before—San Diego. All of their family and friends in one place made from some crazy times. Their wedding wasn't perfect, but damn, was it entertaining.
Bennett sicked his two horny cougar cousins on poor, lovesick, Will and even got Hanna in on the fun. Meanwhile, due to her hormones, Sara can't keep her hands off Max. And Chloe is trying desperately to force Bennett to break the self-imposed rule he set before traveled to San Diego—no sex until they're married.
I had to seduce my fiancé, and in order to do that, I had to play dirty.
All of the crazy family drama was so funny! Bennett's mom constantly texted him random things he had no control over and it annoyed him to no end. This one was my personal favorite:
Tell your father to stop introducing Aunt Joan as The Prospector. I have no idea why she's wearing so much gold nugget jewelry, but he's being rude.
Most of all, I just liked seeing Bennett and Chloe so happy and in love. They hate-love each other so much and it was so my fun to watch them push each other's buttons.
When my mother suggested Chloe wear her hair down instead of up for the ceremony, Chloe had only responded with a pained smile.
By this point I could practically smell the storm in the air, and we hadn't even started the rehearsal yet.
It was so awesome to see Max and Sara and Will and Hanna so much in this book. Both couples are so head over heels. I don't want to give anything away but one couple is definitely taking me their relationship to the next level and it made my heart squeeze a little!
3 stars
Amazon: US • UK • CAN | iBooks | GR