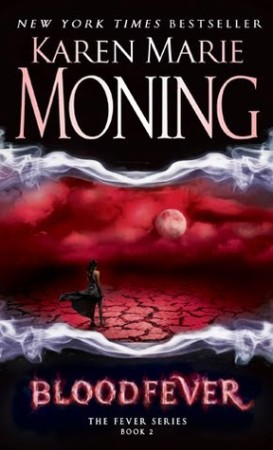 Bloodfever
by
Karen Marie Moning
Series:
Fever #2
Published by
Delacorte Press
,
Random House
Publication date:
October 16, 2007
Genres:
Romance
,
Urban Fantasy
337 pagesFormat:
eBook
Source:
Purchased
I used to be your average, everyday girl but all that changed one night in Dublin when I saw my first Fae, and got dragged into a world of deadly immortals and ancient secrets. . . .

In her fight to stay alive, MacKayla must find the Sinsar Dubh—a million-year-old book of the blackest magic imaginable, which holds the key to power over the worlds of both the Fae and Man. Pursued by assassins, surrounded by mysterious figures she knows she can't trust, Mac finds herself torn between two deadly and powerful men: V'lane, the immortal Fae Prince, and Jericho Barrons, a man as irresistible as he is dangerous.

For centuries the shadowy realm of the Fae has coexisted with that of humans. Now the walls between the two are coming down, and Mac is the only thing that stands between them.
Affiliate Disclosure: This post contains affiliate links. In plain English, this means that I may receive a small commission (at no cost to you) if you purchase something through the links provided. This small income goes back into my blog, so I can continue to create fun content for you. I appreciate my readers and make it my goal to be upfront and honest. Thank you for supporting my blog!
Review:
The Fever series is my new obsession.  The characters are addictive and multi-faceted.  The story is unique, perfectly-paced, and woven together beautifully.  Hello, my name is Megan and I am obsessed with the Fever series.
Darkfever introduced you to the Faery world and the two courts:  Dark and Light or Seelie and Unseelie.  You met Mackayla Lane, a sidhe-seer, who has the ability to see through the fae glamour. But she also has the ability to sense fairy objects of power, which is rather useful to Barrons.  And you  met the badass of all badasses, Jericho Barrons.  As of yet, I don't know who or what Jericho Barrons is besides a badass, nor do I care.  I just want more of him.  All the time.  More.
Mac has a lot on her plate in Faefever.  "The walls between Man and Faery are coming down."  A hidden portal to Faery has been pouring the evil Unseelie into the human world at rapid rates.  Crime rates are going up, people are dying, and time is slipping away. At every turn, the people Mac meet cause her to ask, "Who can I trust?"
We officially meet Rowena, the head of the sidhe-seers, whose main motivation seems to be getting the spear from Mac.  V'lane, the death-by-sex fairy, shows up in Bloodfever, further confusing Mac.  I'm not exactly sure if he's good or bad, but I kind of like him.  And of course, there is Barrons who seems helpful and trustworthy, but the jury is still out on that one.
Mac got into some trouble at the end of Darkfever and made some enemies, some of which could be coming after her.  Derek O'Bannion, the brother of the deceased Roark O'Bannion, saunters into the bookstore looking for answers as to his brother's whereabouts.  Mac wonders whether the Dark Master, the leader in the Unseelie uprising, is going to track her down and kill her after she discovered what he was hiding.  She fears Malluce is undead again and is going to find her to seek vengeance.
The worst of it was that now I was caught up in a deadly marathon, running for my life, desperate to stay one step of all the monsters behind me, and there was no finish line in sight.
I remember getting to one point in this book and thinking, "Not much has happened." But once I stopped and collected my thoughts, I mentally slapped myself for thinking that.  So much does happen in Bloodfever.  Mac had to deal with a dead cop, her own trust issues, the surprise visit from her father, a seemingly malevolent spector watching over her, V'lane, and Barrons' incessant search for the Sinsar Dubh.  Barrons' search for the dark book of the Unseelie causes complications that get Mac in some pretty serious and, at times, sexy situations.
Moning has done amazing things with Mac's character growth.  In the beginning of Darkfever, she is a pink perky rainbow and was absolutely clueless as to what was going on around her.  Working with Barrons and doing her own detective work, she has grown so much.  If Mac Version 1.0 had to deal with half of the things Mac Version 2.0 had to, she likely would have died.
Barrons is one of those men who doesn't speak without purpose. Every word he says is delivered with precision and with premeditated thought.  Most of what he says is factual and serious, so that sort of romantic notion coming from his lips was incredibly surprising.  Barrons utters one of the most beautiful, I have ever read in a book:
One day you may kiss a man you can't breathe without, and find that breath is of little consequence.
I hope there is more where that came from.
I think this description of Barrons is perfect at summing up his character and his aura:
Barrons has something the rest of us don't have. I don't know what it is, but I feel it all the time, especially when we're standing close.  Beneath the expensive clothes, unplaceable accent, and cultured veneer, there's something that never crawled all the way out of the swamp. It didn't want to. It likes it there.
That's Barrons in a nutshell.
Most of all, I loved the trust and respect growing between Mac and Barrons.  It's a sort of quiet tacit give and take between the two of them.  There isn't one moment that seems to definitely cause them to respect one another.  Rather, it's a culmination of several small spaces in time, the evidence of such trust and respect about makes me just about lose it.  Barrons continues to play little games with Mac, testing her without letting on that he's doing so and quietly watching over her.  At times, Barrons lets down his guard, giving you a glimpse of a humours and more playful side.  I love any and all sides of Barrons, but this playful side had me chuckling.
"And which one are you in doubt about, Ms. Lane?"

"Which one of what?"

"Whether I see the Fae, or whether I am a man. I believe I've laid your mind to rest on the former; shall I relieve it on the latter?" He reached for his belt.

"Oh, please." I rolled my eyes. "You're a leftie, Barrons."

"Touche, Ms. Lane," he murmured.
I reached a point in the book (I won't say what) where I had to literally calm myself because I could not take it.  The sexual tension was reaching Defcon level 5. It was insane and amazing. The romantic relationship hasn't even arrived really, but I see the buds of a beautiful flower and am waiting (not so) patiently for it to bloom. Okay, corny analogy.  But seriously, holy freaking crap!
I MUST MOVE ON TO FAEFEVER!!
4 stars
Amazon: US • UK • CAN | iBooks | GR