Normally, I have more than four books to post at the end of the year for my "Best of" post. But if you've followed my blog this year, you may have noticed that 2015 wasn't a great year in reading. I hope next year this list is full of many more wonderful reads.
Even though I didn't have a ton of books that I loved this year, I did have four that I completely fell in love with. One book is from a favorite series of mine, two are from an author who's become an auto-buy for me, and the last one is outside the genre of what I usually read but it completely captivated me.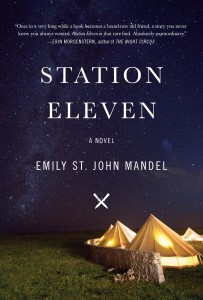 STATION ELEVEN by Emily St. John Mandel
This book is outside of my comfort zone, the romance genre, but I was so moved by it. I will say that it's not a book for everyone. Mandel's writing is a thing of beauty. The concept of the world ending is a scary and terrifying thing, yet Mandel added a subtle beauty to it that really stayed with me.
Upon finishing, I was left with feelings of nostalgia and longing that I can't really explain. I felt my way through this book, and I love it when a book can do that for me. At the heart of the novel is the question, "What would you miss if everything you loved, everything you know was taken away from you instantly?"
"She was thinking about the way she'd always taken for granted that the world had certain people in it, either central to her days or unseen and infrequently thought of. How without any one of these people the world is a subtly but unmistakably altered place, the dial turned just one or two degrees."
"Hell is the absence of the people you long for?"
✥ ✥ ✥ ✥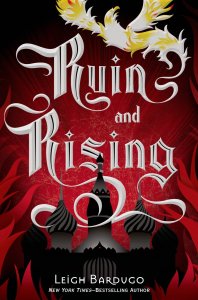 RUIN AND RISING by Leigh Bardugo
Ruin and Rising is the conclusion to Leigh Bardugo YA fantasy series, the Grisha Trilogy. I finally finished the series this year, and it instantly became one of my favorites. It was one of the most consistent YA series that I have read to date. So many things I loved about the series—the characters, the setting, the plot. Everything pulled me in, especially Sturmhond and the Darkling. 🙂
The romance between Alina and Mal in this series is very understated but quite lovely at the same time. Leigh Bardugo had an opportunity to take the romance in to triangle territory (and even square territory) but she didn't.
"Maybe love was a superstition, a prayer we said to keep the truth of loneliness at bay. I tilted my head back. The stars looked like they were close together, when really they were millions of miles apart. In the end, maybe love just meant longing for something impossibly bright and forever out of reach."
✥ ✥ ✥ ✥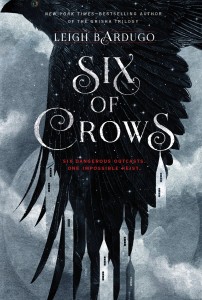 SIX OF CROWS by Leigh Bardugo
I immediately jumped into Six of Crows after finishing Bardugo's trilogy and I LOVED it!
This book had a little bit of everything, which is part of what made it so hard to put down. There were two romances that I couldn't get enough of and a ton of action that had me all kinds of anxious!
"She wouldn't wish love on anyone. It was the guest you welcomed and then couldn't be rid of."
Note: Six of Crows is set to be a duology and takes place in the same world as the Grisha trilogy. It's not necessary to read the trilogy before jumping into Six of Crows. But I highly recommend that you do, not just because the series is awesome 😉 but also some of the world isn't explained in as  much detail in Six of Crows and you might be a tad confused.
✥ ✥ ✥ ✥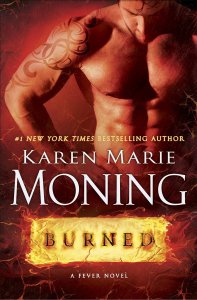 BURNED by Karen Marie Moning
I was so late to the Fever series party when I binge read the whole series in mid-2014. It quickly became one of my all-time favorite series ever.
The dynamic between Mac and Barrons is unlike any other. Sizzling tension brimming beneath the words they don't say to one of another is one of the things I love most. The character development of Mac from beginning thorugh now is freaking awesome.
Burned was action-packed and full of more insight into The Nine. While it wasn't perfect, I still loved it. I am so looking forward to more Fever in 2016!
"I could turn you inside out. Play you like you play the rest of the world. You're not a singularity anymore. I've become your equal in every way."
✥ ✥ ✥ ✥
I'd love to know what some of your favorites were!
Please tell me in the comments!