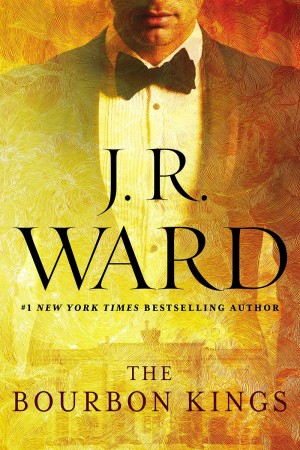 The Bourbon Kings
by
J.R. Ward
Series:
The Bourbon Kings #1
Published by
NAL
,
Penguin
Publication date:
July 28, 2015
Genres:
Adult
,
Contemporary Romance
,
Romantic Suspense
420 pagesFormat:
ARC
Source:
ARC via publisher
For generations, the Bradford family has worn the mantle of kings of the bourbon capital of the world. Their sustained wealth has afforded them prestige and privilege—as well as a hard-won division of class on their sprawling estate, Easterly. Upstairs, a dynasty that by all appearances plays by the rules of good fortune and good taste. Downstairs, the staff who work tirelessly to maintain the impeccable Bradford facade. And never the twain shall meet.

For Lizzie King, Easterly's head gardener, crossing that divide nearly ruined her life. Falling in love with Tulane, the prodigal son of the bourbon dynasty, was nothing that she intended or wanted—and their bitter breakup only served to prove her instincts were right. Now, after two years of staying away, Tulane is finally coming home again, and he is bringing the past with him. No one will be left unmarked: not Tulane's beautiful and ruthless wife; not his older brother, whose bitterness and bad blood know no bounds; and especially not the ironfisted Bradford patriarch, a man with few morals, fewer scruples, and many, many terrible secrets.

As family tensions—professional and intimately private—ignite, Easterly and all its inhabitants are thrown into the grips of an irrevocable transformation, and only the cunning will survive.
Affiliate Disclosure: This post contains affiliate links. In plain English, this means that I may receive a small commission (at no cost to you) if you purchase something through the links provided. This small income goes back into my blog, so I can continue to create fun content for you. I appreciate my readers and make it my goal to be upfront and honest. Thank you for supporting my blog!
Book Review:
The beginning had a good start to it with the glimpse into the life of an abundantly wealthy southern family and all of the drama surrounding them. I found that part of the book fascinating, but most of the book seemed really slow.
Lane Bradford is one of four children who are heir to the Bradford Bourbon fortune. Two years prior, Lane had left his Kentucky home and fled to New York. A sudden illness brings him back to the Charlemont estate where he has to deal with his subsequent sudden departure and his former lover (who, by the way, hates him).
The Bourbon Kings is brimming with juicy family drama. Lane's father is a horrible man who has controlled his children their whole lives. As the story unfolds, the more you see just how despicable he is as a father, as a businessman, and as a human being. Lane's siblings, Gin and Edward, are emotionally damaged for various reasons and have problems functioning as normal people. His mother is bedridden and in a constant drugged state due to her addiction. His other brother, Max, hasn't made an appearance in the present time, but I have a feeling he is going to play a larger role in the upcoming novels.
And if that wasn't enough, people start dropping dead, the Bourbon distillery is forced to shut down, millions of dollars are missing from the books, and everyone seems to be lying.
The story is told in third person through the lens of several key players. At the center of the story is the romance between Lane and Lizzie. Prior to Lane leaving, he and Lizzie were lovers until Lane made a stupid mistake and they broke up. And I should mention that Lizzie works for the family and any love connection between one of the Bradford children and the help is simply not done. *gasp*
Now he's back and they started where they left off. In the beginning, their relationship really drew me in because Lane had to grovel to win her back and there was this sort of forbidden/hush hush thing going on with them since she was the staff. But after awhile, their story kind of lost its luster. They got back together rather quickly and the tension between them was gone.
What I didn't really like in this book was the pacing. There were long chunks of narrative and fluff that were completely unnecessary. It really slowed down the book for me. Up until the last 75-ish pages, the novel was a solid 3-star for me because I was having a fun reading all of the southern soap opera drama and intrigue. But the ending just seemed very, very anticlimactic, especially for the first book of a series.
It takes a lot for a character to get on my nerves, but Lizzie really started to grate on me. Her lack of trust in Lane was understandable to a point. But for real, her reasons for pushing him away were stupid. He came clean with what happened two years prior and hadn't really given her a reason in the present for her not to trust him. Lizzie, stop it. If you pull this shiz in the second book, I'm will slap you through my Kindle.
While I want to know what happens in The Angels' Share, The Bourbon Kings didn't have that amazing ending that left me clamoring for the next book, you know? I'm so darn curious as to what happens though, especially with some of the secondary characters (Edward and Gin!).
* I received a copy from the publisher in exchange for an honest review.
Note: if you haven't read Gone Girl, this book will spoil that book for you. I hadn't read it and was a little upset that this book revealed the big twist. I know, I'm probably the only person who hasn't read Gone Girl. And I know, that it's not realistic to remain in the dark about a book for all of eternity. But Gone Girl is a fairly recent release (within the last 10 years) and I think it's fair to assume that some of your reader base wouldn't have read it. However, the way the spoiler was mentioned could have been phrased in a different way to not even include the title of the book.  (By the way, this did not affect my rating, but I thought those who haven't read Gone Girl may want to know).