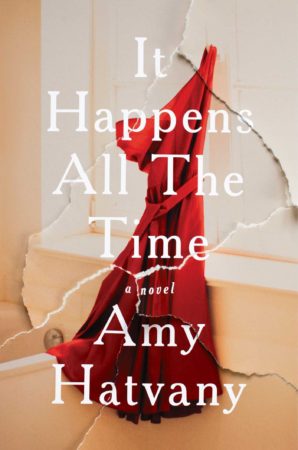 It Happens All the Time
by
Amy Hatvany
Published by
Atria
Publication date:
March 28, 2017
Genres:
Women's Fiction
Narrator:
Julia Whelan
,
Kirby Heyborne
Length:
9 hrs and 49 mins
320 pagesFormat:
Audiobook
Source:
Publisher
From master storyteller Amy Hatvany—whose writing has been hailed as "gripping and emotionally honest" (Stephanie Evanovich, New York Times betselling author)—comes a provocative and compelling novel about two friends whose lives are changed by a drunken kiss.

I want to rewind the clock, take back the night when the world shattered. I want to erase everything that went wrong.

Amber Bryant and Tyler Hicks have been best friends since they were teenagers—trusting and depending on each other through some of the darkest periods of their young lives. And while Amber has always felt that their relationship is strictly platonic, Tyler has long harbored the secret desire that they might one day become more than friends.

Returning home for the summer after her college graduation, Amber begins spending more time with Tyler than she has in years. Despite the fact that Amber is engaged to her college sweetheart, a flirtation begins to grow between them. One night, fueled by alcohol and concerns about whether she's getting married too young, Amber kisses Tyler.

What happens next will change them forever.

In alternating points of view, It Happens All the Time examines the complexity of sexual dynamics between men and women and offers an incisive exploration of gender roles, expectations, and the ever-timely issue of consent.
Affiliate Disclosure: This post contains affiliate links. In plain English, this means that I may receive a small commission (at no cost to you) if you purchase something through the links provided. This small income goes back into my blog, so I can continue to create fun content for you. I appreciate my readers and make it my goal to be upfront and honest. Thank you for supporting my blog!
Amy Hatvany's IT HAPPENS ALL THE TIME is explores the emotional state of two best friends after one commits a horrendous violation of trust on the other.
I was one of the millions of Americans who was outraged at the Brock Turner case that was all over the news last year. I was and still am completely sickened by what he did, his family's blasé characterization of what he did ("twenty minutes of action"), and the lack of responsibility he appears to have taken. Most of all, however, I'm struck and inspired by the strength of "Emily Doe", the girl who penned an emotionally raw and honest statement to him that made me cry. I couldn't help but read think of this case as I read this novel.
We learn that Amber and Tyler have been friends for more than 9 years and their families are very close. Amber has battled with anorexia in the past and has very loving parents. Tyler secretly struggles with anxiety and with a supportive mother and a poor excuse for a father. He's been in love with her for her for years, but she has never felt the same way. Now engaged to her college boyfriend, Amber is ready to start her new life until one night changes everything.
This subject matter of this book is timely, considering the issues of rape and consent are at the top of the nation's headlines on a consistent basis. Since this is written in a dual point of view in the first perspective, the reader gets a front row seat into the emotional state of both Amber and Tyler.
The most glaring problem for me with this book is that I didn't really feel anything, one way or another with this book. Obviously, I sympathized for Amber due to the horrific trauma she had to endure. Neither characters' emotional arcs were fully developed that allowed the reader to completely empathize with them. The lack of connection here is largely due to inconsistent characterizations (which is explained below) and a lack of character development.
The premise of this novel was really promising. What in the world could lead one friend to hurt another so terribly? Tyler cares deeply for Amber, is close with her family, and is a seemingly good guy working as a paramedic. He doesn't seem to have this dark sinister side, like we might see in other novels covering this issue. The fact that he has this cleaner image sets a different emotional tone and is an interesting angle for a storyline such as this.
The way this premise was actually executed was problematic because it was difficult to reconcile Tyler's backstory with how he actually acted after the rape. Tyler's character was hard for me to swallow. He victimized himself and it bothered me to no end. I know that happens (as it did in the Brock Turner case) but in this case where Tyler was so attuned to Amber and her feelings, it was hard for me to believe that he wouldn't have crumbled emotionally much earlier than when he did.
I never felt sorry for Tyler to the point that I didn't want him to be punished, but I could understand to a point just how conflicted he felt. It would be hard wanting to believe and admit to yourself that you were capable of hurting someone you loved so much and for so long. Tyler was in a sort of self-imposed denial, refusing to consciously admit to what he did or take responsibility for what he did. What frustrated me was that Tyler actually did remember that she said no and admitted to himself that he continued to rape her after that point. Yet he kept using the phrase "she might have been hurt" or some variance of it when he knew what he did. Might? Really? Tyler seemed really obtuse.
Neither Tyler's anxiety or Amber's eating disorder were really essential to the story. If those things were removed from these characters' backstory, the novel would largely be unchanged. I didn't think either of those mental illnesses gave the characters more depth. Amber's character, especially, lacked depth. Given the subject matter, one might expect for a victim of rape to elicit strong emotions from the reader out of sheer sympathy, but her character was very bland.
I did enjoy parts of it but I didn't feel moved by this book. I needed stronger characterization in this novel. There were a few moments in the end between Tyler and Amber that did leave an emotional imprint, but overall this book isn't one that will leave a lasting mark.
Audiobook Comments:
I love Julia Whelan and so when I saw this was narrated by her, I got really excited. She is a narrator who delivers consistently good performance and this one was no exception. Kirby Heyborne isn't one of my favorite narrators, simply due to his style. But I did think his performance here was good and didn't distract from the novel.
* Thanks to Atria for sending me this audiobook for review. This didn't affect my opinion.