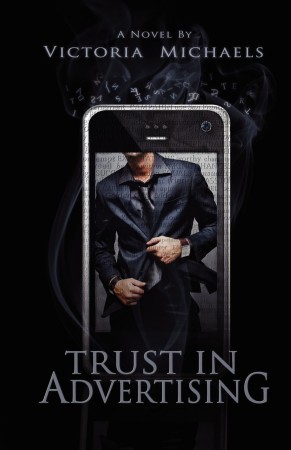 Trust in Advertising
by
Victoria Michaels
Published by
Amazon Publishing
,
Montlake Romance
Publication date:
July 27 , 2010
Genres:
Adult
,
Contemporary Romance
452 pagesFormat:
eBook
Source:
Purchased
Lexi White finds herself at a crossroads. After putting everything on hold to care for her ailing father, it's finally time for her to start living her life again. An exciting new job holds the promise of a fresh start, until she comes face to face with someone from her past who has always stopped her dead in her tracks, and who evidently still has the power to make her forget her own name. This time around, Lexi's a grown woman who refuses to back away from her dreams, even if it requires working with her old high school crush. Side by side. Every day. Will he end up being her downfall or exactly what she needs?

Vincent doesn't even remember Lexi from high school, but he begins to take notice when the fiery young woman is hired as his new assistant. Quickly, Lexi turns his world upside down and becomes an invaluable addition not only to his team, but to his life. Having learned a few hard lessons about trust in the past, Vincent is reluctant to let down his guard, especially when it appears that someone is out to sabotage his family's advertising agency. Professionally, they are dynamite together, but when sparks fly between them personally, will Vincent let lies and jealousy ruin everything between them, or will he finally learn not only how to love, but ultimately trust...in advertising?
Affiliate Disclosure: This post contains affiliate links. In plain English, this means that I may receive a small commission (at no cost to you) if you purchase something through the links provided. This small income goes back into my blog, so I can continue to create fun content for you. I appreciate my readers and make it my goal to be upfront and honest. Thank you for supporting my blog!
Book Review:
I was bad this week and reread a book when I am on a deadline to finish two other books. But I couldn't help myself. I wanted to revisit Lexi and Vincent, two of my old friends. This book is like comfort food for me. But see? I'm being good and finally writing down my thoughts on this one after reading it first almost 3 years ago.  Trust in Advertising is one of the books I go to when I want something sweet. It makes me smile and leaves me feeling giddy. 
Vincent hires Lexi as his new assistant but he doesn't realize (as she does) that they were actually classmates in high school. She remembers because she had a huge crush on him (and still does). But he's kind of gruff and jerky to her in the beginning. He's also taken. He's dating a model named Jade and she's a major stuck-up jerk with an inferiority complex where Lexi's concerned.
Over the course of the novel, Vincent warms up to Lexi, realizing that she just a really sweet person with drive and ambition. His whole family loves her. She's also incredibly talented when it comes to advertising. The two start working together on advertising campaigns and sparks fly. But Vincent is still with Jade. Ugh!
What I enjoy so much about this book is the whole office romance setting. When I hear office romance, I immediately think it's going to be super sexualized erotica (which I don't have a problem with) but sometimes I just want a straight up contemporary office romance. This is the book that fits that description.
Surprisingly enough, this book has no sex scenes in it, which is unusual for adult contemporaries. The focus in this book is on building the relationship between Lexi and Vincent and creating that delicious romantic tension readers love so much in books. It's totally there, you guys! And it pulled at my heart and kept me reading.
Some of the things that bothered me was Vincent and how he stayed with Jade for so long, even though he knew Jade was all wrong for him. I mean really, dude, get the nerve to break it off with her. Jade's character as a villain was over-exaggerated. Every scene she was in she was downright nasty and it got to a point where it wasn't realistic. I would have understood that she was bad without it being so blatant. Lastly this book is really, really long. I think it could have been cut down quite a bit and still had the same effect. Nonetheless, those things bothered me but they didn't completely take away from my enjoyment of the book.
I've read Victoria Michaels' Boycotts and Barflies a few years ago and really need to reread it again. She released another book last year called Concealed, but I've yet to get to that one. I really one to because the two books I've read of hers I've enjoyed. I hope she keeps on releasing books because I will read them.
3 stars