What I'm Digging is a feature in which I share my bookish finds with you. This can range from jewelry to clothes to home decorations. I find so many neat bookish things on Pinterest, Etsy, and elsewhere. I thought I would share my finds with you. Who doesn't love book-related goodies?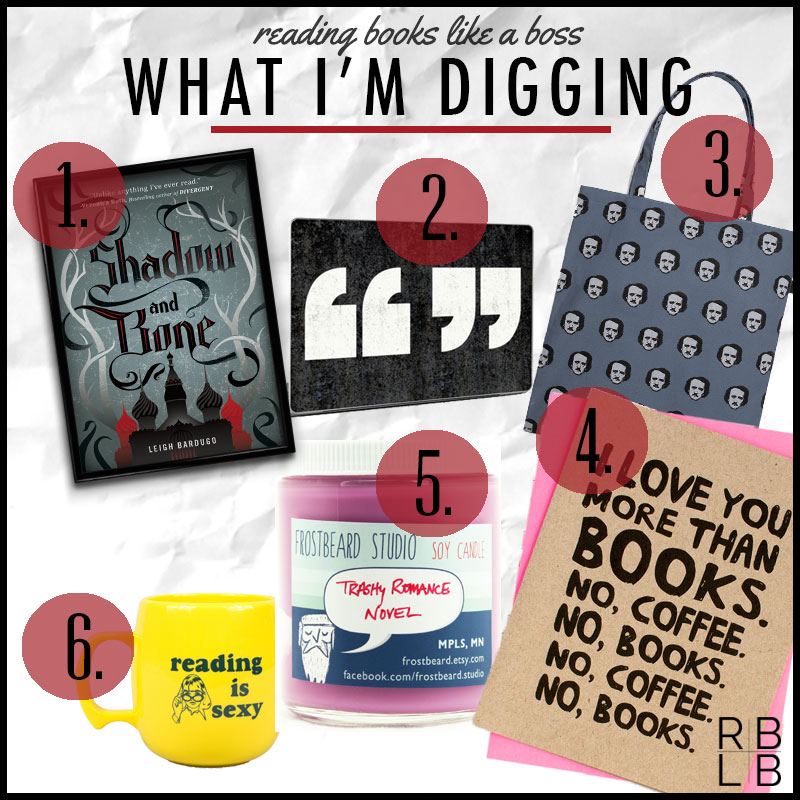 1.) Shadow and Bone by Leigh Bardugo
Shadow and Bone is book in on Leigh Bardugo's Grisha trilogy. I read this book last fall and thought it was fantastic. After seeing Lucia's feature on the trilogy last week, it reminded that I need to continue the series. It's a YA fantasy series and it's complete.
Amazon: US • UK • CAN | iBooks | GR

2.) Book Quote Laptop Skin
I don't own a pair of TOMs but I want these! These are so cute!!
Purchase Here
$54.00, Society6 (Seller: Strawberryfields)
3.) Edgar Allen Poe-ka Dotted Tote
I had to include this just because of the cute name the seller gave this tote.
Purchase Here
$18.00, Out of Print Clothing
4.) Books and Coffee Card
My two loves: Books and Coffee. I don't know how I would get through my days without them. This card is perfect for caffeine and book addicts like myself. 🙂
Purchase Here
$4.50, Etsy (Seller: AlisaBobzien)
5.) Trashy Romance Novel Candle
Because romance novels are my thing, I saw this and had to include this in one of my digging posts. This candle is supposed to smell like Love Spell from Victoria's Secret. Cute name + scene = Automatic add on Megan's wishlist.
Purchase Here
$16.00, Etsy (Seller: Frostbeard)
6.) Reading is Sexy
Yes, mug, reading is sexy. Yes.
Purchase Here
$15.00, Buyolympia
Which of my picks this week would you choose?  Have you found any fun book-related goodies lately?