What I'm Digging is a weekly feature in which I share my bookish finds with you. This can range from jewelry to clothes to home decorations. I find so many neat bookish things on Pinterest, Etsy, and elsewhere. I thought I would share my finds with you. Who doesn't love book-related goodies?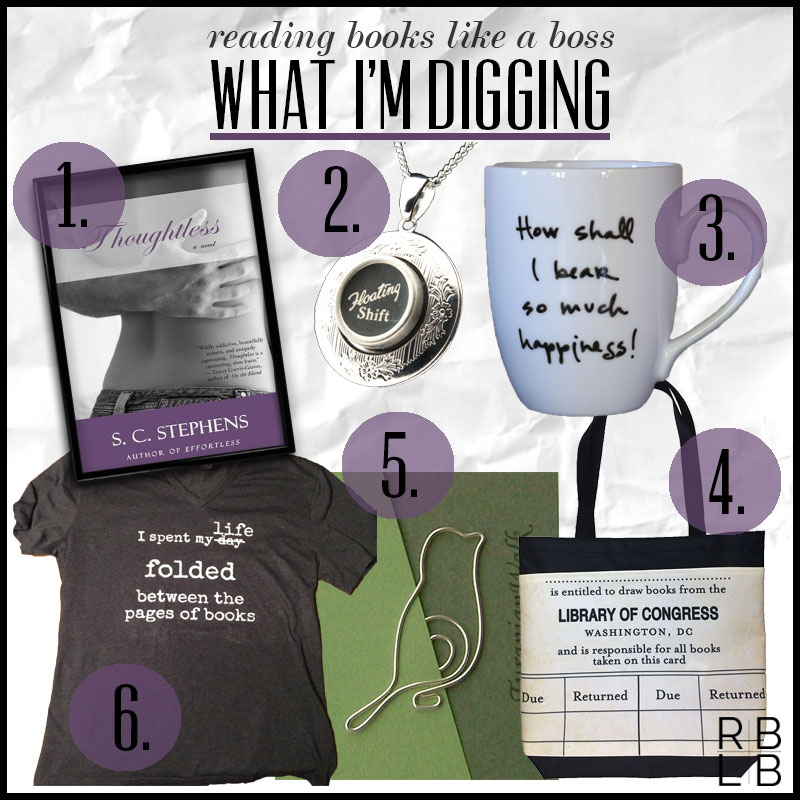 1.) Thoughtless by S.C. Stephens
Do you sense a pattern?  The last few of my featured books are throwbacks.  I read Thoughtless back in February 2012 and it, too, was one of the first indie books I ever read! If you haven't read this (and cheating is not a trigger for you) then you should read this NOW! Kellen Kyle is a rocker you all need to meet and the angst in Thoughtless is CRAZY (in a good way).
Add on Goodreads
 $7.59, Amazon
2.) Typewriter Key Charm Locket
I stumbled across this on Etsy and thought this was so cool! This seller takes typewriter keys from old typewriters and transforms them into beautiful jewelry!  The locket I put in the pictures says "floating shift".  "The center of the locket features an antique typewriter key gently removed from a 1930-40s era typewriter."  Check her shop out!
$49.99, Etsy (Seller: TheRustedKey)
3.) Jane Austen Mug
I know I feature a lot of mugs in these posts but one can never have too many mugs. And, I mean, they're book-themed mugs.  You need them all. This one says, "How Shall I Bear So Much Happiness," a quote from Austen's Pride and Prejudice.
$16.00, Etsy (Seller: (Brookish)
4.) Library of Congress Tote Bag
Eff yeah 'Merica's Library of Congress. This tote bag is so cute with its old-school library card print. 
$18.95, Library of Congress
5.) Wire Bird Bookmark
Bookmark the pages in your book with style.
$6.50, Etsy (Seller: TuranianWalk)
6.) Shatter Me Quote T-Shirt
I read this book a couple of years ago and LOVED it.  Mafi's writing style is breathtaking and beautiful.  This shirt features one of the many great quotes from the book.
$24.50, Etsy (Seller: AppraisingPagesShop)
Which of my picks this week would you choose?  Have you found any fun book-related goodies lately?