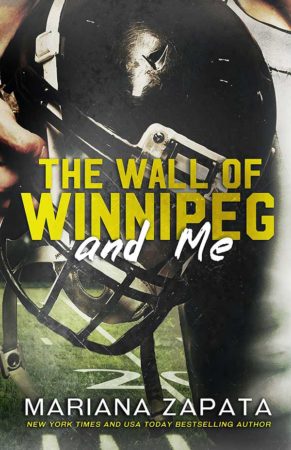 The Wall of Winnipeg and Me
by
Mariana Zapata
Published by
Self-Published
,
Tantor Audio
Publication date:
February 28, 2016
Genres:
Contemporary Romance
Narrator:
Callie Dalton
Length:
16 hours
692 pagesFormat:
Audiobook
,
eBook
Source:
Borrowed
,
Purchased
Vanessa Mazur knows she's doing the right thing. She shouldn't feel bad for quitting. Being an assistant/housekeeper/fairy godmother to the top defensive end in the National Football Organization was always supposed to be temporary. She has plans, and none of them include washing extra-large underwear longer than necessary.

But when Aiden Graves shows up at her door wanting her to come back, she's beyond shocked. For two years the man known as the Wall of Winnipeg couldn't find it in him to tell her good morning or congratulate her on her birthday. Now? He's asking for the unthinkable.

What do you say to the man who is used to getting everything he wants?
Affiliate Disclosure: This post contains affiliate links. In plain English, this means that I may receive a small commission (at no cost to you) if you purchase something through the links provided. This small income goes back into my blog, so I can continue to create fun content for you. I appreciate my readers and make it my goal to be upfront and honest. Thank you for supporting my blog!
THE WALL OF WINNIPEG AND ME checks off several boxes for what makes a good romance book.
A brooding hero of few words: Check.
A tension-filled journey to love: Check.
Likable characters: Check.
Good relationship development: Check.
All of these things had me in for the long haul. And when I say "long" I really mean LONG. This book topples out at nearly 700 pages (692 to be exact).  That's HUGE for a contemporary romance, so it does require a small degree of dedication. Despite its length and a few other issues, this book had "a classic indie circa 2012" vibe to it that I enjoyed.
Vanessa (or "Van") was a longtime assistant to one of America's star football players, Aiden. But Aiden's prickly, demanding, and apathetic attitude towards her wears her down to the point of quitting. Weeks later, he comes begging for her to come back to him. But not as an assistant, as his wife. *shocked face* Due to impending immigration issues (as Aiden is Canadian) he needs Vanessa to marry him so he can stay in the county and avoid deportation. She agrees but under the condition that after 5 years they can get divorced and he pays off her crippling amount of student loans. Neither of them expect for this fauxmance to turn into a soul-deep, real, consuming love.
I'm such a sucker for brooding heroes and Aiden is definitely the strong and silent type. As a professional football player, he's a big guy. Note: Van doesn't let the reader forget that detail, as she reiterates it countless times (more on that later). He's protective of those he cares about and he make it clear that he keep his inner circle small. I mention that because it just made his attention to Vanessa that much more heartwarming, knowing that he doesn't give out his love freely. It made their relationship so special. Aiden was so in tune with her, always anticipating her needs and wants without her having to ask for it.
I think Mariana Zapata is into delayed gratification because, dear reader, you have to earn that first kiss. Hell, you have to earn every stolen glance, every intimate contact, and every meaningful word with these two. She makes you wait for it all in a delicious—and somewhat too slow—slow burn. They don't get between the sheets until the very end, you guys. THE END.
Let's talk about the ending. Whew! It had me from stressed out to smiling to fanning myself to smiling again. There was a lot packed in to the last few percent of the book. I loved those last several pages, but I wanted more! For a contemporary romance this long, I really wanted more page time where the couple is truly together and happy.
I think it's clear that my biggest problem with this book was its length and need for stronger editing. There was entirely too much fluff, descriptions of every single day, and repetitive phrases that weighed down the story. Van reminds the readers over and over about how big Aiden is (we get it), that he wears his hoodie (we remember), and that he has a nickname (see book title).
The book lacked a strong conflict. The conflict was entirely internal and weak one at that. Essentially the conflict was: Does Aiden love me like I love him? Plain and simple. Even though Vanessa lacks confidence, she and Aiden had been so open with one another that it didn't seem like a stretch or out of character for her to have this conversation with him. Plus, it was clear to everyone excerpt her that he was in love with her. It just didn't ring true to me. There was an attempt at making the fake marriage a source of tension but it never really got there.
All in all, this was a fun sports romance to read. It was just way too long. The ending was really satisfying and I love Aiden. That is all.
Audiobook comments:
Callie Dalton narrates this audiobook. I've heard so many good things about her narration and I would have to agree. She gives the listener an effortless and entertaining listening experience, without being overly dramatic or monotonous. I'd listen to her again in the future.
* I borrowed the audiobook from my local library. I purchased the e-book myself.