I received this book for free from ARC e-book in exchange for an honest review. This does not affect my opinion of the book or the content of my review.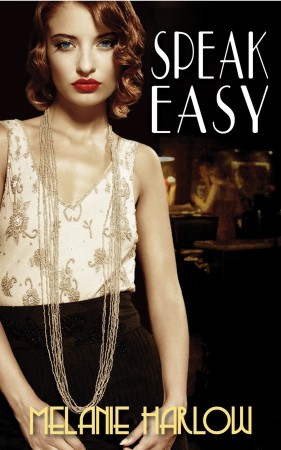 Speak Easy
by
Melanie Harlow
Series:
Speak Easy #1
Published by
Self-Published
Publication date:
July 22, 2013
Genres:
New Adult
305 pagesFormat:
eARC
Source:
ARC e-book
July, 1923. The '20s are roaring, and twenty-year-old Tiny O'Mara is desperate for a little anything-goes excitement. But when her father is kidnapped by a mobster in Detroit's exploding organized crime scene, she's shocked to find herself caught up in the bootlegging wars of Prohibition—and torn between two gorgeous gangsters on opposite sides.  To save her father's life, she'll have to choose between them. But deciding whom to trust isn't easy in a world where everyone wants something—be it booze, money, power, or sex—and no one cares what it takes to get it.  Temptation is everywhere.
Affiliate Disclosure: This post contains affiliate links. In plain English, this means that I may receive a small commission (at no cost to you) if you purchase something through the links provided. This small income goes back into my blog, so I can continue to create fun content for you. I appreciate my readers and make it my goal to be upfront and honest. Thank you for supporting my blog!
 Book Review:
If you're looking for a fresh, new take on New Adult, then read Speak Easy.  This book caught my eye immediately.  Not only because it's beautiful cover (Cover Love!), but because of its description.  A new adult novel set in the 1920's during Prohibition?  And it has mobsters, kidnapping and a good dose of angst?  COUNT ME IN, SIGN ME UP!  This is the first "period piece" book that I have read that has been marketed as New Adult. So I was chomping at the bit to start this one.
Tiny O'Mara is the woman of the household.  Her mother died in child birth. As the oldest sister still living at home, she is in charge of her two younger sisters and helping her father with the family business.  She feel much older than her 20-year old self with whole lot of responsibility when all she wants to do is go out and dance.
I want to go dancing and drink champagne.  I want to wear a short dress and red lipstick without my father scolding me. I want to hit the best nightclubs with a dashing swain at my side to light my cigarettes.
Her family owns a small grocery store in Detroit.  Seems cute, right?  Just your typical Midwestern family trying to make ends meet.  Well, her family has a bit of a side business.  They run an undercover liquor operation – a small independent operation, meaning they don't have any mob bosses breathing down their necks and stealing a bit of their profits. Yet.
Tiny senses that things in her comfortable little world are changing.  Her sister's husband was gunned down while he was protecting a member of the mob.  Her best friend, Joey, starts hanging out with the wrong people for the wrong reasons.  Her father has tried to keep the mobsters from interfering in his business, but soon he can no longer keep them away.  All of a sudden, the mob is not just an idea. It's a reality.
Enter the dashing and mysterious Enzo DiFiore.  For Tiny it was totally lust at first sight.  He had the good looks, good suit, and looked at Tiny like he wanted to eat her.  That turned her on.  She wanted this man.  But some things are too good to be true.  Enzo was no exception.
He wasn't a school boy ready to go off at the sigh of a girl's knees.  He as a man, and he seemed like a man with experience.  Would I know what to do to get him to yield and how would I keep my temper in check?
After her father repeatedly turned down "protection" from the local mob, they kidnapped him and a price on his head – $10,000.  That is a LOT of money today and it was A LOT more money then.  Tiny had days to come up with the money.  With Joey's help she is on a race to save her father, selling all of the liquor in her stockpile.
Did I mention that Enzo is in on all of this. His family has its own business – the mob.  His main goal is to be able to take over the family business by acquiring all of these independently run operations and make a big fat wad of cash.  His plan is going swimmingly until he meets Tiny.  Remember when I said Tiny wanted him?  Well, he wants her too.  And I must say the scenes between the two of them are pretty hot and steamy.
"Bastard." The word lashed from my lips just before he kissed me, and I could have sworn it made him smile.
Out of my mind with desire, I kissed him hungrily, straining against him, desperate to have my arms free. But he held my wrists tight, torturing me with deep thrusts of his tongue between my lips.
Of course, Tiny runs into some problems along the way and Enzo has a decision to make – continue to do his job or help Tiny.
There were things that I liked about this book and things I didn't like about it.  What I liked is that it stands out among all the contemporary New Adult books.  I found Harlow's take on New Adult to be exciting.  This would be a great sub-genre for the rising New Adult genre.   I found the latter third of the book to be much more exciting than the first two-thirds.  The beginning of the book felt a bit flat for me.  When I reached the end, I found out why I felt this way.   Harlow is setting this up to be a series.  So much was left open and there were so many loose ends.
As much as I wanted to love this book, I could quite get there.  Perhaps I hyped it up too much in my head. Maybe read it on a bad day.  Nevertheless, I did not feel attached to the characters.  I was bothered by Tiny intense and rather sudden attraction to Enzo.  While some books I have read make this love/lust at first sight thing work, this did not work for me. I felt as though Harlow could have done much more with the Tiny and Enzo's forbidden romance.  I was expecting much more romantic tension between the two characters for a longer period of time.  All in all, it was a fun read and I would still recommend it if you're looking for something different.
Tour organized by: AToMR Tours: http://atomrbookblogtours.com/
About the Author:

Melanie Harlow likes her martinis dry, her lipstick red, and her history with the naughty bits left in. SPEAK EASY was inspired by her cocktail culture obsession, her affection for good gin, and the view from the end of her street. She lifts her glass to NA readers and writers from her home near Detroit, MI.
Follow Melanie:
Facebook | Twitter | Goodreads | Website