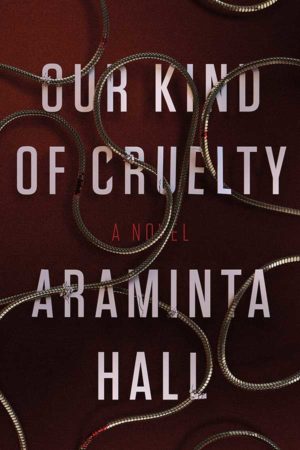 Our Kind of Cruelty
by
Araminta Hall
Published by
Farrar Straus and Giroux
,
MCD Books
Publication date:
May 8, 2018
Genres:
Psychological Thriller
288 pagesFormat:
eBook
Source:
Publisher
This is a love story. This is a tragedy.
This is a book about a break up so bad that when you put the pieces of the love story back together, what you get is murder.

Mike understands that most of us travel through the world as one half of a whole, desperately searching for that missing person to make us complete.

But he and Verity are different. They have found each other and nothing and no one will tear them apart.

It doesn't matter that Verity is marrying another man.

It's all just part of a plan: you see, Verity and Mike play a game together, a secret game they call 'the crave', the aim being to demonstrate what they both know: that Verity needs Mike, and only Mike.

Verity's upcoming marriage is the biggest game she and Mike have ever played. And it's for the highest stakes.

Except this time in order for Mike and Verity to be together someone has to die...
Affiliate Disclosure: This post contains affiliate links. In plain English, this means that I may receive a small commission (at no cost to you) if you purchase something through the links provided. This small income goes back into my blog, so I can continue to create fun content for you. I appreciate my readers and make it my goal to be upfront and honest. Thank you for supporting my blog!
What happens when love turns to obsession? Through the eyes of a delusional male lead, Araminta Hall explores a complicated relationship that delves into dark corners. Disturbing and dark, I enjoyed reading this well-written thriller because of Mikey's sometimes terrifying internal monologue but found the trial portion of the novel to be monotonous.
Mike and Verity were together for more than 8 years. But the "December incident" marked the end of their relationship, something Mikey likes to play off as a small hiccup. Months later, he's back in London after living in the United States for a short time. He's convinced he and Verity will be together again, so much so that every part of his life in planned with her as if she were in it—going as far to tell people she's his live-in girlfriend. But the reality is that she's very much engaged and then married. But that's not a deterrent because he's certain that her marriage is all part of a game they both used to play. Everyone has a breaking point and Mikey reaches his. What follows is death and destruction.
"I read somewhere that the reason humans are so tragic is because we are only one half of a whole and most of us spend all our lives desperately searching for that missing person to make us completely whole. But because the universe finds it amusing to watch us suffer, most of us never meet this elusive other half because they have been born on the other side of the world. But you keep searching, not even knowing what you're looking for, or even that you're searching, because that is your biological imperative."
My favorite part of this book was diving inside Mikey's delusional mind. Araminta Hall did a fantastic job with his characterization. His horrific upbringing and the trauma he suffered clearly affected him, and I felt like it was portrayed in a real and respectful way. The reader is getting his story through his own filter and perspective, but even so you can see how ill he is. I was amused and disturbed reading this story because Mike would be describing his house and in the next breath casually mention how he wanted to bash a person's brains in. What he sees as unfiltered love is really obsession and I loved seeing how he processed his own emotions.
"…this world isn't yet ready to appreciate love in its purest, simplest form. This world deals in violence and lies, deceit and deception. It cannot see purity even when it it placed in front of its nose, choosing instead to turn away and scoff. Well, let them. We don't care, do we, V. We are so much more than that."
Once we got to the trial portion of the book, I the ever present drive that was present in first two parts slowed down. Throughout the court proceedings, there was a lot of repetition and less action. It was much easier to put the book down at this point because I wasn't as interested.
I'd recommend this book for lovers of thrillers with unreliable narrators. This one is a bit refreshing because the protagonist is a male, like Carline Kepnes's You. Even though he's mentally ill and self-destructive, Mike is human and there was a vulnerability that I connected to. The writing was very good and quite sharp as well.
* Thanks to Macmillan for providing me with an advanced copy in exchange for an honest review.