I'm so excited to be giving away a copy of one of my favorite books of 2016, I LET YOU GO by Clare Mackintosh. It's a psychological thriller and mystery with a huge plot twist that changes everything you thought you knew.
Read My Review (spoiler-free)
Enter for a chance to win a hardcover of I Let You Go below!
---
ABOUT THE BOOK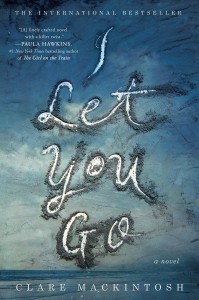 The smash London Times bestseller, with over half a million copies sold….a twisty, psychological thriller with "an astonishing intensity that drags you in and never—ever—lets you go." (Daily Mail, UK)
On a rainy afternoon, a mother's life is shattered as her son slips from her grip and runs into the street…
Jenna Gray moves to the remote Welsh coast, desperate to leave behind the heartbreak of the accident and heal from the loss of her child and her painful past. At the same time, a pair of police investigators tries to get to the bottom of this frustrating, twist-filled hit-and-run case…
Elizabeth Haynes, author of Into the Darkest Corner, says "I read I Let You Go in two sittings; it made me cry (at least twice), made me gasp out loud (once) and above all made me wish I'd written it…a stellar achievement."
Story Locale: Bristol (southwest England) and Wales
Add on Goodreads
Release date: May 3, 2016
---
GIVEAWAY
Open to U.S. Residents only.
By entering you are agreeing to these terms and conditions.
Thanks to Berkley for sponsoring this giveaway.
Ends on 5/17. Good luck!