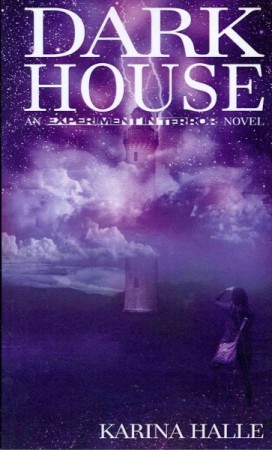 Darkhouse
by
Karina Halle
Series:
Experiment in Terror #1
Published by
Self-Published
Publication date:
May 13, 2011
Genres:
Horror
,
Romantic Suspense
323 pagesFormat:
eBook
Source:
Purchased
With all the vampire, werewolf and faerie books out there, it's easy to become numb to all things supernatural. The antidote? Darkhouse introduces two real and unforgettable characters, Perry Palomino & Dex Foray, amateur ghost hunters who are "attractive, relatable and oddly heroic," "flawed but loveable," "slightly crazy" and just the most endearing pair to ever tackle the paranormal...just don't call them normal. Darkhouse is a thrilling and sexy new take on concepts like Supernatural and The X-Files, bringing a breath of fresh air to a genre that has been inundated with the dead."
Affiliate Disclosure: This post contains affiliate links. In plain English, this means that I may receive a small commission (at no cost to you) if you purchase something through the links provided. This small income goes back into my blog, so I can continue to create fun content for you. I appreciate my readers and make it my goal to be upfront and honest. Thank you for supporting my blog!
Dex and Perry are some of the most well-written, complex, and realistic characters.  Their 
chemistry
 jumps off the page and into your heart.
If you're apprehensive about reading the EIT series because it is classified as "horror," don't be.  The "scary" parts in these books are not that bad.  They are so much more than horror, it is a character study on two people and their relationship with each other.
Perry Palomino's life hasn't turned out quite the way she had planned.  At 22-years old, she lives with her overbearing parents, who don't know how to interact with their "emotionally unstable" daughter.   She works as a receptionist, and hates it.  Her little sister, Ada, is everything Perry is not – blonde, rail-thin, and popular.
Perry, Ada, and her parents go to her uncle's farm for the weekend.  Armed with her camera, she heads to the lighthouse on the property to explore, but she isn't alone.  She runs into Dex Foray-cameraman, producer, and cinematographer for Shownet, an online webshow company.  What happens in the lighthouse is unsettling and terrifying, and Perry catches it all on film.  She posts the video online.  When it goes viral, Dex approaches Perry to host a web show with him called "Experiment in Terror."
One of the things that I love about this series is the characters.  Dex and Perry are flawed and broken people.  Perry is insecure and has a history of mental illness, and Dex is just…off.   From the moment they meet each other, you can see there is something special between them.  They get each other.  Their relationship is interesting and complicated from the beginning.  Perry is completely smitten with him, but Dex is with someone (NOOOOO!!!!).  Yes, I am a member of the Jennifer Rodriguez hate club.
And Dex?
Dex is mysterious and a hard one to crack.  He is abrasive and crass….and I LOVE HIM.  He doesn't reveal too much about himself, but I liked that about him.
"I think you are chickenshit. You're happy to call this whole thing off just because you are too scared to go back there because you actually think I am telling the truth. And the truth scares you."
He leaned in closer across the table and this time grabbed my forearm.
"You scare me, Perry," he growled and gave my arm a sharp squeeze. "You."
I eyed his grip. He met my eyes and then very slowly, hesitantly, released me.
"This is going to be a really awkward car ride back home, isn't it?" I asked, a trace of amusement in my voice. The whole situation was ridiculous.
He sighed and leaned back, pushing his plate away from him.
"I hope I'm driving you as crazy as you've been driving me," I said bluntly.
This book was a good introduction to my favorite jacked-up duo, Dex Foray and Perry Palomino (Sidenote:  Isn't Perry Palomino the happiest name ever.  I wonder if Halle chose that happy sounding name on purpose to highlight Perry's unhappiness).I'm so addicted to these characters and this series.   Trust me, you won't be disappointed.