I have sort of been stalking J.M. Darhower to see what she was going to release next.   I LOVED Sempre, Sempre: Redemption, and Extinguish by Darhower and couldn't wait to see what her creative mind cooks up.  Monster in His Eyes, book one in a romantic suspense duology, is set to release on April 28, 2014!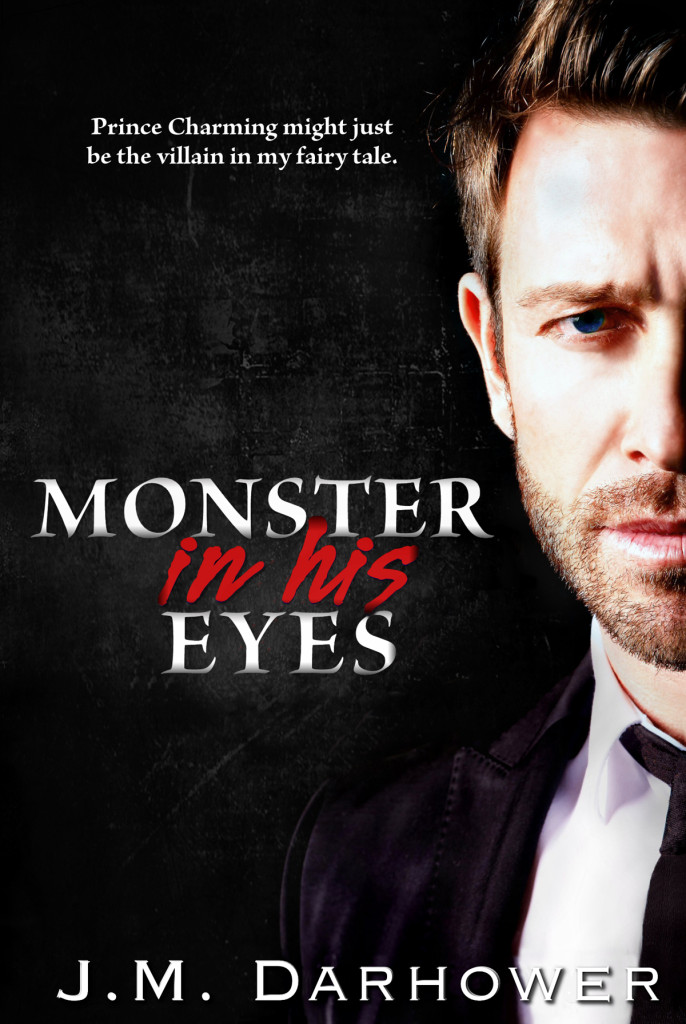 MONSTER IN HIS EYES
Ignazio Vitale is not a good man.
I suspect it, the first time I see him, sense the air of danger that surrounds the man. He has a way of commanding attention, of taking control, of knowing what I'm thinking before I even do.
It's alarming and alluring. It's dark and deadly. It's everything I've ever wanted but the last thing I truly need. Obsession.
It doesn't take him long to draw me into his web, charming me into his bed and trapping me in his life, a life I know nothing about until it's too late. He has secrets, secrets I can't fathom, secrets that make it so I can't walk away, no matter how much I beg him to let me go. I see it sometimes in his eyes, a darkness that's both terrifying and thrilling. He's a monster, wrapped up in a pretty package, and what I find when I unmask him changes everything.
I want to hate him.
And sometimes, I do.
But it doesn't stop me from loving him, too.
AUTHOR'S NOTE: This book is intended for a mature audience only, due to some dark and erotic content.
Release Date:  April 28, 2014
Genre:  Romantic Suspense
Add on Goodreads

I will post  Amazon links when they are available, so check back!
✥ ✥ ✥ ✥ ✥
EXCERPT
My heart races in my chest, each beat painful, as it seems to reverberate through my body. I'm achy, my head pounding in rhythm with my heartbeat. Panic bubbles in my gut that I try to ignore, to push back, but it's no use. I have no idea where I am, no idea how I got here, or how long I've been in this place. I'm confused, sore, disoriented…
And my bladder feels like it's about to explode.
Slowly, I sit up in the bed. It's fit for a king—way bigger than any bed I've ever owned. The mattress feels like fluffy clouds and the intoxicating scent clings to the pillows and the sheets. Everything is bright white, crisp and clean, and I'd probably think it was a hotel room, with how impersonal it feels, if it wasn't for the fact that there's no goddamn bathroom in the vicinity.
I strain my ears to hear, but it's dead silent, except for the soft sound of air swishing from the fan. My panic eases a little when I see I'm still fully dressed, wearing the god-awful eighties clothes from last night.
That was last night, right?
As I contemplate what to do, I hear footsteps off in the distance, calculated and exaggerated as they grow near. I hold my breath when the knob across the room turns, the door slowly opening.
Oh shit.
Oh shit.
Oh shit.
What have I gotten myself into?
The moment I see him, memories start to trickle in. The bar, dancing, drinking, stepping outside as I search for Melody but somehow find him there instead. I remember looking at him, talking to him, and then there's nothing.
I'm drawing a blank.
He's wearing the exact same thing as last time I saw him, though, having still not changed.
Or maybe black suits are all he owns.
He hesitates in the doorway when he sees me sitting up, his hand still grasping the knob, but after a moment he lets go of it and takes a few steps toward me. Instinctively, I grab the blanket and pull it up, shielding myself, despite the fact that I'm still fully dressed.
The act makes him hesitate a second time. He pauses, and stares, but he doesn't speak.
I'm not sure what to do, or say, or how I should feel or even what to fucking think, so I just stare back. Awkward.
After a moment the corner of his lip twitches, revealing the deep dimple. "You're awake."
"I am."
Ugh, my voice sounds like sandpaper and feels just as raw.
"I was worried," he says. "You've been out for a while."
"Where is this?" I glance around the room anxiously. "Where are we?"
"My place."
Release Date:  April 28, 2014
Genre:  Romantic Suspense
Add on Goodreads

I will post  Amazon links when they are available, so check back!
✥ ✥ ✥ ✥ ✥
About the Author:
JM Darhower is the author of countless stories and poems, most of which only she has ever read. She lives in a tiny town in rural North Carolina, where she churns out more words than will ever see the light of day. She has a deep passion for politics and speaking out against human trafficking, and when she isn't writing (or fangirling about books) she's usually ranting about those things.
Chronic crimper with a vulgar mouth, she admits to having a Twitter addiction. You can usually always find her there.
Follow J.M. Darhower