Donners of the Dead

by Karina Halle
Published by Self-Published
Publication date: February 24, 2014
Genres: Horror, Romance

***A Standalone Horror Romance coming February 2014***

Jake McGraw was unlike anyone I'd ever known. He was brash, rude, unapologetic and arrogant; chauvinistic, close-minded, and terribly stubborn. He was built like a tree, tall with a hard chest and wide shoulders and hands that looked like they could wrestle a bear. He was a cigar-chomping, scruffy-faced, beast of a man. I was pretty sure I hated him. And I know he hated me. But among the flesh-eating monsters in these snow-capped mountains, he was the only thing keeping me alive

The year is 1851 and pioneers in search of California gold are still afraid to travel on the same route as the tragic Donner party did years before. When the last wagon train to go into the Sierra Nevada mountains fails to arrive at their destination, Eve Smith, an 18-year old half-native girl with immense tracking skills is brought along with the search party, headed by an enigmatic former Texas Ranger, Jake McGraw.

What they find deep in the dangerous snow-covered terrain is a terrifying consequence of cannibalism, giving new meaning to the term "monster." While the search party is slowly picked off, one by one, Eve must learn to trust Jake, who harbors more than a few secrets of his own, in order to survive and prevent the monstrosities from reaching civilization.

***This is NOT New Adult***
Affiliate Disclosure: This post contains affiliate links. In plain English, this means that I may receive a small commission (at no cost to you) if you purchase something through the links provided. This small income goes back into my blog, so I can continue to create fun content for you. I appreciate my readers and make it my goal to be upfront and honest. Thank you for supporting my blog!
I am so freaking pumped for Karina Halle's upcoming zombie romance novel, Donners of the Dead.  I have only read Warm Bodies and seen one season of the The Walking Dead, so my zombie exposure levels are dangerously low.  Karina Halle, zombie, and horror lovers add this to your list.  Karina Halle is a writing beast!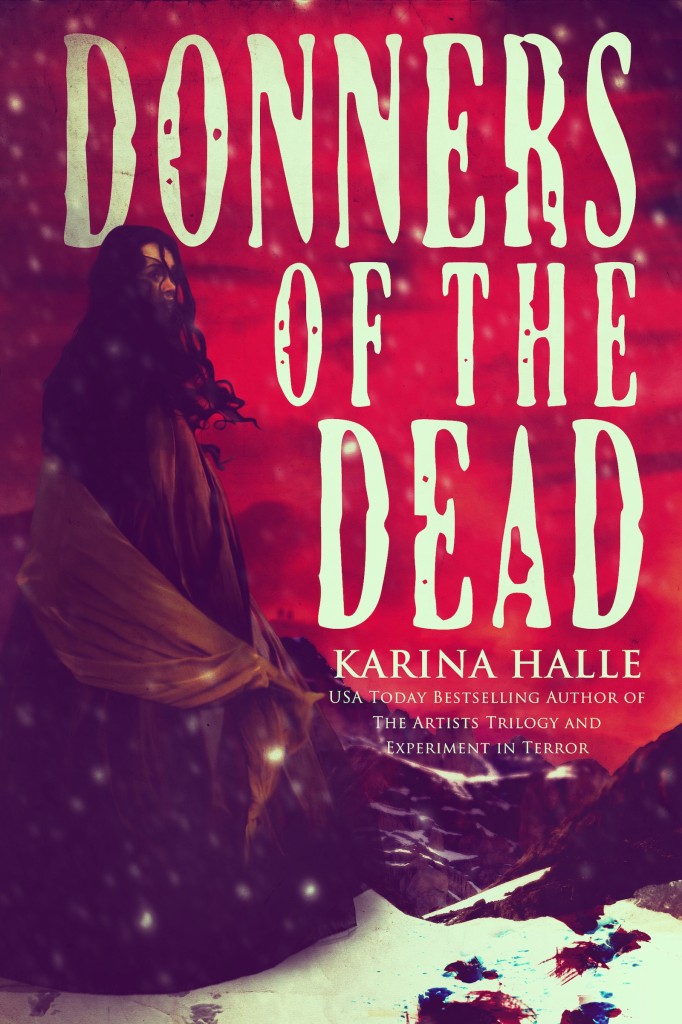 DONNERS OF THE DEAD
***A Standalone Horror Romance coming February 2014***
Jake McGraw was unlike anyone I'd ever known. He was brash, rude, unapologetic and arrogant; chauvinistic, close-minded, and terribly stubborn. He was built like a tree, tall with a hard chest and wide shoulders and hands that looked like they could wrestle a bear. He was a cigar-chomping, scruffy-faced, beast of a man. I was pretty sure I hated him. And I know he hated me. But among the flesh-eating monsters in these snow-capped mountains, he was the only thing keeping me alive
The year is 1851 and pioneers in search of California gold are still afraid to travel on the same route as the tragic Donner party did years before. When the last wagon train to go into the Sierra Nevada mountains fails to arrive at their destination, Eve Smith, an 18-year old half-native girl with immense tracking skills is brought along with the search party, headed by an enigmatic former Texas Ranger, Jake McGraw.
What they find deep in the dangerous snow-covered terrain is a terrifying consequence of cannibalism, giving new meaning to the term "monster." While the search party is slowly picked off, one by one, Eve must learn to trust Jake, who harbors more than a few secrets of his own, in order to survive and prevent the monstrosities from reaching civilization.
***This is NOT New Adult***
Expected Release date:  February 24, 2014
Add on Goodreads
About the Author
Karina Halle is the USA Today Best Selling Author ofThe Artists Trilogy (On Every Street, Sins & Needles, Shooting Scars, and Bold Tricks) published by Hachette, the Experiment in Terror series, andThe Devil's series published by Diversion.
The daughter of a Norwegian Viking and a Finnish Moomin, Karina Halle grew up in Vancouver, Canada with trolls and eternal darkness on the brain. This soon turned into a love of all things that go bump in the night and a rather sadistic appreciation for freaking people out. Like many of the flawed characters she writes, Karina never knew where to find herself and has dabbled in acting, make-up artistry, film production, screenwriting, photography, travel writing and music journalism. She eventually found herself in the pages of the very novels she wrote (if only she had looked there to begin with).
Karina holds a screenwriting degree from Vancouver Film School and a Bachelor of Journalism from TRU. Her travel writing, music reviews/interviews and photography have appeared in publications such as Consequence of Sound, Mxdwn and GoNomad Travel Guides. She currently lives on an island on the coast of British Columbia where she's preparing for the zombie apocalypse.
Karina is represented by Scott Waxman of the Waxman Leavell Literary Agency
Follow Karina:
EIT Website | Website | EIT Facebook | Facebook Author Page | Twitter | Goodreads