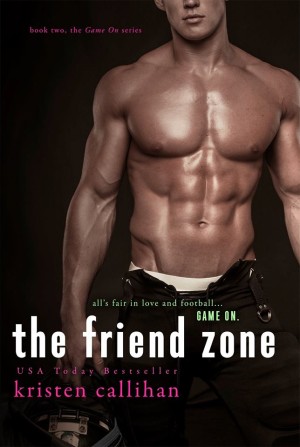 The Friend Zone
by
Kristen Callihan
Series:
Game On #2
Published by
Self-Published
Publication date:
May 5, 2015
Genres:
New Adult
,
Romance
309 pagesFormat:
eARC
Source:
ARC via author
Gray doesn't make friends with women. He has sex with them. Until Ivy.

The last thing star tight-end Gray Grayson wants to do is drive his agent's daughter's bubblegum pink car. But he needs the wheels and she's studying abroad. Something he explains when she sends him an irate text to let him know exactly how much pain she'll put him in if he crashes her beloved ride. Before he knows it, Ivy Mackenzie has become his best texting bud. But then Ivy comes home and everything goes haywire. Because the only thing Gray can think of is being with Ivy.

Ivy doesn't have sex with friends. Especially not with a certain football player. No matter how hot he makes her…

Gray drives Ivy crazy. He's irreverent, sex on a stick, and completely off limits. Because, Ivy has one golden rule: never get involved with one of her father's clients. A rule that's proving harder to keep now that Gray is doing his best to seduce her. Her best friend is fast becoming the most irresistible guy she's ever met.

Which means Gray is going to have to use all his skills to win Ivy's heart. Game on.
Affiliate Disclosure: This post contains affiliate links. In plain English, this means that I may receive a small commission (at no cost to you) if you purchase something through the links provided. This small income goes back into my blog, so I can continue to create fun content for you. I appreciate my readers and make it my goal to be upfront and honest. Thank you for supporting my blog!
Book Review:
"Because friends do not maul each other friends' mouths.
The Friend Zone was one of my most anticipated reads of 2015. Last year, I read The Hook Up (My Review), the first book in Kristen Callihan's Game On series, and fell in love with it. It quickly became one of my favorite new adult romances. I really liked Gray and Ivy in the beginning of this book but overall I was really disappointed in The Friend Zone.
We met Gray in book one, as Drew's best friend and resident ladies' man. He has a different girl in his bed every night and is a star football player for the university. As a senior, he is already shopping for agents for when he goes pro, and at the end of The Hook Up it seemed he found one—Mackenzie. As fate would have it, he ends up borrowing his to-be agent's daughter's car, a pink Fiat. After Ivy finds out, she lets him know that there will be no Gray shenanigans in her car, beginning a cute texting friendship between them. After hundreds of text messages, Ivy comes back to the States and meets Gray.
I love friends-to-lovers storylines. When I read The Hook Up last year there was a short excerpt of this book in it (specifically, the scene where Gray picks Ivy up at the airport). I was so excited to see their friendship develop from complete strangers into a full-blown love story.
The very beginning of the book was my favorite part. The text messages between Gray and Ivy were really cute and fun to read. Knowing Gray from book one, I was amused that he was so smitten with the own of his loaner pink Fiat. It was clear that being friends with a girl was something way out of Gray's area of sexpertise. Midway through the book, one scene in particular was really freaking hot and I could feel the anticipation and sexual tension.
Perhaps my own expectations were the problem here and had I not had them I wouldn't have been as disappointed. What I didn't like overall about this book was the fact that Callihan developed Ivy and Gray's relationship really quickly and the "conflicts" were contrived. I was hoping to get to see Ivy and Gray's friendship evolve. I wanted to see this ladies man player drown in the unchartered waters of friend zone-dom. However, in chapter two when Ivy gets back to the United States and meets Gray, there is already a mutual sexual attraction between them. I would have much preferred them to be friends and have that attraction build more slowly.
I thought about 60% of the book was enjoyable, but the last 40% I found myself skimming. Just when one conflict was resolved, something else was thrown in there to create more tension. And that "something else" was where the author lost me. Also, there were other things like Gray's brother coming back that I didn't really see the point of, other than to show a more vulnerable side to Gray.
You can read this book as a standalone but I would highly recommend that you read The Hook Up and fully immerse yourself in Drew and Anna's story. Some of the timeline in this book coincides with what happens in book one. Plus, you see quite a bit of Anna and Drew, which was really awesome.
* I received an advanced copy from the publisher in exchange for an honest review. This did not affect my opinion of the book in any way.
2 stars