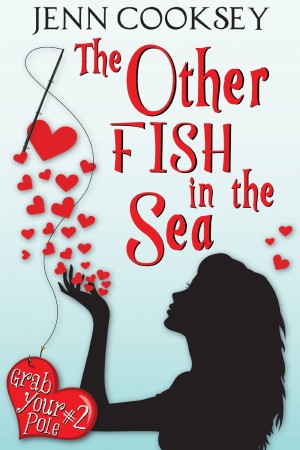 The Other Fish in the Sea
by
Jenn Cooksey
Series:
Grab Your Pole #2
Published by
Self-Published
Publication date:
April 21, 2013
Genres:
Mature YA
312 pagesFormat:
eARC
Source:
ARC via author
In Shark Bait, readers everywhere met and fell in love with the new girl, Camie Ramsey, and swooned over her sure to be future husband, Tristan Daniels. Now, in The Other Fish in the Sea, the long awaited second installment of the Grab Your Pole series by Jenn Cooksey, Camie and Tristan are back, but so are their friends!

So, find a breathing apparatus and shimmy into your scuba gear, because it's finally time to dive deeper into the lives of the GYP gang, but be warned, it's a big world out there and an even bigger ocean where danger might be lurking around the next corner and realistically, anything could happen.
Affiliate Disclosure: This post contains affiliate links. In plain English, this means that I may receive a small commission (at no cost to you) if you purchase something through the links provided. This small income goes back into my blog, so I can continue to create fun content for you. I appreciate my readers and make it my goal to be upfront and honest. Thank you for supporting my blog!
Book Review:
The Grab Your Pole gang is back!  Shark Bait focused mainly on Tristan and Camie's relationship.  But in "The Other Fish in the Sea", you get to know the rest of the gang A LOT better, particularly through a series of revealing Truth or Dare games. Jenn Cooksey switches it up and tells the story through a few of the the GYP ladies' point of view.  While TOFitS is still told primarily through Camie's POV, Kate, Jillian, and Melissa also speak their mind.
One of the things I love most about the series so far is the feelings and raw emotions it stirred up in me.  Trust me when I say, I felt it ALL.  You might think, "Oh this looks like a nice YA romance. It's cute."  No, no, no.  Do not underestimate the power of the pole.  This series is so much more than that.  It's one of those series that makes you feel.  I felt invested in the characters' lives.  I felt their pain when bad things happen. I felt their joy when good things happen.
One of the highlights for this book was getting to know Jillian, a.k.a the dark savior.  I absolutely love her (okay maybe I just don't want to get on her bad side).  She's easily my favorite character in this series (so far).  Jilly is one of the most interesting characters I have come across.  She doesn't give much away to anyone, which leaves you wondering, "What exactly is going on inside her head?".  For a 12-year-old she packs a punch.  Everyone around her is always edge because she is always on the lookout for blackmail opportunities.  Jillian's chapter in TOFitS is in the top 3 favorite chapters from the book.  I'm not going to say why, but you'll understand when you get there.
"Do you think she'll be willing to barter now or is this something she might black mail me with at such a time as it suits her purposes?"

"Right now you have nothing I want, but thank you for being so amenable in helping me try out my new video camera. I think the picture quality is tremendous."
Of course, I would be committing a serious crime if I didn't talk about Camie and Tristan.  Their devotion for each other is even more apparent in this installment.  "The Boy" was super possessive and protective of Camie, especially when other guys find out about Camie's special talent.  I love these two.
4 stars
*I received an advanced copy from the author in exchange for an honest review
YOU MAY ALSO LIKE THESE POSTS: