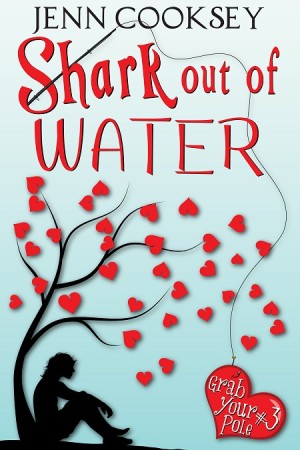 Shark Out of Water
by
Jenn Cooksey
Series:
Grab Your Pole #3
Published by
Self-Published
Publication date:
July 30, 2013
Genres:
Mature YA
357 pagesFormat:
eBook
Source:
ARC via author
With the Amazon Bestseller Shark Bait, the first novel in the Grab Your Pole series, debut author Jenn Cooksey delivered a fun, snarky, and realistic beginning to a larger story that has found its way into the hearts of readers everywhere. Thus, many were unprepared for what was coming in the second installment of the GYP series, The Other Fish in the Sea, when Cooksey took us on a runaway roller coaster ride of emotion and solidly landed hit after hit, including a brutal sucker punch that left readers around the globe reeling.

In Shark Out of Water, the highly anticipated third installment in this humorous yet honest and real coming of age story, we delve even further into the lives of the GYP gang and many questions are sure to be answered, however, are you really ready for what lies ahead in the continuation of their adventure? Well, grab your pole and let's find out.
Affiliate Disclosure: This post contains affiliate links. In plain English, this means that I may receive a small commission (at no cost to you) if you purchase something through the links provided. This small income goes back into my blog, so I can continue to create fun content for you. I appreciate my readers and make it my goal to be upfront and honest. Thank you for supporting my blog!
Book Review:
After the jaw-dropping, anger-inducing and shocking ending of The Other Fish in the Sea, I was hankering to get my hands on Shark Out of Water.  Seriously, I was willing to do just about anything.  I was not above begging Jenn, Autumn, Andrea, and anyone else who had already read the book to get me out of my misery.  Thankfully, we only had to wait a few months, albeit a LONG 3 months to find out what the hell happened.  It will all be worth.  What can you expect in this installment?  Well, some of your questions will be answers, you'll have new questions by the end, and you can expect a lot of tension between several characters.
Told in several characters' points-of-view, you get to know certain members (I won't say who) of the Grab Your Pole gang a lot better in Shark Out of Water, especially Tristan.  After the end of The Other Fish in the Sea, I wanted to slap Tristan Daniels around.  But after finishing this installment, I understand him and his motives a LOT better.   Tristan is a complex guy.  Before he does anything, he thinks things through almost to the point of over-thinking it.  I admire that about him though.  As a teenager, he wants to make the best choice possible for him and everyone involved.
Like book two, Shark Out of Water brought a hefty crapload dose of the feels. Oh, man THE FEELS.  These characters bled their feelings out on the page in a beautifully raw display of emotion.  I was incredibly touched by the way they opened up to one another and bared their deepest darkest secrets.
My favorite GYP gang member will always and forever be MY Pete.  And you get a lot of Pete in this one.  At one point, I freaked the freak out.  I lost it.  I was so elated that I wanted to run around my apartment, which I technically could have done if I wanted.  However, I don't think my neighbors would appreciate it, but I digress.  Taking a few cues from Jillian, the equally perceptive and observant Pete amps up his detective work in this installment. He and Tristan's weird synced up mind-reading mojo was also really entertaining to watch…for several reasons.
Once again, I am blown away by Jenn Cooksey's brilliant writing style and storytelling artistry.  She has a way of making the reader connect with her characters and feel all the emotions that they're going through. When they hurt, I hurt and when they're happy I'm over the moon.  There is something special about the the Grab Your Pole gang.  You don't see this in every ensemble cast-type book.
In the beginning of the series, the focus was on Camie and Tristan's relationship. Along the way, however, you get to know the rest of the GYP gang.  With books 2 and 3, there is a shift in the focus.  No longer is Camie and Tristan the only focus.  They now share the spotlight with a whole slew of other characters.  What sets the Grab Your Pole series apart from other series is that the reader gets to know so many characters on a very intimate level.  I have become invested in the characters' lives and choices – Jeff and Katy's relationship and desire to build a family, Melissa and Brandon's new relationship, Pete's mysterious relationship, Camie and Jilly's mom's health, and Jillian's uncanny ability to cover up her feelings.
Get started on the Grab your Pole series now! See what all the fuss is about.  You won't be disappointed.  In fact, you'll be laughing your ass off.
 4 stars
Favorite Quotes
"I'd still do it in a heartbeat if it meant getting to hold the life we'd created together."
"Jillian carries herself with something like poetic grace; however, for those of us who have any sense of self-preservation, well, we recognize that poem to be taken from Bradbury's story from Something Wicked This Way Comes."
"I really like her hair."
YOU MAY ALSO LIKE THESE POSTS: