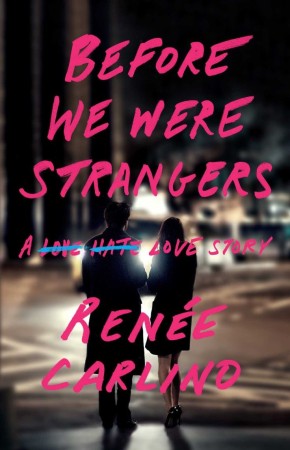 Before We Were Strangers
Publication date:
August 18, 2015
320 pagesFormat:
eARC
For fans of Jojo Moyes and the movie Before Sunrise, a sweeping love story inspired by a real-life missed connections story, from the USA TODAY bestselling author of the romantic women's novels Sweet Thing, Nowhere But Here, and After the Rain.

During their senior year of college, in an NYU dorm tucked into the heart of the East Village, Grace and Matt struck up a friendship over Jeff Buckley, Pearl Jam, and the Ramones. She was going to be a world-class cellist and he was going to be a famous photographer, their paths destined to diverge after graduation.

Even after an afternoon pub crawl ended in their drunken, spontaneous wedding, their visions for the future never overlapped enough for them to be together. The summer after college, he left his "ex-wife" on good terms and went to Brazil to work for National Geographic. They vowed to stay in touch and see each other soon.

They never did.

Fifteen years later, back in New York City, Matt sees Grace as she boards the J train. They're both different in a hundred ways, and yet they're still the same. But just as they recognize each other, just as he understands what he left behind all those years ago, the train pulls away. His only recourse is to send a missed connections letter out in the world, and hope she remembers where to look.
Affiliate Disclosure: This post contains affiliate links. In plain English, this means that I may receive a small commission (at no cost to you) if you purchase something through the links provided. This small income goes back into my blog, so I can continue to create fun content for you. I appreciate my readers and make it my goal to be upfront and honest. Thank you for supporting my blog!
Book Review:
Renée Carlino's Before We Were Strangers is a "missed connections" romance spanning over fifteen years. The premise of this book sounded really good and seeing all the praise made me want to pick it up. The past storyline was great, but the present storyline left something to be desired.
Grace is the only person Matt knows in New York City after he moves there to attend NYU's Tisch School of the Arts. He's immediately drawn to Grace's free-spirited personality and her ability to find the good in every situation. She takes him on pancake pajama dinners and free plasma lunches. Grace's no-dating rule because to fade away as the two spend more time together. Eventually they start dating and are blissfully happy until life gets in the way that causes them to take two different directions.
I was sucked into the past storyline. I loved watching Matt and Grace fall and stumble into love with each other. I felt the connection and love between the two of them and it made me really happy. It just seemed really natural and the way the author wrote these characters made me like them.
What really didn't work for me was the conflict in the past storyline that caused the two of them to separate and the entire present storyline. This is the second Carlino book where the synopsis drew me in but the actual execution was lacking. This novel had this great hook with the Craigslist missed connection story set in New York.
I didn't understand why Grace would make such a rash decision in the past based on seeing one thing. Sure, she had trust issues but Matt didn't give her a reason not to trust her. It just felt really forced and completely not believable in the sense that Matt wouldn't do that. In the age of technology and the internet, why didn't Grace and Matt look for each other? Why did Grace only write letters? I just didn't buy it, especially when they're each others' love of their life.
I knew going into this novel that it was inspired missed connections posts on Facebook. This novel overall just didn't have this organic feel to it. Certain things felt forced, like the heroine's quirkiness and the present storyline.
In the present, after they reconnect, they immediately start dating. Maybe the author had to do this due to way the novel was structured. About 50% of the book is the past storyline, 25% of the book is them reconnecting and then 25% is Matt trying to spend time with the person he missed out on. View Spoiler »The big secret in this book is that Grace had a baby after Matt leaves for his internship with National Geographic. At least with this "secret baby" story, Grace didn't purposefully try to keep the baby from Matt. Rather, she tried to contact Matt several times over the years to tell him, but his wife kept hiding the letters from him (convenient, right?). I'm not a fan of the secret baby angle and felt like this book could have survived without it. « Hide Spoiler The ending of the book was a big fromage festival and I just really didn't like it. Lovers of books ending with everything tied up in a bow may like the ending, but to me it was too much.
2 stars
* I received a copy from the publisher in exchange for an honest review.