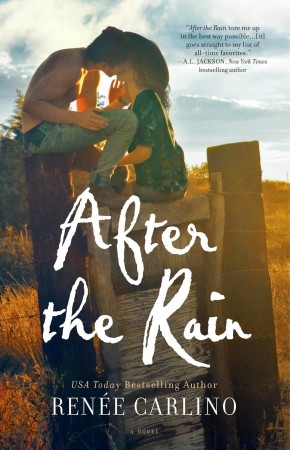 After the Rain
Publication date:
November 11, 2014
304 pagesFormat:
eARC
From the USA TODAY bestselling author of Sweet Thing and Nowhere But Here comes a deeply emotional contemporary romance about the second chances waiting beyond the shattered dreams of youth.

Under the bright arena lights of a rodeo show, young Avelina Belo falls for a handsome cowboy with a larger-than-life personality. After a whirlwind courtship, she happily moves away from her family in northern California and settles into married life with her cowboy on a seven-thousand-acre cattle ranch in Montana. One freak accident later, Avelina's hopes for the future come to an end.

Nate Meyers graduated from UCLA medical school at the top of his class, ready to follow in the footsteps of his father, a superstar cardiothoracic surgeon. Six years later, Nate's career is being ruined by a malpractice suit. Questioning himself for the first time, he retreats to a Montana cattle ranch to visit his uncle and gain perspective. There, he meets a beautiful young woman named Avelina who teaches him more than he ever knew about matters of the heart.
Affiliate Disclosure: This post contains affiliate links. In plain English, this means that I may receive a small commission (at no cost to you) if you purchase something through the links provided. This small income goes back into my blog, so I can continue to create fun content for you. I appreciate my readers and make it my goal to be upfront and honest. Thank you for supporting my blog!
Book Review:
When I read the synopsis of After the Rain months ago I couldn't wait to get my hands on it.  I am always drawn to stories of heartache, grief, loss and self-discovery.  These are all themes woven in the pages of After the Rain.  Unfortunately, it was really difficult for me to get completely lost in this story like I had hoped I would.
Avelina married Jake McCrea at 18 years old after a three month love affair. They got a job as wranglers at a ranch in Montana. They were making plans for the rest of their lives: plans to travel the rodeo circuit from California to Texas and plans for children. Their plans were demolished when a freak accident robs Jake of the use of his legs and ultimately his life. At barely 19 years old, Ava is alone on a ranch with no one but her employers and for the next five years she retreats into herself.
Meanwhile, Nate is excelling at everything he does. He graduated from UCLA Medical School and matched at UCLA Medical Center for a prestigious cardiac residency.  At 29, he's the youngest (and most attractive) attending cardiac physician.  Nate loses a young patient on the operating table, prompting a legal investigation that threatens his medical license. His father makes Nate to go to Montana to get his head straight and to live a little. All he's known for five years his the white walls of the hospital and solitude.
Nate is most definitely a city mouse in the country. He wears converse instead of boots and designer jeans instead of Wranglers. He sticks out like a sore thumb.  Nate and Ava are both at a crossroads in their lives, neither knowing what is next for them. Both are lost in the sea of grief in their lives. Nate shows up on the ranch and almost immediately Ava starts opening up to him. Eventually, she lets him in and they start to see each other, but the road to love isn't smooth.
This is the first book of Renée Carlino's that I had read. Perhaps the fact that I didn't love this book is partly my fault; I had high hopes for this book. I was so pumped to read it after that amazing synopsis. It had everything going for it: an emotional set up, the promise of angst, and room for loads character and relationship development. I had an expectation that it was going to be this slow-burning romance driven by the characters' internal and external struggles.  Several things kept me from loving After the Rain.
The development of Nate and Ava's relationship felt so rushed and forced.  The first night they met Nate was noticing how different she was and was drawn to her in a way the reader didn't really understand. As the story progressed, I still didn't really get what Nate saw in Ava.  There was also a lot of telling instead of showing. I was told that Ava was damaged goods by everyone, told how the characters felt one another, all of which led left me emotionally confused.  I wasn't able to feel anything on my own. As far as the relationship development, there really wasn't that much build up from the time they met until feelings developed.  One moment they were getting to know each another and the next Nate was in love.
Things I thought would happen at the 80% mark were happening much earlier.   What's more the last 10-15% just made really dislike Ava's character.  It takes a lot for me to dislike a character.  I can understand Ava wanting to take time to find herself, but her actions towards the end of the book were harsh.
I really liked the first quarter of the book that set up how Nate and Ava ended up where they were in life.  The beautiful rural setting of the Montana countryside with the ranch life was wonderfully done.  There were some moments between Nate and Ava in the latter part of the book that I really liked a lot where I really felt invested in their romance.  But it wasn't enough to save the book.  Maybe you will enjoy this much more than I do; I hope you do!
2 stars
* I received a copy from the publisher in exchange for an honest review.
Here is what others are saying:
Foxy Blogs:  Renée Carlino designed a story about the healing powers of love on a damaged heart. As Edith, the neighbor, pointed out, "… after the rain you'll always find new sprouting in the aftermath." – 3.5 – 4 stars
Beth from LitSlave:  I've been thinking about this story all day and it had my emotions all over the place. It's a strange feeling to have. I've never experienced that before so AFTER THE RAIN definitely deserves 4.5 stars.