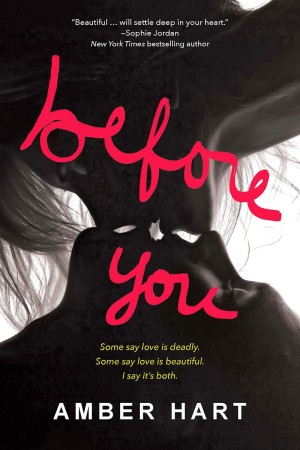 Before You
by
Amber Hart
Published by
K-Teen
,
Kensington
Publication date:
August 1, 2014
Genres:
Romance
,
Young Adult
320 pagesFormat:
Paperback
Source:
ARC via publisher
Some say love is deadly. Some say love is beautiful. I say it is both.

Faith Watters spent her junior year traveling the world, studying in exquisite places, before returning to Oviedo High School. From the outside her life is picture-perfect. Captain of the dance team. Popular. Happy. Too bad it's all a lie.

It will haunt me. It will claim me. It will shatter me. And I don't care.

Eighteen-year-old Diego Alvarez hates his new life in the States, but staying in Cuba is not an option. Covered in tattoos and scars, Diego doesn't stand a chance of fitting in. Nor does he want to. His only concern is staying hidden from his past—a past, which if it were to surface, would cost him everything. Including his life.

At Oviedo High School, it seems that Faith Watters and Diego Alvarez do not belong together. But fate is as tricky as it is lovely. Freedom with no restraint is what they long for. What they get is something different entirely.

Love—it will ruin you and save you, both.
Affiliate Disclosure: This post contains affiliate links. In plain English, this means that I may receive a small commission (at no cost to you) if you purchase something through the links provided. This small income goes back into my blog, so I can continue to create fun content for you. I appreciate my readers and make it my goal to be upfront and honest. Thank you for supporting my blog!
Review:
I don't remember where I first saw this book but I was really excited to read it.  Before You is the first book in the Before and After series by Amber Hart (see the reading order below).  I have to admit that I was a little disappointed by this book.  There were things that I liked in this book but unfortunately, I disliked more things than I liked.
Before You is told in dual points of view, every chapter alternating back and forth between the hero and heroine's points-of-view. Our heroine is Faith Waters, who is the stereotypical good girl.  Though, her good girl image is just a façade. She desperately tries to hide the real Faith underneath to keep up appearances and to appease her pastor father.  Her mother abandoned her and her father at a young age for drugs, leaving Faith with serious abandonment issues.  These problems led her down the path of alcohol and drugs, but no one knows about this except her family.
My favorite thing about this book was Diego, our hero.  He's the new guy in school and Faith is in charge of showing him around.  But he'd rather just be left alone.  He and his father fled to Florida to escape his dangerous life in Cuba and his ties with the drug cartel.  At first, he is annoyed by Faith and her squeaky clean image.  The more Faith and Diego hang around one another the more they both realize that they're similar.
We're alike, Faith and I. And we are both messed up in different ways.
Different but the same.
Diego and Faith dance around their feelings for one another. When they can no longer deny their feelings, the two start to see one another. But they keep their relationship secret for fear of what people who think of Faith dating a Cuban boy (more on that in a second).
There were a couple scenes that I actually really enjoyed. Those scenes were addictive and drove me to keep reading. However, they were not enough to make me really fall in love with the characters or the book as a whole.  I really liked Diego and the fact that he called Faith, "Mami." That made me want to melt into the floor.
I wanted to really like this book and it sucks that I didn't.  Sometimes I'm in the mood for a young adult read that has a bit of an edge to it. This one seemed promising, but the writing style, the lack of character development and the minuscule relationship development was problematic for me.  I felt like the author was telling me how I should feel and think instead of showing me and making me feel the characters' emotions.  Several times throughout the book, the author would drop these sentences with the narrative that were profound and poetic amidst plain narrative.  For example:
They're worried about mugs hen there are a hundred lights, two fryers, two grills, two flattops? And zero consciousness.
I have a hundred emotions, two regrets, two eyes to see zero hope.
"Seriously?" I ask.
"Yep," she says, grabbing a paper cup for me. "Which one?"
Those snippets felt out of place, like they should have gone in a separate, more introspective part of the narrative.  The characters lacked depth to me and the characteristics they were given seemed cliche.  Diego and Faith's attraction to one another seemed rush. I don't always have a problem with instalust, but for me to believe the attraction I need the author to set the stage and make me feel it.  Here, I didn't really feel a connection between the two of them until later and even then I wasn't fully-invested in their relationship.
I had a hard time believing the reason given as to why Diego and Faith kept their relationship a secret: the color of their skin.  The book takes place in Oviedo, Florida, where some of the population is Hispanic. I didn't find it believable that people in the community would be opposed to an interracial relationship or that this would be a hot topic among Faith's friends and family.  I really needed that the race issue to be fleshed out a bit more to make it believable instead of just telling me that race was an issue and leaving it at that.
You might like this book if you're able to overlook certain things like the race issue and the character development.  Unfortunately, I couldn't.
2 stars
* I received a copy from the publisher in exchange for an honest review.
Here's what others are saying about Before You:
Raquel from Bittersweet Book Love — 4 stars
"Before You really is a powerful story with prominent issues at hand; most of all, though, this story is painstakingly real. You'll laugh, you'll ache, you'll cry, you'll probably get mad, but trust me when I say: it will all be worth it in the end."

Book Angel Emma — 4 stars
Amber Hart delivers a poignant and heart-felt romance within the pages of Before You. I, for one am looking forward to seeing what she has in store next.