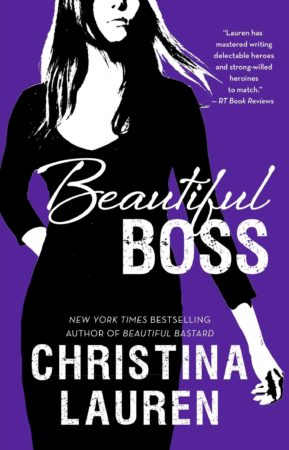 Beautiful Boss
by
Christina Lauren
Series:
Beautiful Bastard #3.5
Published by
Gallery Books
Publication date:
February 29, 2016
Genres:
Romance
Narrator:
Grace Grant
,
Sebastian York
Length:
2 hours and 52 minutes
144 pagesFormat:
Audiobook
Source:
Publisher
One player tamed. One nerd girl satisfied. And one more major life decision to make.

When Will fell for Hanna, her quirky sense of humor and fierce dedication to her career were part of the attraction. (Not to mention her coy newbie attitude toward sex and her willingness to let him teach her everything.) But when the job offers start rolling in for her - and oh, they do - Hanna has trouble deciding what she wants, where they should live, and how much she should burden Will with the decision. Magic between the sheets is only one part of a relationship...getting on the same page is quite another altogether.
Affiliate Disclosure: This post contains affiliate links. In plain English, this means that I may receive a small commission (at no cost to you) if you purchase something through the links provided. This small income goes back into my blog, so I can continue to create fun content for you. I appreciate my readers and make it my goal to be upfront and honest. Thank you for supporting my blog!
Last year when I was at the Romantic Times convention, I found out that Christina Lauren were writing a novella featuring my absolute FAVORITE couple from the Beautiful Bastard series, Will and Hanna. Even though the novellas in this series have been underwhelming, I couldn't resist the little carrot dangled in front of me.
We see a ridiculously happy Will and Hanna, newly married at the beginning of their forever. Now that Hanna is done with her fellowship, the job offers are rolling in from all over the country. But frustrations arise when Hanna doesn't include Will in the decision process.
Beautiful Boss wasn't the same sweeping story that we got in Beautiful Player. As I expected, the conflict was contrived. There really wasn't a lot to the story. Hanna stupidly leaves Will out of the decision-making process about where they should move. This was frustrating to me as the reader and just seemed like the authors wanted to write a Will and Hanna story but didn't really have any viable material to write about.
My favorite part of the book was the impromptu wedding celebration thrown by the whole Beautiful Bastard gang. I loved seeing them all together, especially Max and Sara. It was a quick read/listen, so if you've read the other books in the series give this one a try.
Audiobook Comments:
This audiobook was narrated by the famous duo, Sebastian York and Grace Grant. As always, this narrator combo is perfect.
* I received this audiobook from the publisher in exchange for an honest review.