What I'm Digging is a feature in which I share things I'm loving with you. This can range from jewelry to clothes to home decorations. It's been SO LONG since I've done one of these! I've missed doing them. Enjoy!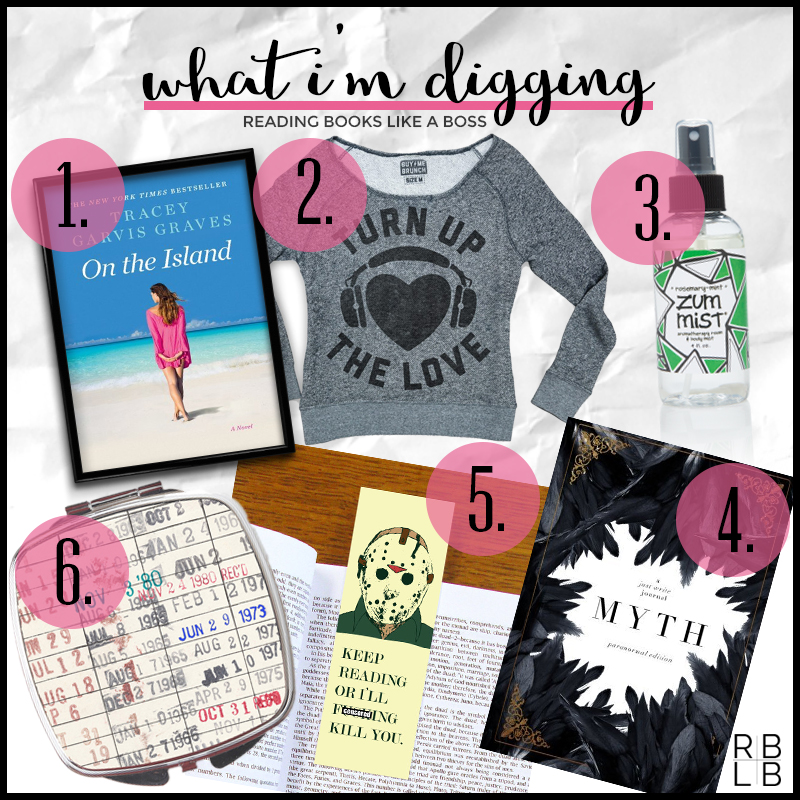 1.) On the Island by Tracey Garvis Graves
On the Island was one of the first books I picked up when I started voraciously reading four years ago. It's one I've reread and loved. If you haven't read T.J. and Anna's story, then you should definitely pick this up!
Amazon: US • UK • CAN | iBooks | GR
2.) Turn Up the Love Pullover
I love the shirt designs from Buy Me Brunch. This sweatshirt looks cozy and cute at the same time. 🙂
Purchase Here
$48.00, Buy Me Brunch
3.) Calming Room Spray
Zum Mist room sprays smell AMAZING. I'm totally in love with the Rosemary Mint scent. It's refreshing and perfect to spray after a long and stressful day. They're super fragrant but not overpowering. I also love the Lavender one.
Purchase Here
$10.95, Amazon
4.) Paranormal-themed journal
This journal was just released this week from cover artist Regina Wamba. I LOVE the cover of it! It's designed specifically for writers needing a little extra inspiration. Here's what the Amazon description says: "Designed to help writers find inspiration anytime, by visual inspiration and creative prompts, the Just Write Journals are a beautiful muse and exercise plan for beginning and professional writers. This inspiring journal is like nothing on the market today and is packed with a visually appealing design and prompts that ignite the mind and get you excited about your project."
Purchase Here
$15.00, Amazon
5.) Jason Bookmark
"Keep Reading Or I'll Fucking Kill You." My friend Nereyda pointed these out to me last week and I knew I had to feature them in a What I'm Digging post. Thanks, Nereyda! There are other ones on LetMeDrawYourPicture's Etsy page. Check 'em out!
Purchase Here
$2.50, Etsy (Seller:LetMeDrawYourPicture)
6.) Vintage library-themed Compact Mirror
I like to keep a small mirror in my purse to make sure I don't look like a complete hot mess.  I fail most days. 😉 This compact is perfect for book lovers!
Purchase Here
$12.00, Etsy (Seller: JoyfulMoose)
What are you digging this week?