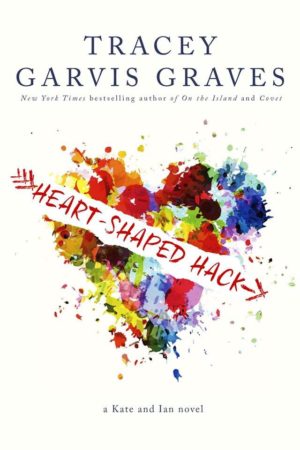 Heart-Shaped Hack
by
Tracey Garvis-Graves
Series:
Kate and Ian #1
Published by
Self-Published
Publication date:
August 25, 2015
Genres:
Contemporary Romance
340 pagesFormat:
eBook
Source:
Purchased
When Kate Watts abandoned her law career to open a food pantry in Northeast Minneapolis, she never dreamed it would be this difficult. Facing the heartbreaking prospect of turning hungry people away, she is grateful for the anonymous donations that begin appearing at the end of each month. Determined to identify and thank her secret benefactor, she launches a plan and catches Ian —a charismatic hacker with a Robin Hood complex—in the act.

Ian intrigues Kate in a way no man ever has. But after learning he's snooped around on her personal computer, she demands retribution. Impressed with her tolerance and captivated by her spirit, he complies and begins to slowly charm his way past her defenses. Time spent with Ian is never boring, and Kate soon finds herself falling for the mysterious hacker.

But Ian has enemies and they're growing restless. In the hacking world, exploiting a target's weakness is paramount, and no price is too high to stop an attack. And when Kate learns exactly how much Ian has paid, she'll discover just how strong her love is for the man who has hacked his way into her heart.
Affiliate Disclosure: This post contains affiliate links. In plain English, this means that I may receive a small commission (at no cost to you) if you purchase something through the links provided. This small income goes back into my blog, so I can continue to create fun content for you. I appreciate my readers and make it my goal to be upfront and honest. Thank you for supporting my blog!
Tracey Garvis Graves's debut novel On the Island was the only book of hers I'd read prior to picking up Heart-Shaped Hack. Kate and Ian's story was just the book that hit the spot after reading some darker emotional reads. It's romantic with bits of humor but also has some emotional moments between the characters.
What I really liked about this book was the hero, Ian. This type of hero is something of a rarity in romance novels these days. Ian is smart, confident but not arrogant, funny, thoughtful, and protective all at the same time. I loved how intensely he felt for Kate and how he gave her the space to be her.
Ian's profession played a huge role in the story, and it was really interesting to learn about. It wasn't used as a prop or glossed over in the book just because the author wanted to use the work "Hack" in the title. It was a living and breathing threat to Kate and Ian's relationship. The author did a fantastic job at relaying the technical side of things in a way that was easily to digest and not convoluted, which I would imagine is difficult to do with technical things. It's clear that that copious amounts research was done in order to convey information in a conversational way.
The beginning of Ian and Kate's relationship felt a little shaky to me.  Though she was leery of Ian, Kate's hesitancy to hang around Ian was short-lived, which didn't seem entirely realistic to me. If a strange man announced that he had been searching through my computer and I knew nothing about him, I would be a little more suspicious of him.
This may be more of a personal preference rather than an issue with the book, but the middle part of the book seemed to drag for me. I think that was mainly due to the fact that we see the heroine and hero happily together for a good majority of the book. That's not to say that there was no conflict (because there was). I just wanted a little more tension.
I mentioned earlier that the book was light-hearted and funny. Though, it's not a straight up romantic comedy. Ian and Kate had some nice banter back and forth.
If you're looking for a book with characters you will care about that delivers romantic and emotional moments, then read this book. Heart-Shaped Hacked delivered those things in spades. The follow up to Heart-Shaped Hack, White-Hot Hack, is available now.