If you didn't already know Tarryn Fisher released the third book in the Love Me With Lies series, THIEF.  For those of you who have refrained from reading this series, now is the time to start! The trilogy is now complete.  You don't have to wait for more books to come out.  You have no excuse! (I'm kidding…sort of).  Actually, I'm not kidding.
The Love Me With Lies series is journey of one couple's struggle to be truthful to each other.  Caleb and Olivia are one of the most heartaching, frustrating, and magnetic couples I have ever met in a book.  Not only do they lie to each other for a LONG TIME, they are put through the wringer, climbing over obstacle after obstacle.  Life gets in the way, lies get in the way.  Everything gets all up in their damn way.  I highly recommend you move this series WAY up on your to-read list.
Tarryn Fisher's colorful writing style will leave a mark on your heart.  My heart is permanently etched with her perfect words.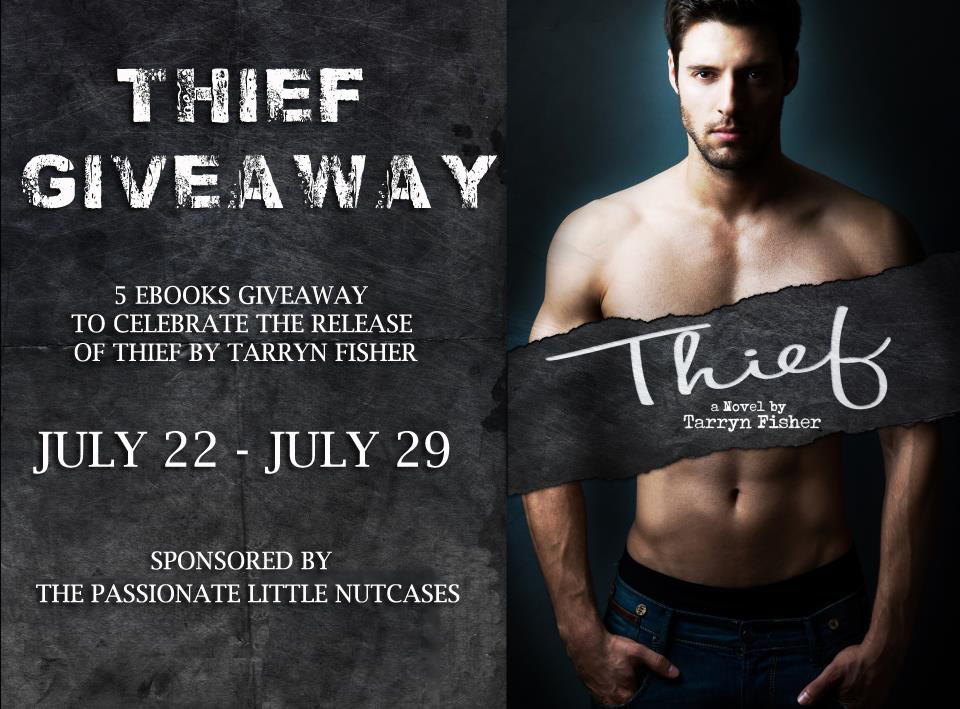 ❤❤GIVEAWAY❤❤
I have FOUR amazing giveaways for you.  
All giveaways are INTERNATIONAL.
Must be over 18 to enter.
Void where prohibited.
1.) Tarryn Fisher's gang of perfectly sane individuals CRAZIES want to give away 5 e-copies of THIEF to five of you.  Lucky ducks.  In addition my fellow nutcase, Alicia, is donating 3 e-copies of THIEF!!  I HAVE 8 COPIES OF THIEF TO GIVE AWAY!!!  Thank you to the Passionate Little Nutcases and to Alicia!  Thank them in the comments!
2.) My fellow nutcase, Krystle, loves this series sooooooo much that she wants to give 10 Kindle copies of THE OPPORTUNIST to those of you who haven't read the series.  That's right TEN COPIES!   Thank you, Krystle!! Thank her in the comments!!  There are four other blogs participating in this giveaway.  Check them out:
The Book Bellas
Rotten Apple Reads
Books Unhinged
Hesperia Loves Books
3.) Finally, I am giving away a complete set to one lucky winner who has NOT read the series.
4.) Barbie Bohrman, Claire Contreras, and Sydney Simon (a trio of Tarryn Fisher fangirls) are giving away a Kindle Paperwhite.  All you have to do is buy a copy of Thief and email your proof of purchase to them!  More details in the Rafflecopter.
Giveaway #1 – PLN Thief Giveaway
Giveaway #2 – The Opportunist Giveaway
Giveaway #3 – One Complete Set of the Love Me With Lies Series
Giveaway #4 – KINDLE PAPERWHITE
Reading Order Guide
Book 1 – The Opportunist
MY REVIEW ▷ ▷ http://bit.ly/13UUcNI
Book 2 – Dirty Red
MY REVIEW ▷ ▷ http://bit.ly/13UUeFc
Book 3 – Thief
REVIEW TO COME LATER THIS WEEK!!